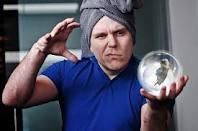 Editor's Note: This article has been corrected to reflect the author's stock positions.
I've written many times that I consider myself to be a terrible stock picker. I'm equally bad at market timing.
Despite knowing, understanding and accepting those points, I've yet to adopt a strategy of doing precisely the opposite of what I believe to be the right thing.
Those that are in the prediction game are easily found, and they certainly seek the limelight...and it seeks them. It's the same people, over and over, regardless of performance. I always find it amusing sitting in a doctor's waiting room, reading dated issues of Time magazine and others, just to see how wrong futurists consistently are on every topic imaginable. Whether it be finance, politics, technology or the arts, those who are perceived as experts on predicting where we as a people and where the world and its systems are headed are worthless.
I find it equally amusing watching charts being interpreted with such confidence. I'm certain that if I had well coiffed hair and a pocket square, I'd have credibility too.
Back when I first started selling options, it was exclusively limited to covered call contracts. The very idea of puts rattled my mind a little. Despite a couple of post-graduate Ivy League degrees, I continue to have a difficult time thinking inversely. That's the major reason why I don't touch anything currency or interest rate related.
Stocks I understand. Call options, I think I understand. But puts are entirely different.
Eventually, I slowly overcame some of the hesitation and occasionally sold puts, but only on very low priced stocks, when I felt the comfort of the floor near my feet. I miss the days when Citibank (NYSE:C) was hovering at about $1, although Sirius XM Satellite (NASDAQ:SIRI) hasn't seemed to budge very much in the past three years.
Selling puts was also fear provoking, as the very thought of the bottom falling out from under was inconsistent with an essentially conservative investment personality. What an unwarranted fear.
Especially unwarranted as lots and lots of casual observation noticed what appeared to be a pattern. Stocks taking big price hits very often bounced back and then, just as often retested the lows following the bad news, and then eventually started trading as if nothing had ever happened.
I saw this over and over again, so much that I soon overcame some of my fear. Instead of predicting which way a stock would go, I was now intent on completely eliminating the analytical process and assumed that history is a good guide, as long as there wasn't a reason to believe that there was something so fundamentally wrong with the company that it would likely never recover.
My first experiences beyond the cheap ranged prices was a few years ago with Green Mountain Coffee Roasters (NASDAQ:GMCR). Its shares took a large hit after Herb Greenberg of CNBC alerted investors regarding accounting issues. Never mind that he was correct, but the story took a couple of years to finally play itself out. Two days after large falls, Green Mountain stabilized and during a moment of instability in my own processes, I decided to sell puts and happily watched the shares recover and the options expire. At the time, I think I was more happy that the process was over, as for what amounted to be a relatively small exposure, I had spent most of my mental energy in its every penny movement down.
In the meantime, Green Mountain has become a favorite upon which to sell put contracts, but not so favorite that I would risk anything more than a one week term.
Fast forward a year and a series of accounting related accusations were levied against Chinese companies Harbin Energy, which has since gone private, Spreadtrum Communications (NASDAQ:SPRD) and Focus Media (NASDAQ:FMCN). They all followed precisely the same script. Large drops, stabilized, bounced up and then down again, before finally trading without regard to the accusations.
Obviously, you also have to be prepared to own the stock in the event your puts do get assigned. That goes against one of my main investing tenets: "Don't own Chinese stocks."
The first time that shares of such a company were put to me occurred following a third or fourth round of selling Spreadtrum puts. The fear of ownership was quickly extinguished by the healthy call premiums on the flip side and subsequent assignment of those shares.
That's not to say that it always works out, as I'm currently holding shares of Groupon (NASDAQ:GRPN) put to me at $12, as well as MolyCorp (MCP), also at $12. For Groupon, my option premiums have yet to come close to recouping the paper loss, and those shares may be destined to become a strategic tax loss. MolyCorp, on the other hand will work out, as it was the subject of serial put sales and accumulated premiums.
I believe the key is to avoid those stocks that have gradual erosion, such as Facebook (NASDAQ:FB), until you believe that the erosion has stopped. The problem is that requires prediction, and the chances of getting that right appear small, based upon my past history. Instead, focus on those sudden hits.
What I have discovered, however, is that selling puts is a perfect compliment to the strategy of "Having a Child to Save a Life," in an effort to reduce paper losses on existing positions.
In fact, selling puts can be a very cost effective way of doing so. For example, instead of adding shares of Walter Energy (NYSE:WLT), currently trading at $34.12, to offset paper losses on shares purchased on Monday at $35.55, why not sell $32.50 puts? The net outlay for shares after $35 August 31, 2012 call option premium would be $33.73, with an ROI of 3.7% if assigned. By contrast, the outlay for a $32.50 put is substantially less and offers a $0.22 premium, which is yours to keep as pure profit if shares can resist the urge to drop 4.8% between now and Friday afternoon.
Those seem like good odds to me.
Most recently, I've done quite a bit of selling put contracts as my predicting and timing capabilities have been worse than usual. That, together with the fact that the market appears to consistently over-react to bad news. Frequently, however those reactions are not reflections of disclosure of systemic issues that would weaken the very structure of a company. They are reactions based on supposition and the heavy hand of futurists.
Take Abercrombie and Fitch (NYSE:ANF) as a very recent example. On the same day when Knight Capital Group (NYSE:KCG) had its unfortunate software meltdown, shares of Abercrombie traded in a $3 range in a matter of minutes, although the gyrations were apparently not tied to the Knight problems.
The very next day, reports of slowing European sales and currency related factors impacting Abercrombie were released. These were the same concerns that were out in the open some three to four weeks earlier. Nonetheless, shares plummeted nearly 20% on what should not have been surprising news. It clearly wasn't surprising news to those that helped to reverse price action the day before.
But if you can't be privy to potentially useful information, then you may as well make the best of things and make it a perfect time to sell puts -- in this case, weekly puts.
As ANF shares quickly recovered price, there was opportunity to continually roll over those puts to the next week, but at higher strike prices.
In fact, just today, I advised subscribers to close their most recent position on $35 August 31, 2012 Puts, as shares hit $37. At that point, the net ROI for the position opened on Thursday (August 23, 2012) was 1.3%, with about 80% of the profit on the original put sales having been realized.
Profits were taken because shares are volatile, and those profits could easily disappear, and perhaps even shares assigned, by expiration this Friday. Besides, with only about 0.2% ROI left on the table, why not move into something else with the newly released cash and the opportunity for a new round of option premiums?
While taking that opportunity, it may be instructive to wonder if anything has materially changed with Abercrombie?
How about the news last month a week or so before Cummins Engine (NYSE:CMI) was due to report its reported earnings? They cast a negative tone on their heavy equipment sales that sent a pall through the sector. Shares of Cummins, along with Caterpillar (NYSE:CAT), Ingersoll Rand (NYSE:IR) and Eaton (NYSE:ETN) all plummeted.
Did I mention that they all went right back to where they started within a week or so?
Go back just a bit further in time and recall the reaction of the market place to the rogue trading news at JPMorgan Chase (NYSE:JPM). That particular story may have been a bit more alarming, as there was perhaps some suggestion of systemic problems that threatened the very core of the enterprise. The wild vacillations around $34, however, offered multiple opportunities over a two week period to sell puts, buy them back and repeat the cycle.
I understand that everything above is purely anecdotal, as is all data until it is methodically analyzed. I also understand that these observations may suffer from poor sensitivity and specificity, as perhaps what appears to be a falsely inspired price plunge may, in fact, be a truly deserved price plunge. Human fallibility, however, sometimes requires that the subjective portion of our brains -- that part controlling actions -- be put in abeyance. Sometimes something that looks too good to be true will actually turn out to be true.
That much I can predict with some degree of confidence.
Disclosure: I have positions in GRPN, MCP, FB, JPM, CAT, and WLT, and may initiate long positions in GRPN, MCP, FB, JPM, CAT, WLT over the next 72 hours. I wrote this article myself, and it expresses my own opinions. I am not receiving compensation for it (other than from Seeking Alpha). I have no business relationship with any company whose stock is mentioned in this article.