We are initiating coverage on Lorillard Group (NYSE:LO) with a buy/$82 price target based off expected 75% payout ratio, 4% yield, and $4 dividend in 2009. Historical evidence of spin off shareholder wealth creation colors investment case for LO, which remains the best volume story in the domestic tobacco universe.
LO was recently spun off from parent Loews (NYSE:L) and its merits may not be fully familiar to buy side. Risk appears limited at current price level and would recommend ownership of stock given company's pricing clout, seasoned management team, and takeover candidacy.  
Business Overview  
Lorillard is the 3rd largest tobacco company in the US. Its menthol brand, Newport, gives LO 94% of its revenue, 92% of its volumes, 34% share of all menthol cigarette sales in the US, as well as an overall domestic tobacco market share of 10%. The Greensboro–based company, which also produces the Kent and True brands, is managed by CEO Martin Orlowsky. Orlowsky has been at LO for 20 years.  On June 10, 2008, LO was spun off from former parent Loews Group. Previously, Loews floated Lorillard as a tracking stock wherein Lorillard generated cash for the parent's sake.
  images

Investment Thesis: 3 Things We Like
Spin offs are created when a large company decides that one of its divisions would do better on its own or when tax laws/regulations make cutting the division sensible. Management realizes it's hard to keep all the pieces together, and orphans away one or more divisions into the marketplace, which in turn unlocks value the general market may have been missing when the spun off division was hidden under the parent's umbrella. Historically speaking, spin offs have been immense shareholder wealth creating vehicles, as several academic studies have proven. A well know study from Penn State found that spin offs beat the SP500 by 10% per year in the first three years; a McKinsey & Co. study published in 1999 proved similar: during the 1988-1998 decade, spin offs outperformed the broad market and their ex parents by 10%. Although spin offs facilitate a wider understanding of the orphan's business and valuation, it never happens overnight – the typical spin out belongs to a boring industry and not widely disseminated via loud press coverage; furthermore, institutions take time to warm up the story, which subsequently creates a nice opportunity for retail investors, who can pick up shares before the large mutual funds have kicked the tires, modeled everything, and gotten acquainted with the story. As a spin out, LO offers investors tangible ownership in the company, whereas before, a holder of Lorillard/Carolina Group was limited to an economic interest (dividends only). Besides wider investor appeal, management walks away with better decision control after the spin & will likely allocate more capital towards dividend payouts than its former parent, Loews, was allocating.
Lorillard participates in an economically independent industry, to quote Vice Fund manager Charles Norton: returns over the long term are not predicated on the overall economic conditions of the US. Given the recent turmoil the markets have endured YTD, we are astonished that Lorillard has not seen more interest, and has instead gotten crushed along with the rest of the market. The cigarette industry is protected by regulatory moats, as well as scale economies and brand loyalty. Brand power is an empty CEO speak if it does not translate into pricing power, and historically, tobacco manufacturers have been able to raise prices faster than volumes have fallen, a trend we think will continue. A pack of cigarettes costs 25 cents to make, says Norton: the fact that it can be sold for 20x that amount is a testament to the robust business fundamentals underlying the industry. 5.5 trillion cigarettes were consumed last year, of which 27-28% belonged to the menthol category. LO, which boosted its market share for the seventeenth straight year in 2007, is the de facto play on menthol, which has enjoyed less detrimental volume trends than the rest of the tobacco group: Newport leads the category in terms of customer retention and margins. According to Merrill Lynch, 1000 sticks of Newport is generating a profit of more than $36 dollars vs. $28 per 1000 sticks at Altria/PMUSA.

Lastly, LO is a takeover target. As a #3 player dominating the menthol category, LO would make a good strategic fit for an international player, we think.  The cigarette industry is rapidly consolidating as players move to cut costs and enter new markets, and although the action has been on the emerging market frontier, a firm like Imperial tobacco (ITY) strikes us as a likely suitor for Lorillard: ITY is already the market leader in the UK, as well as in Spain. Its market cap of $27B is more than twice that of Lorillard's and a ITY/LO deal would overnight give the former a leading menthol brand, as well as a better chance to deal head on with Altria here in the US or Phillip Morris International (NYSE:PM) abroad. ITY management is still digesting the Altadis and Commonwealth acquisitions, but the company's focus on steam-lining costs should not be overlooked. A deal with weakest link RAI is also possible, assuming no anti trust issues get in the way and the two management teams decide a combo between the two is the only way PMUSA will ever concede share. In any event, investors should note that any deal is unlikely before 2010 given the tax-treatment afforded by the spin-off (see IRS Code Section 355e).
Competitors
Number 2 player Reynolds American (NYSE:RAI) (28% domestic share w/ its menthol brands – most notably Kool and Salem -- accounting for 24% of menthol category) has felt the pangs of lower demand/higher prices more than its rivals. While there is room for margin expansion (25% right now at RAI vs. 30% at LO and MO) at RAI, its drastic volume declines at twice the industry clip are keeping us on the sidelines at the moment. Even after its 2004 merger with Brown/Williamson, its overall US share has shrunk. While its top 3 brands are gaining share, it not stopped the bleeding enough to buoy investor sentiment. Non-premium brands at Reynolds have seen little to no ad spend support, making share erosion a self infliction story that's made investors nervous. And like LO, RAI offers investors little in the way of international exposure; the lack of near term catalysts, other than its investments in smokeless tobacco (10% of sales), which we feel the Street has already discounted, underscores our lukewarm feeling on the stock.
Altria Group (NYSE:MO), the 800 pound gorilla ($44.2B market cap) hold 50% of the retail market and its Marlboro brand accounts for 40% of all cigarettes sold. Precisely because it is so big, MO will have to find innovative ways to grow, either by category extensions or improved marketing. As a result, profitability in the near term could suffer slightly, which could explain why the bellwether is 17% off its highs. Altria throws off $3B/year in free cash flow, and that leg of the story hasn't' been impaired. The firm is now run by CEO Mike Szymanczyk, whose marketing heavy background resonates with the company's strategic direction in the coming decade. That said, LO is our favorite pick in the group since it has a better volume story than MO and a better margin profile than RAI.
Valuation
LO is 25% off its highs, fetches 12.5x our 2009 EPS estimate (11% discount to our adjusted PE), and throws off a 2.6% yield. We triangulated a dividend discount model, multiples-based approach, and reverse-engineered dividend yield schematic to arrive at a fair value of $82 for LO. Our DDM model projected a $4 dividend/share next year, then assumed a 8% cost of equity and terminal sustainable growth rate of 3% (3% was used as a proxy for Lorillard's growth rate in perpetuity since its current growth rate [retention x ROE] surpasses its cost of borrowing; according to the DDM, the growth rate must be smaller than the discount rate). This yielded an $80 intrinsic value. The comparables approach assumed a 75% payout ratio (in tandem with payout ratios of MO/RAI), which was divided by the difference of Lorillard's discount rate and (terminal) growth rate; we assumed a tobacco company with considerable pricing power should grow at least as fast as the economy. That generated a forward P/E of 15, which we applied to our $5.50 in projected 2009 earnings power to arrive at an $83 PT.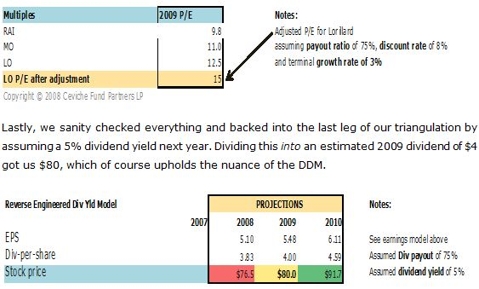 Averaging all three gave us a fair value of about $82/share, an 18% move from where shares are currently trading.
Risks
You could get smoked investing in tobacco. Investors should be on guard for a) higher excise taxes (which would further hurt volumes b) societal invective against cigarette use and c) increased regulation. US cigarette fundamentals remain uncertain and everything from class actions to legislative decisions remains a perennial risk. In 1950, half of the adult population was lighting up; today, less than 1 in 5 people smoke. Volumes overall are tumbling 3-4% and this trend is likely to continue. Today, fears of a potential menthol ban have weighed on valuations. LO also faces supplier/customer risk: 90% of its leafs come from one entity and a quarter of its sales volume centers around one distributor. LO has no exposure to the emerging market demand story for cigarettes, where new users and those trading up are helping international companies improve price/volume mixes. Moreover, as Merrill Lynch points out, NY state is at risk of excise tax hikes: LO gets 13% of its volume from that region alone. With the upcoming election, a sudden change in dividend tax treatment could bang up smoke stocks, which as we've noted, have a long history of handsome dividend payouts.
Bottom Line
Spinoffs have historically done very well in the marketplace.  We think Loews management is making the right move in unlocking value and paving the ground for a potential takeover: given its brand leadership, LO could prove beach front property to an acquirer like RAI or ITY within the not-too-distant future. Now that LO is a full blown tobacco play and likely to jack up its dividend payout, more of the buy side should take notice. The combination of fat yield and buyout bait could prove hard to resist. The stock looks undervalued according to the models we ran and see at least 18% upside.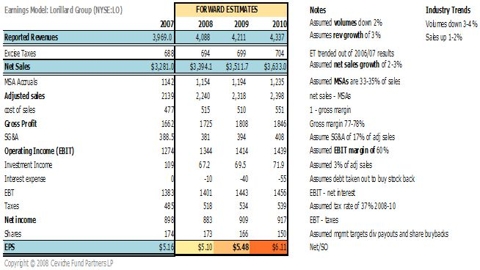 Disclosure: none