As if it's a surprise anymore, the housing market showed continued improvement this morning with the release of the Case-Shiller home price index. A couple of key stats stand out about the June report. For one, prices posted the first year-over-year gain (adjusted and non-adjusted) since October 2010 (after federal tax credits expired). If you exclude the artificial price increase from the tax credits, you could say this is the first true year-over-year improvement since 2006, which for me marks a nice milestone in a long and dismal housing bust. Secondly, non-adjusted prices in all 20 cities rose month to month (only Charlotte and Dallas showed slight declines on an adjusted basis).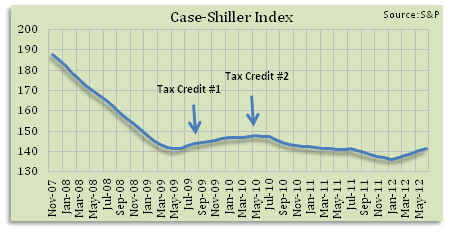 As I said, if you've been watching housing lately it's been coming for some time now. Sales have been showing great improvement since the middle of last year. And when it comes to pricing, it's a simple matter of supply and demand. Actually, if you ask me the underlying trend of rising demand and falling supply really began in the middle of 2010; it was interrupted by the European crisis that hit last year. When much of the panic in Europe cleared up (temporarily) in August the recovery continued, and really shifted into high gear. The chart below illustrates existing home sales and supply since mid-2010: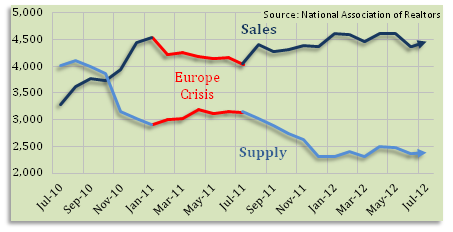 As I also said above, true prices (minus the tax credits) improved for the first time since 2006. What this year has in common with 2006 (and early 2007 when prices briefly rose on a sequential basis) is that months' supply (the number of months it would take to sell all inventory) of existing homes was able to dip below 7.0 (the demand spike from the tax credits also briefly brought months' supply to 6.5 in Nov 2009). So if you're looking for a yardstick for projecting where prices will go next, that 7.0 months' supply level may be a good yardstick to start with.
While sales have been driven by low prices, near-record low mortgage rates and to some extent bottom fishing, demand has been helped by improved mortgage credit. As CoreLogic noted in its July foreclosure report, completions of foreclosures are down to 58k from 69k year over year (and from 62k in June). In the meantime, the overall inventory of foreclosures (homes in the foreclosure process) was down to 1.3 million from 1.5 million. We do note that there remains a high amount of foreclosure supply ready to hit the market as a result of paperwork and legal delays. However, not counting the struggling homeowners that have been stuck in the pipeline for literally years, the input of new distressed inventory has slowed significantly.
On that note, it is judicial states (states that require foreclosures to be processed through the courts) like Florida, New Jersey, and New York, that are the only real worry in terms of pending foreclosure inventory. Thirteen of the top 14 states, in terms of foreclosure supply as a percentage of outstanding mortgages, are judicial with the exception of Nevada; otherwise, the pipeline looks relatively healthy.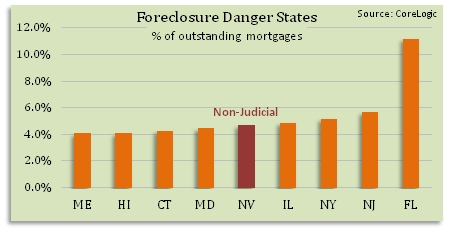 Aside from a potential influx of supply in judicial states, the underlying positive trend in housing fundamentals remains intact. Of course, the latest data may not yet fully reflect this year's repeat of the European crisis and that is likely to have slowed the improvement. But as we noted for 2011, any weakness from Europe will be transitory (although I wouldn't rule out European problems continuing to haunt us, which is another topic altogether).
Disclosure: I have no positions in any stocks mentioned, and no plans to initiate any positions within the next 72 hours. I wrote this article myself, and it expresses my own opinions. I am not receiving compensation for it. I have no business relationship with any company whose stock is mentioned in this article.