Wells Fargo (NYSE:WFC) is now the second biggest holding in Warren Buffett's Berkshire Hathaway (NYSE:BRK.A) portfolio. Bloomberg reported that Berkshire's stake in Wells Fargo is now $13 billion. The Sage of Omaha thinks that Wells Fargo is a good value buy, but is it?
Buffett thinks Wells Fargo is a good value play because of the bank's hugely successful residential mortgage operation. Bloomberg reported that Wells Fargo created one out of every three residential mortgages issued in the U.S. in the first half of 2012. Buffett told Bloomberg that he thinks the mortgage market might rise as high as $3 trillion. If it did, Wells Fargo might make as much as $1 trillion off its mortgage business.
Last month, Buffett told Betty Liu of Bloomberg Television that he thinks housing is the only sector of the economy that is growing. Buffett is apparently putting his money where his mouth is. In recent months, he's been selling off consumer products stocks such as Proctor & Gamble (NYSE:PG) and Johnson & Johnson (NYSE:JNJ) and expanding his position in banks.
So is Buffett right? Is Wells Fargo a good buy because of its mortgage business? In terms of mortgage volume, yes, Bloomberg reported that Wells Fargo now controls 33.1% of the U.S. mortgage business. The bank reported that revenue from mortgages in the first six months of 2012 was $4.8 billion. Wells Fargo is in a position to make a lot of money if mortgage volumes start going up. The problem with Buffett's thinking is that the number of new mortgage applications is not rising, it's falling.
The total number of mortgage applications fell by 4.5% in the week beginning August 6th, according to the Mortgage Bankers Association report. The total number of refinanced mortgages in the U.S. mortgage market fell by 5% in the same week. That's really bad news because applications for refinancing make up 81% of mortgage applications.
These figures indicate that the demand for mortgages is falling. That, of course, is a real threat to Wells Fargo, which is now heavily dependent on mortgages for a large chunk of its revenue. If the demand for mortgages keeps declining, it will start affecting Wells Fargo's stock price sooner or later.
Although that has not happened yet, as the chart below indicates, Wells Fargo's share price has gone up by $3.46 since June 16. Like mortgage real estate investment trusts (mREITs), Wells Fargo has benefited from record low mortgage interest rates over the summer.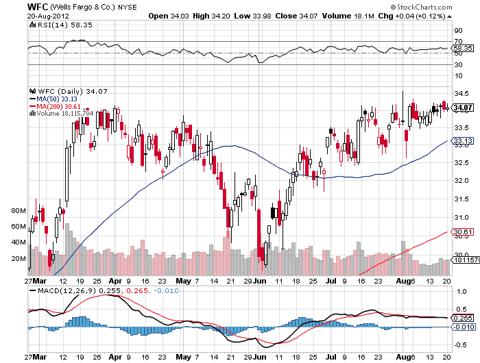 Mortgage interest rates have started rising again and mortgage backed securities have been affected by volatility in recent months. This indicates that the mortgage market may not be as stable as Buffett thinks. It also indicates that the end of Wells Fargo's mortgage bonanza might be in sight.
If it is, then the recent steady rise for Wells Fargo stock will end too because its share price is now linked to the mortgage market. If the mortgage market does not do well, Wells Fargo does not make money.
There's another potential threat to Wells Fargo and other banks that are heavily invested in mortgages such as JPMorgan Chase (NYSE:JPM). The mortgage market is increasingly concentrated in a few big banks, such as Wells Fargo, JPMorgan Chase, and U.S. Bancorp (NYSE:USB). That increases the potential of volatility, because if one of these giants stumbles, the market stumbles.
This seems to be the view of Edward J. Demarco, the acting director of the Federal Housing Finance Authority (FHFA), and many other observers. Other observers think that a limited number of mortgage servicers will make it harder for the mortgage market to expand because the quality of service and choice will be diminished.
In other words, Wells Fargo might be overexposed to mortgages. If the mortgage market collapses, Well Fargo might take massive losses. Even a small drop in the mortgage market may cause a drop in Wells Fargo's share price.
Wells Fargo Expands Auto Lending
Wells Fargo is taking some steps to reduce its dependence on mortgages by diversifying. The bank is expanding its auto loan business through a new deal with General Motors (NYSE:GM). GM has chosen Wells Fargo to replace Ally Financial as the main issuer of auto loans for its products in the Western U.S. Wells Fargo is already the No. 2 auto lender in the U.S. Ally Financial (formerly GMAC) was No. 2.
Another recent deal allows Wells Fargo to bid on subvented loans (the below market rate car loans) issued by dealers. General Motors' subvented loans constituted 18% of Ally Financial's business in 2011.
The deals with GM also place Wells Fargo in a good position to expand the financial services it offers to car dealers. This can be a very lucrative business for a bank. In 2011, Wells Fargo made around $20.2 billion worth of indirect loans to auto dealers and worked with around 11,900 dealers.
Wells Fargo has already proven that it can generate large amounts of revenue from one kind of consumer lending mortgages. If it can duplicate its mortgage success in auto lending, Wells Fargo will be in position to tap into another huge revenue stream.
Buffett may not be right about a U.S. housing market recovery, but he seems to be on track with Wells Fargo. The bank is well positioned to take advantage of changes in the U.S. economy and profit from it. Wells Fargo is in a position to grow with or without a housing recovery.
Disclosure: I have no positions in any stocks mentioned, and no plans to initiate any positions within the next 72 hours. I wrote this article myself, and it expresses my own opinions. I am not receiving compensation for it (other than from Seeking Alpha). I have no business relationship with any company whose stock is mentioned in this article.