By G.C. Mays
When the Census Bureau released its most recent complete factory orders and shipments report, I noted that the inventory to shipments ratio for the pesticides, fertilizer & other agricultural chemicals industry was moving opposite its usual direction for this time of year. The inventory-to-shipments ratio is equal to the current cost or market value of inventory divided by the value of shipments.
While this data would not capture the potash businesses of Mosaic (NYSE:MOS) and Potash Corp (POT) since those mines are in Canada, it does capture these companies' U.S. based phosphate operations, as well as the Potash operations of Intrepid Potash (NYSE:IPI) and Compass Minerals (NYSE:CMP). It also captures the U.S. nitrogen operations of CF Industries (NYSE:CF) and subsidiary Terra Nitrogen (NYSE:TNH).
A high inventory to shipments ratio indicates slowing sales, while a lower ratio implies stronger sales growth. The seasonal trough in sales, which usually corresponds to a high inventory to shipments ratio, typically occurs in February for the pesticides, fertilizer & other agricultural chemicals industry. The peak of the business cycle usually occurs annually each August, when the inventory to shipments ratio is typically at its lowest after dealers rebuild their inventories once the spring planting season has ended.
(click images to enlarge)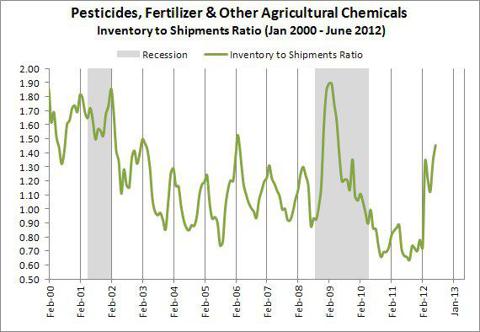 Source: The Mays Report
The above graph illustrates two things about the inventory to shipments ratio for the pesticides, fertilizer & other agricultural chemicals industry: 1) The inventory to shipments ratio for these businesses typically reaches its seasonal high in February of each year, and 2) This year the inventory to shipments ratio is rising during a time when it typically falls.
Because this report lags by a little over month, a valid explanation is already known. I have written many times about dealer reluctance to take on price and inventory risk before this year's spring planting season due to global uncertainty. Once the planting season arrived, we learned that dealers wanted to empty their bins if they could before replenishing inventories so they could take a fresh look a pricing in the market as well as the global economic picture.
Combined with the European debt crises, this caused the stock prices of fertilizer companies to either reach or approach multi-year lows in early June. I wrote about this in an article entitled "What Is Causing Fertilizer Stocks To Hit New Lows", citing the debt crises in Europe, which caused the U.S. dollar to strengthen as a primary reason for the lows.
Persistent drought and soaring crop prices have seen fertilizer stocks sail to seasonal highs. However, since August 17, all but two of these stocks have begun to underperform.
Source: The Mays Report
The two stocks that have outperformed the S&P 500 during this brief period -- Intrepid Potash and Compass Minerals -- notably are companies that only have a potash business in their respective fertilizer operating segments. In the case of Compass Minerals, the fertilizer business represents less than 20 percent of the company's overall revenues. The stock price of Intrepid Potash is also influenced by the price of crude oil and rig counts, as it also derives potash revenues from serving the industrial market for drilling and fracturing fluids.
While we will not find out what the August inventory to shipments ratio is until October, preliminary reports show dealers are beginning to refill their fertilizer bins, but at a slower pace than usual. I have written about weak fertilizer markets, as well as the gift this drought has given to the stock prices of the fertilizer companies.
With corn (NYSEARCA:CORN) prices that may have already peaked, investors will have no choice but to look at the short to intermediate term fundamentals of the fertilizer business. What they will find is a group of solid businesses with great long-term prospects that have reached a short-term seasonal peak in valuation. The risk to my thesis is, of course, another round of quantitative easing, or QE. I do not think this is likely. Investors that think there is a high likelihood of another round of QE may wish to hold on a while longer. Otherwise, this looks like it could be the time to lock in those summer profits.
Disclosure: I have a bear credit spread in Corn Futures. Neither I nor any of my family members own any futures contracts or options on futures in any of the other commodities mentioned in this article. I wrote this article myself, and it expresses my own opinions. I am not receiving compensation for it (other than from Seeking Alpha). I have no business relationship with any company whose stock is mentioned in this article.