Arena Pharmaceuticals, Inc. (NASDAQ:ARNA) has been on a run lately and as the equity seems to be pausing to catch its proverbial breath, investors, excited about the FDA approval of anti-obesity drug Belviq, may be getting a bit anxious as to what the next catalyst may be.
One popular theory is that a final DEA write-up on Belviq will be the next big step for the company, as well as the equity. This is a very logical assumption, given that the DEA write-up is needed before Belviq can be brought to market. The problem is that everyone is so anxiously awaiting that moment that there is potential the equity could grow "tired" of waiting.
One key element in the market is timing. Of course, getting into an equity at the right point in time is important, but perhaps just as important is meeting what sometimes become lofty expectations on a reasonable schedule. Is it reasonable to expect any federal agency to jump through hoops to issue a write-up on what equates to one of many tasks that the DEA has at hand?
I bought into Arena at $7.32. I was not one of the fortunate ones that got in at a couple of bucks, but I am fortunate enough to be sitting on a 25% gain. I believe that Arena exhibits solid fundamentals and that from a business standpoint has a pretty substantial upside potential. Now that I am in, I too am looking for the next catalyst, as now my mission is to protect my investment, and weigh the opportunity here against other opportunities.
Fundamentally, I like the fact that Arena has plenty of cash on hand and more headed into the door. That cash means that the company has the latitude to seek out the best possible deals, partnerships, or courses of action. Arena can actually afford to be selective in what it does. Not all companies have this luxury.
While there are some that do not like technical analysis, I find it to be a valuable tool in my investment decisions. When I first bought Arena, I saw great fundamental potential, but poor technicals. A deeper look told me that the technicals were actually reversing, and that helped me confirm my investment decision.
Ever since the day I bought Arena, I have seen the technical indicators I follow become more and more bullish. On August 24, with the equity at $8.64, I saw the continued improvement and wrote a piece titled Arena Is Poised To Move. The following trading day, the equity closed at $9.32. My article was not written in hopes of a move, it was written because that is what I saw happening. As time passes, readers will find that I am not one to let the stock price dictate what I write. Already, after only a few articles about this sector, I have been labeled a closet bear, a Vivus holder, and a soft basher.
What I currently see is an equity that is making bold moves, based on the very real potential of a drug. What I also see is the very real danger that poor timing on an investment could have a huge impact on Street sentiment. It is Catch 22, and Arena could be in that very situation now.
From a fundamental standpoint, I really like Arena. From a technical standpoint, there are some very bullish signs, but also cautions. I like to watch volume, support and resistance and Exponential moving averages. Everyone has their favorite ways of looking at things, and there own reasons, so your opinion may well differ from mine.
Volume
I love to watch volume because it is a great indicator of the relative strength behind any move. If something happens on high volume, then there is conviction behind the move. As volume tapers off, the conviction of the move weakens. There are many ways to look at it. For example, Arena has made a terrific run over the past few weeks. When it closed at $9.32 this past Monday, it did so on 22 million shares. I consider this a substantial move.
Click to enlarge

Today, the equity closed down slightly on below average volume. To me, this is an indication that the run will now pause. Whether this is a pause to set up a retracement, or a pause for consolidation is the big question. In my mind, I see it as a consolidation pause, which is healthy. The more support an equity can build at any given level, the stronger the foundation will be. Essentially, I still feel Arena is in an overall bullish trend, but it needs to catch its breath. News like a final DEA write-up today would have seen the bull run continue.
Support and Resistance
This is where things get pretty interesting. Arena is sitting between a very strong support level at $8.60, and a bit below a moderately weak resistance level at $9.60. A catalyst could move this equity up quickly, but a lack of a catalyst could bring on a consolidation phase. This should present very little worry for longs, as we are all well aware that at some point the next catalyst, an announcement about the conclusion of the DEA writ-up, will happen. Knowing that there is good strength below is comforting when consolidation happens.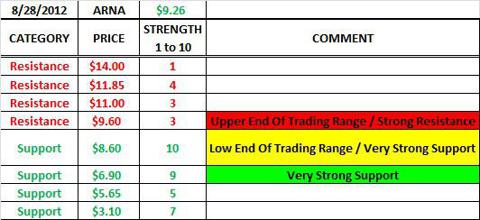 Essentially what we see is that Arena moved down on lower than average volume (lack of conviction behind the move), and that it stayed within a pretty tight trading range all day (consolidation).
What we want to watch for is any moves that happen toward either a support or resistance point on substantial volume. Until there is more volume in the equity, the moves lack conviction and strength.
Exponential Moving Averages

Exponential moving average indicate bullish or bearish behavior, based on how each average (5,13,20, and 50 day averages) relates to each other. For bullish signals, each successive average wants to be above the next. The opposite is true for bearish behavior. By watching these closely over time, you can begin to find either strength or weakness.

With Arena, we are very close to seeing all EMA's enter bullish territory. There are a few caution flags though. The gap between the 13 day, 20 day, and 50 day EMAs is very narrow. In other words, this equity could start to exhibit EMA bearishness if the price slides to much. It may look like Arena has room down to $8.72 to remain bullish, but in actuality, we want to see the gaps between these average spread a little bit. This can happen with a few more trading days above $9.00.
If Arena can build a strong support level above $9.00, it will have a virtual launching pad when the next catalyst from a fundamental standpoint is delivered. From a strategic standpoint, I see as much as another 15% to 20% upside when that happens, with the downside risk being only about 5%.
Summary
Everyone has a different strategy and different need. Very rarely does the thought process align between someone looking for an entry point at a level like this versus someone who was fortunate enough to have bought at $2.00. I feel that based on fundamentals and technicals, Arena has medium-term potential to deliver a decent return over the next few months with very strong support close below, and possibly moving higher to mitigate risk even further.
I realize techinicals are not for everyone, but many do find them helpful in identifying entrance and exit points, as well as perhaps to reinforce their belief in the fundamental story of an equity. Use technicals as a tool in your investment war chest.
The DEA write-up will be the next catalyst, and I believe it will be a very positive one.
Disclosure: I am long ARNA. I wrote this article myself, and it expresses my own opinions. I am not receiving compensation for it (other than from Seeking Alpha). I have no business relationship with any company whose stock is mentioned in this article.