Digital video content provider Netflix (NASDAQ:NFLX) had better increase its video content significantly, especially its proprietary content, or Amazon (NASDAQ:AMZN), or somebody else will eat its sack lunch. Like Amazon, a lot of players are getting serious about the online video streaming business. Verizon (NYSE:VZ) and Redbox (subsidiary of Coinstar (NASDAQ:CSTR)) plan to launch a streaming business this month, and Comcast (NASDAQ:CMCSA) is in now in the video streaming business as well.
When it comes to streaming video, content will be king. Those with content that everybody wants to watch will survive, those with content that everybody else has will wither away.
An option would be for Netflix to simply buy or merge with companies with content, but in the company's Q2 2012 earnings call held on July 24, 2012, Reed Hastings, Founder, Chairman, CEO and President, indicated the company hasn't thought very much about an acquisition, and prefers to grow organically. Mr. Hastings further indicated the bar would be pretty high for doing an acquisition.
When asked about whether the $8 subscription fee was sufficient to continue to compensate content providers, Mr. Hastings noted he did not see any issues with continuing to charge the $8 subscription fee and also compensate the content providers.
Additionally, Mr. Reed also noted its dealings with HBO, a wholly owned subsidiary of Time Warner (NYSE:TWX), is not a zero-sum game, as both parties can benefit from collaboration.
Netflix's strategy at this point is focused on international expansion, specifically European, with the company recently expanding into the U.K. Netflix's U.K. expansion was positively received with 1 million subscriptions in the first 6.5 months of operation. Netflix is using cash flow received from its dwindling DVD business to expand internationally. In lieu of profits, the company is redirecting cash flow into its international expansion strategy. Netflix's next international expansion is scheduled to be introduced near the end of this year and is planned for Norway, Denmark, Sweden and Finland.
While Netflix's second quarter was profitable with 13% revenue growth year-over-year, the company noted its next international expansion would temporarily put the company back into the red.
The company is excited with the prospects for Smart TV, as consumers transition to accessing more content via the Internet.
Netflix's stock price took a significant whack about a year ago (shown below), as the company attempted to transition from DVD to streaming: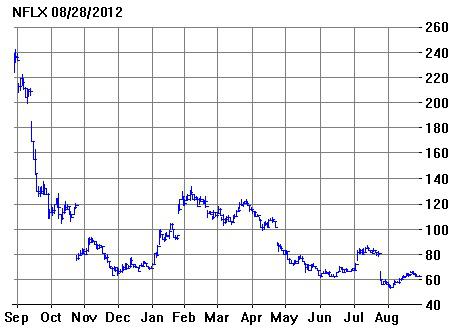 Netflix is performing fairly well, is in a hot sector with a lot of potential, but has some serious work ahead in order to reach critical mass. An investor seeking to take advantage of Netflix's upside, but protect from a downward drop in stock price might consider the married put. A married put may be entered by purchasing a put option against a stock. The put option operates as "stock insurance", in case something bad happens. Typically, married put positions are selected further out-in-time in order to reduce the "insurance" cost per day.
Using PowerOptions tools, a variety of married put positions are available for Netflix expiration in March of 2013 as shown below: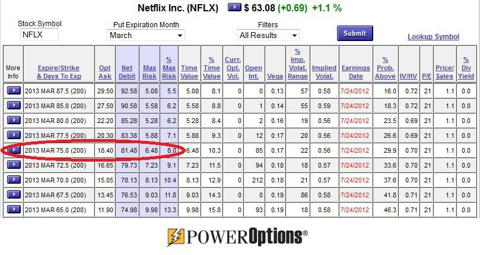 The married put using the 2013 Mar 75 put option looks attractive as the maximum percent loss is 8%. The married put may be entered by purchasing the 2013 Mar 75 put for $18.40 against the Netflix stock. In many cases, a loss of 8% can be recovered fairly easily via option income generating strategies.
NFLX Married Put Trade
NFLX stock (existing or purchased)
Buy NFLX 2013 Mar 75 put at $18.40
A profit/loss graph for one contract of the Netflix married put position is shown below: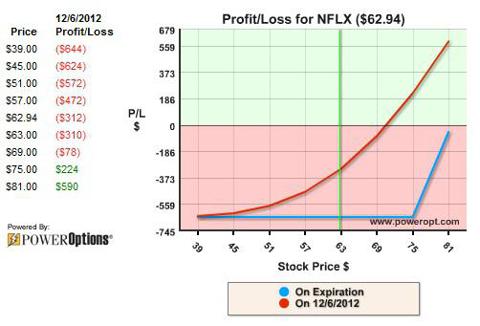 For a stock price below the $75 strike price of the put option, the value of the married put position remains unchanged (at expiration). If the price of the stock increases to greater than the $75 strike price of the put option, then income methods may be applied for receiving income and reducing risk, as described by RadioActiveTrading.com.
Disclosure: I have no positions in any stocks mentioned, and no plans to initiate any positions within the next 72 hours. I wrote this article myself, and it expresses my own opinions. I am not receiving compensation for it (other than from Seeking Alpha). I have no business relationship with any company whose stock is mentioned in this article.