Some investors tend to think that investing in companies that are not based in the United States is a bad idea. While it may be so in some cases, there are big returns to be had if the proper research is done ahead of investing. Value investors especially will find it easier to find the market mispricing foreign businesses more often than domestic businesses. One such company that I believe is undervalued right now is Banco Latinoamericano de Comercio Exterior, S.A (NYSE:BLX), or Bladex as it's more commonly known.
Unlike Citigroup (NYSE:C), Bank of America (NYSE:BAC), and other banks in the US, Bladex has a market cap of only $778 million which means it's more likely to be priced incorrectly. A small market cap also means BLX has a lot of room to grow which isn't as easy for giants like JPMorgan (NYSE:JPM). Finally, its small cap means its trading at a low earnings multiple. BLX is trading at 16.09 times earnings compared to the industry average of 28.53. Citigroup trades at 55.50 times earnings, though it does provide the security that comes with a large cap.
Unlike the other banks I've mentioned, Bladex does not cater to retail customers. It doesn't provide banking in the form of checking and savings accounts. Bladex caters to corporations and provides trade financing services based out of Panama. Its lack of reliance on retail customers is a plus because unlike Bank of America and others, loss of faith in the banking sector by the average Joe will not affect their revenue. In the current state of the global economy, an investor should be looking to stay away from retail banks.
Bladex trades dollar for dollar on its current assets (Price/Book) which means it's valued correctly if we didn't take into account its future profits. The industry average P/B ratio is 0.96 which means the industry is actually trading below the value of its assets alone (though the industry takes into account retail banks).
A simple Graham calculation for Bladex values it at $39.39 if it shows no growth over the next 5 years. This means that according to the Graham methodology, there is a 100% upside to BLX at current price. I typically like to do Reverse Discounted Cash Flow valuations also but Free Cash Flow values are unavailable for BLX. My PE Multiple valuation shows a value of $24.44 which gives it a conservative upside of 16% with the chance to collect its dividend.
Dividend investors should like the hefty 4.78% dividend yield. Bladex management has increased dividends for 4 consecutive quarters, which means they're not quite as reliable as some large caps but efficient nonetheless. They've paid dividends since 1997. The dividend average for the industry is only $0.38, though that takes into account companies that don't pay a dividend at all.
Over 5 years, the EPS has grown 7% for BLX while it has deteriorated a massive 25% for the industry. Over the last twelve months, EPS at Bladex have grown 31% while they have decreased over 35% for the industry. All four analysts covering the company rate it at a strong buy level and have a price target of $27.
The management at Bladex is extremely efficient in comparison with the industry. Their average net profit margin over 5 years is 56% while the industry average is only 13%. This is a fast growing dividend payer and I suspect the market hasn't taken notice of it yet. It's still relatively cheap based on valuations and would make a great long term DRIP (Dividend Re-Investment Plan) investment for brokers that allow it.
Technical analysis shows a general uptrend with a short-term with a dip below the 26 day exponential moving day average recently. The MACD has crossed the signal line on its way down while the Ultimate oscillator and RSI show we've just entered downtrend territory. I want to clarify that the trend is upward and the technicals are just pointing to a short term retracement. While its current price is a great entry point on its own, technical investors may wait for a bounce at the $19.40 support level to get in.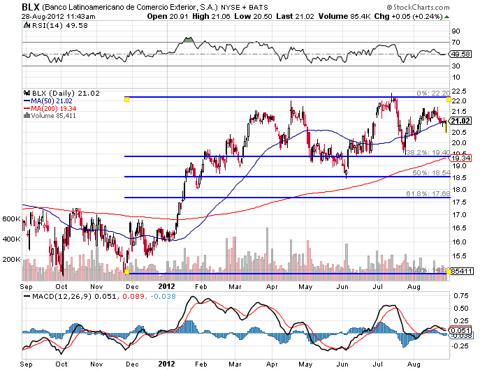 Disclosure: I am long BLX. I wrote this article myself, and it expresses my own opinions. I am not receiving compensation for it (other than from Seeking Alpha). I have no business relationship with any company whose stock is mentioned in this article.