Many investors were sitting and scratching their heads, wondering what was causing the large amounts of volume over the past three days in Sirius XM (NASDAQ:SIRI). The most notable day was Monday, August 27th, with nearly 100 million shares of Sirius XM traded.

And what was driving this large amount of volume? Liberty Media (LMCA) purchasing another 40,460,803 shares in its pursuit of de jure control of Sirius XM. This brings Liberty Media to 48.8% control of Sirius XM, a stone's throw away from that coveted de jure status.
What was most remarkable about all of this volume was that it was met with little to no price movement. Consider the closing prices of $2.53, $2.54, and $2.54. Usually when such large numbers of shares pass through a day's trading, it is accompanied by some sort of movement in the stock.
Usually. That's the key word here. Liberty's buying, this time, had seemingly no impact on the share price of Sirius XM at all.

Since it is highly unlikely that retail investors were coughing up shares at a rate fast enough to fill the volume observed, it is reasonable to assume that the sale end of these transactions came from one or more large institutional investors.
What does this mean for those of us invested in Sirius XM stock?
First and foremost, this brings Liberty Media to a 48.8% stake in Sirius XM and places it within 1.2% of de jure control. If you've been following all along and watching the play by play, the game appears to be almost over. While there remains the belief that Liberty may have to go to a nearly 54% stake in order to insulate itself from dilution, all that is technically necessary is the purchase of less than 100,000,000 shares of Sirius XM stock.
Second, this locks down another 40 million shares from the float which will not be soon traded. Considering that these 40 million shares were purchased from an entity or entities willing to sell, then at the very least this reduces potential future selling pressure on the stock. Liberty Media will not be selling these shares as it requires them going forward.
Third, the narrow trading ranges over the past few days, and even the last week now, have given some time for consolidation. What may have been a time of correction due to the large and rapid rise from the $2.10's up to the $2.50's, has instead shown the price holding strong and forming a plateau, solidifying the gains and lending support to the share price.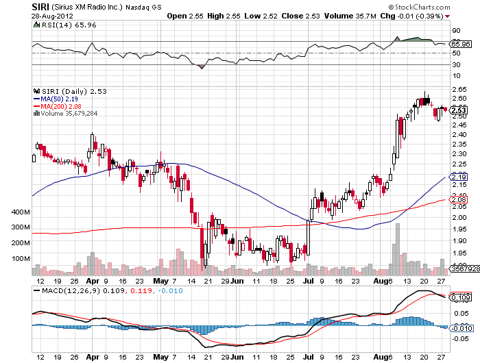 In my opinion, higher share prices remain ahead. If there is one thing that the bears and the bulls agree on, it is that Liberty Media will not "overpay" for shares of Sirius XM. Having paid as much as $2.53 per share on average, and since the consensus is that Liberty will not overpay, then investors can reasonably expect to see share price appreciation in Sirius XM on the horizon. Will it meet my $3 price target for the year? I think that's more than reasonable, and I think any prices under that remain in buy territory.
Disclosure: I am long SIRI, LMCA. I wrote this article myself, and it expresses my own opinions. I am not receiving compensation for it (other than from Seeking Alpha). I have no business relationship with any company whose stock is mentioned in this article.