If you invest in a stock, you want to maximize the return you are getting on your investment relative to the risk you are taking. While past performance is not indicative of future results, one place to determine the future performance of a stock is by evaluating how it has done in the past. You can then figure out the company's relative financial position as of the current date, and then forecast the future potential of the company.
We screened for companies with high returns on equity as a way to identify companies with a high level of net income relative to the equity they have on the balance sheet. We then looked for companies with low debt to equity ratios. By doing so, we are trying to find companies that don't necessarily have very little equity on their balance sheet. If there is very little equity on the balance sheet, then ROE can look deceptively high. That doesn't mean it isn't. It is just another way to eliminate the list of companies to a more manageable number, while also identifying companies that are not too leveraged.
Return on Equity - According to Investopedia, Return on equity measures a corporation's profitability by revealing how much profit a company generates with the money shareholders have invested. The higher the ROE the better, but companies in some industries tend to have higher ROE's than companies in other industries. So a comparison across industries is not as useful as a comparison within industries. Using this metric in our search is merely a first step in identifying companies to further evaluate.
Debt/Equity - issuing debt and equity are the principal methods a company uses to raise capital. While debt tends to be less expensive in terms of the cost of capital, it does present an ongoing expense in the form of interest payments. Therefore, a company with a high debt to equity ratio may experience higher interest payments than a company with lower debt to equity. If these interest payments exceed the cash flow or cash available to pay the interest, it could be the first indication that a company is in financial trouble.
We screened for companies with a return on equity above 27% and a debt/equity ratio of less than 0.2. For an added cushion to price fluctuations and to further reduce our list of qualifying companies, we also required a dividend yield of greater than 2.0%.
Take a closer look at the following companies and determine for yourself if they are a good fit for your portfolio.
1. Microsoft Corporation (NASDAQ:MSFT)
Microsoft Corporation develops, licenses and supports software products and services. It designs and sells hardware, and delivers online advertising to the customers. It has five segments: Windows & Windows Live Division, Server and Tools, Online Services Division, Microsoft Business Division, and Entertainment and Devices Division.
The company's products include operating systems for personal computers, servers, phones, and other intelligent devices; server applications for distributed computing environments; productivity applications; business solution applications; desktop and server management tools; software development tools; video games, and online advertising. In April 2012, LeGuide.com SA acquired shopping sites in seven European countries from the Company.
In July 2012, the Company purchased Edgewater Fullscope's Process Industries 2 (PI2) software and intellectual property, and Comcast Corp. acquired the Company's 50% stake in MSNBC.com. For more reading, see To Create Value For Investors, Microsoft Needs To Embrace Its Status As A Value Company.

Click to enlarge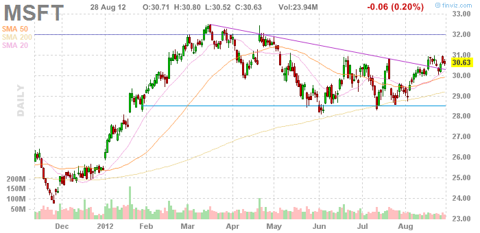 2. Accenture plc (NYSE:ACN)
Accenture plc (Accenture) is a management consulting, technology services and outsourcing company, which has offices and operations in more than 200 cities in 54 countries. The company's business includes five operating groups, which together consist of 19 industry groups serving clients in industries around the world. Its five operating groups include Communications, Media & Technology (formerly Communications & High Tech), Financial Services, Health & Public Service, Products and Resources.
In January 2011, the company completed its acquisition of CAS Computer Anwendungs- und Systemberatung AG. In August 2011, the Company acquired Duck Creek Technologies. In November 2011, the company acquired Zenta, a provider of residential and commercial mortgage processing services in the United States. In April 2012, it acquired Neo Metrics Analytics S.L a consulting firm specializing in optimization and predictive analytics based in Madrid, Spain. For more information, read Accenture's Business Quality Is Solid and Accenture's Ascent In A Slow Growth Environment.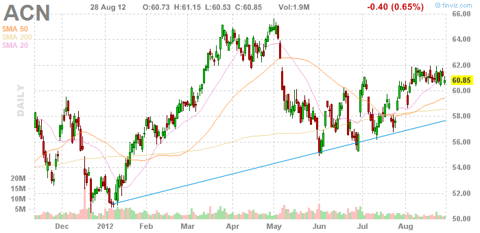 3. Exxon Mobil Corporation (NYSE:XOM)
Exxon Mobil Corporation (Exxon Mobil) is a manufacturer and marketer of commodity petrochemicals, including olefins, aromatics, polyethylene and polypropylene plastics and a range of specialty products. It also has interests in electric power generation facilities. The company has a number of divisions and affiliates with names that include ExxonMobil, Exxon, Esso or Mobil.
Divisions and affiliated companies of ExxonMobil operate or market products in the United States and other countries of the world. Their principal business is energy, involving exploration for, and production of, crude oil and natural gas, manufacture of petroleum products and transportation and sale of crude oil, natural gas and petroleum products.
In October 2011, Cosan SA Industria e Comercio bought the distribution assets of Exxon Mobil in Bolivia, Paraguay and Uruguay. In January 2012, Apache Corporation acquired Exxon Mobil's Mobil North Sea Limited assets including the Beryl field and related properties. For a more detailed article, check out Exxon Mobil Throws Its Weight Behind U.S. LNG Exports.

Key Metrics
Disclosure: I am long ACN. I wrote this article myself, and it expresses my own opinions. I am not receiving compensation for it (other than from Seeking Alpha). I have no business relationship with any company whose stock is mentioned in this article.