by Steven Orlowski
Word on the street is that there are three new emerging market consumer ETFs said to be launched soon.
These rumored ETFs are as follows:
Global X Africa Consumer ETF
Global X Asia Consumer ETF
Global X Latin America Consumer ETF
I read about this online and I have yet to confirm the information, but earlier this month Emerging Money wrote about consumer-oriented emerging market ETFs. According to Mark Mobius, consumers will be a driving force in future emerging market development. Mobius' comments were primarily geared toward China, in the context of whether or not China is slowing down or stopping, and his specific focus on consumer sector investments.
The news that three region specific consumer ETFs may be launched soon does beg the question — are these ETFs really necessary? Currently in the consumer discretionary category there are two ETFs, the iShares MSCI Emerging Markets Consumer Discretionary Index (NASDAQ:EMDI) and EGShares Consumer Services GEMS Exchange Traded Fund (NYSEARCA:VGEM). Previously we compared these ETFs with EEM, the emerging market index ETF. Both these consumer ETFs have very high correlation with EEM, making it difficult to justify the need for them.
A fund needs to show low correlation to its primary index in order to have a strong reason to exist. Remember, the idea of asset allocation is to own non-correlated investments which are expected to increase over time. Non-correlation smooths out volatility, while ideally allowing for more consistent returns.
Below is an updated chart of VGEM. The high level of correlation to EEM is clear, but there has been a bit of a divergence since June, which seems to be getting more severe. The bad news is that VGEM is lagging the index, which may mean other sectors are performing better.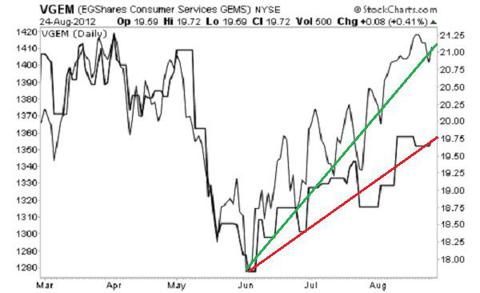 Emerging Money also reviewed two emerging market consumer ETFs: the Dow Jones Emerging Markets Consumer Titans Index Fund (NYSEARCA:ECON) and EGShares Consumer Goods GEMS Exchange Traded Fund (NYSEARCA:GGEM). These funds also show high correlation to EEM. All of the funds also have low liquidity, with the most liquid averaging around 130,000 shares traded each day, and the lowest a few thousand at best.
Below is an updated chart of ECON. Like VGEM above, the correlation with EEM remains high with ECON also lagging the index.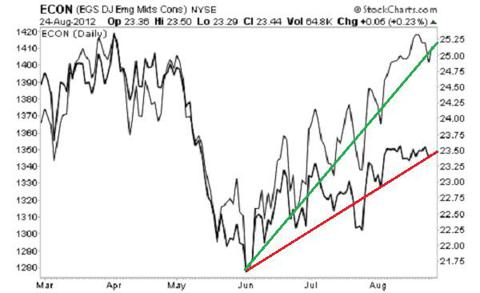 Looking at the charts of these existing consumer ETFs could make you wonder what the need is for regional sector ETFs like the ones proposed above. Obviously it is in an ETF producer's interest to launch new ETFs different to what's already on the market. Ideally, a producer brings to market exactly what the market wants and the ETFs become heavily traded successes.
But just as new ETFs are introduced, so too are older ETFs retired. Over time I do think sector specific regional emerging market ETFs like Asia, Africa or Latin American-focused consumer ETFs will be viable products. I know I am interested in them. But I need to see the benefit either on a long term investment basis or on a daily trading basis before taking the plunge. Given the low liquidity and high correlation of existing emerging market consumer ETFs to the index, I will probably remain an observer, for now.