Frontline (NYSE:FRO) is scheduled to hold a earnings conference call on August 29th. I believe this will be the second earnings surprise in a row, and their second profitable quarter in a row after a rough patch over the past few years.
Frontline is one of the largest tanker companies in the world. Frontline was flying high a few years ago, as there was a limited supply of ships and a large demand. After many new ships were built, and the US demand for foreign oil decreased, Frontline, along with many other stocks in the sector crashed hard.
Frontline decided to do a reorganization in December 2011 and they took a large earnings hit for the 4th quarter of 2011, which showed as 344 million, or $4.41 a share. However their 1st quarter earnings came in and they showed at net income of over 7 million dollars and a 9 cents a share EPS, when they were predicted to show losses once again. With an earnings phone call scheduled for August 29th, can we expect Frontline to beat earnings again? And even a better question, can we believe this is a start of an ascent back to a respectable stock price for this company? I think it's possible, and for comparison, let us look at a spinoff of this once great stock.
Ship Finance International Limited (NYSE:SFL) was a spinoff of Frontline. Their earnings report came out on 8-28 and they beat earnings once again reporting 77 cents a share for the 2nd quarter 2012. Most analysts were only expecting about half of that. This comes after a first quarter in which they also beat consensus reports with earnings at 49 cents a share. Ship Finance's business is a bit different than Frontline, as they lock in contracts for shipping, whereas Frontline has been more risky trying to get the higher priced spot contracts, which have dried up some with the oversupply of ships.
Below is a chart of Frontline's cash, book value and cash plus ST investments. An interesting thing to see here is that book value sharply decreased with the reorganization, but cash has stayed pretty steady. This isn't a company with the same value of 2008, but does still have tangible value.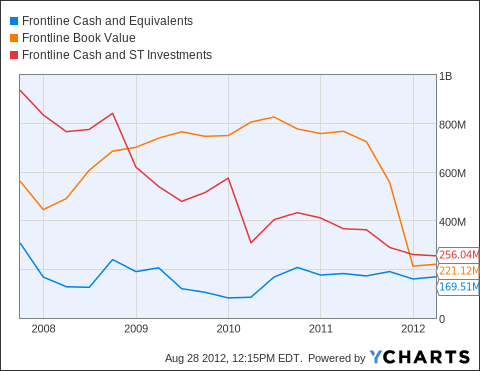 FRO Cash and Equivalents data by YCharts
Frontline also was upgraded by Goldman Sachs from Sell to Neutral last Friday, stating that even though there is still a supply/demand imbalance, that the current valuation no longer supports a sell rating.
Conclusion: I think Frontline is worth a look see, and maybe a small piece of your portfolio as a risk play. Reorganization of the company has made it easier to make a profit on the spot contracts, by reducing costs. Good news on earnings could give this stock a quick bump higher, and the supply/demand imbalance may close in a year or so. An active hurricane season here in the Gulf could also drive demand up for "spot tankers" in the near future if OIL production drops here in the United States.
Disclosure: I am long SFL. I wrote this article myself, and it expresses my own opinions. I am not receiving compensation for it (other than from Seeking Alpha). I have no business relationship with any company whose stock is mentioned in this article.