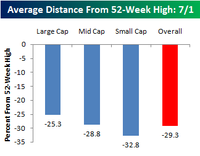 While investors wait for the S&P 500 to hit the official 20% threshold for a bear market, once it does, it will only be telling us what the average stock has been telling us for some time.  As shown on the right (click to enlarge), the average stock in the S&P 500 is currently down over 25% from its 52-week high, while the average stock in the S&P 1500 is down closer to 30%.
On a sector by sector basis, Consumer Discretionary stocks are the furthest from their 52-week highs with an average decline of 36.3% (the half off sale is looking like it's right around the corner), followed by Telecom Services and Financials.  Don't be misled by the fact that Financials are only the third worst though.  Since this was the first sector to feel the credit crunch, many of these names started their descent over a year ago, so their 52-week highs are lower than their highs from 2007. 
As far as sectors that are holding up the best, Energy stocks unsurprisingly top the list with an average decline of only 15.9%, followed by the 16.7% decline in the Utilities sector.
click to enlarge