So far in this series, the connection between Latin American economic expansion and Chinese economic growth was established in part one. Then in the second part, the direction of commodities prices was examined in an attempt to determine whether the growing market optimism concerning signs of renewed Chinese economic growth is justified. This also included attempting to identify whether this presents any investment opportunities in the Latin American resources sector for investors. In this third part, the analysis will focus on the outlook for the Chinese economy.
The Chinese economy has been slowing for some time as part of a controlled economic soft-landing initiated by the Chinese government, which was becoming increasingly concerned by a growing property bubble and spiraling inflation. Price inflation for agricultural products and basic food stuffs was a major concern because the average Chinese consumer, with a low average wage, is particularly price sensitive to consumer staples.
China's recent economic performance
When examining China's gross domestic product, the slowdown in economic growth is clear when it is considered that in the last five years, China's GDP growth rate peaked at 12.6 percent in the second quarter 2007, and for the second quarter 2012, it had dropped to 7.6 percent.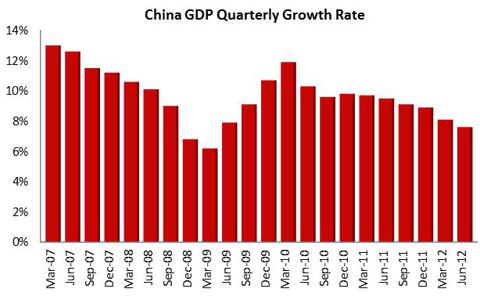 Source data: National Bureau of Statistics of China
Overall, while allowing us to identify the correlation between Chinese economic growth and commodity prices the GDP growth rate does not indicate how the Chinese economy will perform in the future. Some of the more important leading indicators are the indices that measure activity in the key sectors in China's economy that drive both overall economic growth and commodity prices.
Leading indicators of economic activity
Industrial activity is an important contributor to both Chinese economic growth and increased demand for a number of material inputs including steel, iron ore, thermal coal and copper. But as the chart illustrates, Chinese industrial activity has continued to slow, with the value added by industrial activity falling by 3% during July and having fallen by almost 23% since the start of 2012.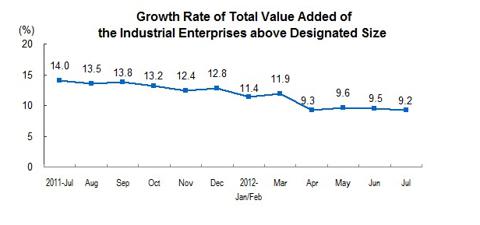 Source: National Bureau of Statistics of China
This is also shown by the Chinese manufacturing PMI which as the chart below shows was still declining in July, dropping by 0.1%, though the trajectory of this decline has slowed significantly since April 2012.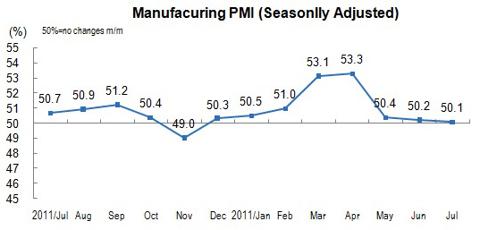 Source: National Bureau of Statistics of China
This certainly does not bode well for commodities demand with industrial activity having fallen further. The non-manufacturing Chinese PMI also fell in July by 1.1% in comparison to June 2012 but it was still up on May 2012. While this does not bode well for growing basic materials demand, it does indicate that the downward trajectory is slowing with some positive indicators of renewed industrial activity.
Of the industries monitored, the only two which showed an increase in activity were the output of electricity and the production of cars. Electricity production grew by 2.1% in July when compared to the previous month. This goes some way to explaining the growing demand and price for thermal coal.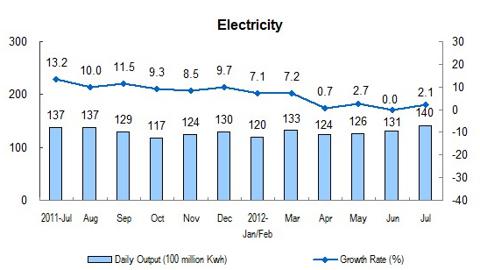 Source: National Bureau of Statistics of China
This is a positive indicator because it is increased industrial production that leads to increased demand and usage of electricity. The other industrial activity indicator that rose in July was the output of cars, which as the chart shows grew by 4.2% in July 2012.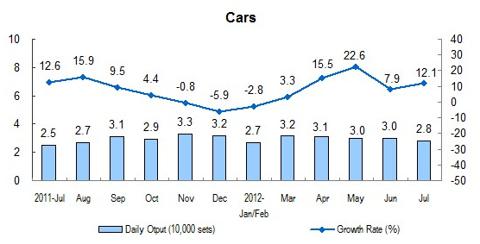 Source: National Bureau of Statistics of China
While these indicators show that Chinese manufacturing activity is improving, there is certainly a long way to go before Chinese economic activity returns to the levels seen in 2010. As a result, with renewed demand for commodities dependent upon increased Chinese economic activity, it will also be some time before commodity prices return to the levels previously experienced.
The lower level of economic activity is a key contributor to the Chinese economy expanding by only 7.6%, which is the lowest rate experienced since the first quarter of 2009. Furthermore, the economic soft-landing has had the desired effect with inflation now at an 18 month low of 1.8% and food prices have also only risen moderately since March 2012. Given that both inflation and food prices are seen as being particularly politically sensitive in China, this gives further scope of the government to consider implementing measures to boost economic activity.
There is concern that the economic headwinds coming from Europe will also impact the Chinese economy and cause it to slow more than desired, therefore it is increasingly likely that the Chinese government will consider easing economic policy in an effort to head-off a broader economic slow-down. This will be primarily driven by policies aimed at promoting domestic demand as a means of buoying industrial production. Normally, any measures that will increase Chinese economic growth would be a strong positive indicator for commodities stocks.
Growing commodities stock piles affect demand
Normally, any indicator of increasing Chinese economic activity and demand for basic materials would be seen a positive indicator for mining and other resource stocks. But in this case, it is unlikely to have any impact on demand and commodity prices due to the huge stock piles of iron ore, copper, steel, coal and other commodities that have grown in China.
At the end of June 2012, it was estimated that iron-ore stock piles almost totaled 100 million tons and that other raw materials stock piles were continuing to grow. Until these massive stock piles have reduced, it would be unprofitable for manufacturers to continue importing raw materials at the pace they have been in the past.
Opportunities for investors
Despite the clear linkage between Latin American economic growth and Chinese demand for commodities, which is still quite subdued, there are some domestics attributes and events that should drive growth in the region. These include a particularly positive outlook for Colombia in comparison to other regional countries because of the Colombian government's history of taking a hands-off approach towards the economic activity and foreign investment. Along with this, the Colombian government has implemented a number of programs to offset the global headwinds. Most importantly, this includes an aggressive currency management program to control the value of the Colombian peso against the US dollar in order to maintain the competitiveness of its exports.
The upcoming FIFA World Cup and Olympics in Brazil also represent some potential opportunities for investors, though more with companies focused on the consumer market rather than commodities producers. There is also a view that the surge in foreign visitors, spending and tourism while significant will only be for the short-term and not deliver any significant benefit for investors in Brazil.
However, the feverish construction and civic beautification programs in Brazil will see greater demand for construction materials such as steel. With the government's preference for and protection of domestic industries, this should give a boost to Brazil's steel making industry. However, I doubt that boost will be sufficient to change the longer-term negative outlook for Gerdau (NYSE:GGB) and Companhia Siderrgica Nacional (NYSE:SID).
There is some speculation that this construction activity will also boost Brazil's sagging residential construction sector, in particular former market darling Gafisa (NYSE:GFA). However, given the company's recent problems combined with a recent pop in price resulting from a surprise second quarter 2012 profit, investors would be better offer considering other opportunities.
Finally, Chile despite the Chinese slowdown and its dependence on copper as its primary national export has continued to grow strongly. For the second quarter 2012 the Chilean economy expanded by 5.5% giving it one of the strongest economic rates in the region. This is quite surprising given the current global headwinds and can in part be attributed to its more advanced and stronger domestic economy.
With country-specific ETFs down substantially for the year-to-date, there are also opportunities for investors seeking broad based exposure to the region's economies. At this time, my preferences for further consideration would be Colombia and Global X FTSE Colombia 20 ETF (NYSEARCA:GXG), the Peruvian iShares MSCI All Peru Capped Index (NYSEARCA:EPU) or the Chilean iShares MSCI Chile Investable Market Index (BATS:ECH).
But investors should be cautious because economic indicators are not showing a rapid or prolonged recovery in the region. The current global headwinds are coupled with signs that markets have taken an over optimistic view of economic growth in the region and it will continue to slow for the short to medium-term.
But of considerable interest are the recent actions of Bridgewater Associates founder and President Ray Dalio, who recently purchased just over 2 million shares of iShares MSCI Brazil Index Fund. This acquisition was completed at an average price of $56 per share totaling around $112 million. This appears to indicate a vote of confidence in Brazil, which is contrary to many of the signs currently being seen regarding the state of the Brazilian economy.
Bottom line
While there are positive leading indicators that China's economic activity is picking up it will be sometime before economic activity increases and inventories decrease to the levels required seeing renewed demand and stronger commodity prices. I also believe that the end of the commodity super-cycle is in sight and while Chinese growth will continue, markets won't see the massive expansion in demand that has been witnessed over the last decade.
This certainly does not bode well for a return to the high growth rates that investors have become accustomed to in Latin America and Brazil in particular. It also means at this time that investors seeking exposure to resource stocks will need to focus on stock picking to identify those companies that have been oversold or offer specific growth opportunities.
In addition, resource nationalism has of late become an additional risk in the region, particularly in Argentina and Brazil, along with which there is growing uncertainty in Peru's mining sector. When the additional uncertainties and geopolitical risks that come with investing in Latin American markets and resource stocks in particular are considered, it leads me to conclude that at this time, investors should be seeking out opportunities in other historically less attractive sectors. This could include the banking and financial services or consumer goods sector.
Disclosure: I have no positions in any stocks mentioned, and no plans to initiate any positions within the next 72 hours. I wrote this article myself, and it expresses my own opinions. I am not receiving compensation for it (other than from Seeking Alpha). I have no business relationship with any company whose stock is mentioned in this article.