click to enlarge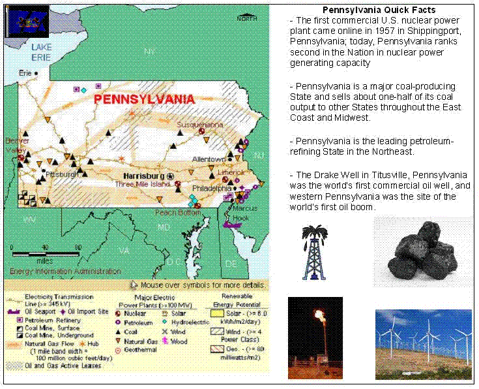 Living in a small town in Western Pennsylvania, I am within 20 miles of several active windfarms, a Gamesa (OTCPK:GCTAF) wind turbine manufacturing plant, a resurgent coal mining industry, Waste Management (WMI) landfill gas capture projects, and natural gas exploration as part of the Marcellus Shale deposit.
The accompanying overview and map of energy production in PA can be found at EIA.gov, along with a complete profile of energy-related statistics for the Keystone State. Companies such as Range Resources (NYSE:RRC) and CNX Gas (CXG) are actively exploring and developing the Marcellus shale for conventional and unconventional natural gas deposits while Waste Management conducts landfill gas capture and waste-to-energy projects at local landfills.

A revitalized coal mining industry is also apparent from a steady stream of coal truck traffic and a $1.3 billion buyout last week of Friedens, PA-based, privately-held PBS Coals Corp. by Russian steelmaker Severstal [Russia: CHMF]. The acquisition will provide Severstal with a source of coking coal and the company already has expansion plans to double the output of local mines, according to reports out of Moscow from Severstal's mining division chief executive.
PBS Coals is still planning to pursue a public stock listing on the Toronto Stock Exchange in an effort to raise capital to fuel expansion plans even if the Severstal deal does not come to fruition. Analysts estimate that PBS Coals could raise as much as $300 million by going public in Toronto.
The EIA energy profile of PA notes that the Commonwealth holds an abundance of fossil fuels such as coal (with smaller reserves of crude oil and natural gas) in addition to five nuclear power plants. Renewable energy initiatives include landfill gas capture, hydro-power through the Susquehanna River basin, and wind power through mountain ranges and the Lake Erie shore. The EIA website also contains a PDF report which analyzes renewable energy production by output, source, and state.
Investors looking for an ETF strategy to invest in the energy themes and companies from PA may consider the following: