Many companies hide new or otherwise poorly-performing ventures in the depths of their earnings reports, either smushed between other such ventures or in tandem with an earnings giant for some disguise. Microsoft (NASDAQ:MSFT) is no different, and the Windows Phone, which is now somewhere between a blunder and a major growth opportunity (see any recent Gartner report), has a report location that utilizes both of these methods. If we remove each non-Windows-Phone layer from what Microsoft calls its Entertainment and Devices Division (EDD), we'll find that Windows Phone revenues has been fairly steady over the past few years, and has made Microsoft about $736 million for their past fiscal year.
Entertainment and Devices Division
Here's a snapshot of the EDD products from 2010-2012: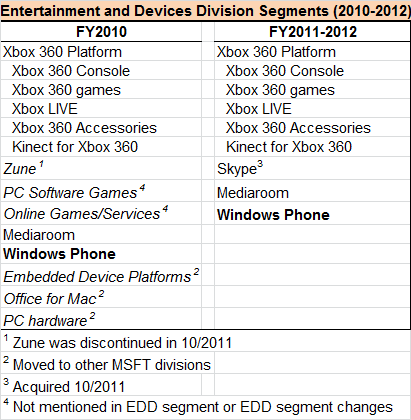 One has to be careful between the 2010-2011 annual and quarterly reports because after Skype was added in October 2011, three other EDD products were removed, masking the actual Skype revenues for that time period. For the Skype revenue analysis, it's a good thing we still have the S-1. Either way, Skype is only factored in for FY2011, as it's noted in the 10-K: "Skype was consolidated into our results of operations starting October 13, 2011, the acquisition date."
Thus, if we subtract the Xbox Platform, Skype, and Mediaroom revenues from EDD revenues, that should give us a solid estimate of Windows Phone revenues. A summary of the work is below: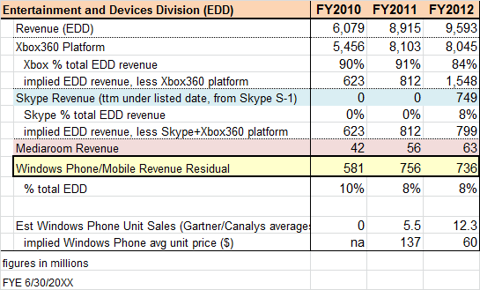 Xbox 360 Platform
Revenues for the Xbox 360 Platform are pretty simple to find as they are provided under the products segment. They range from 84% to 93% of total EDD revenues from 2010-2012. Before this time period (and thus with the additional products still in place and without Skype) the Xbox Platform ranged from 65-70% of EDD revenues.
Skype
After the 10/13/2011 acquisition, Microsoft recorded Skype's revenues for the remainder of the year, which was about three quarters long. Thus, if we can find Skype's revenues for their fiscal year (Dec10-Dec11), translate that to Microsoft's fiscal year (June11-June12), and take 3/4 of the result, we should have a good estimate of Skype's portion of the MSFT FY2012 revenues: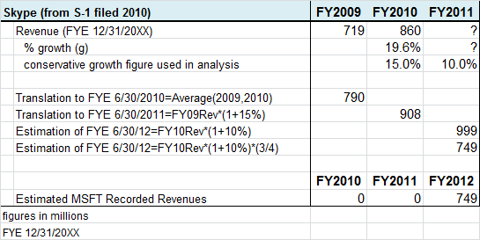 Rather than use the 19.6% y/y revenue growth from 09-10, I used a watered down growth rate for the following 6 month y/y growth (the same goes for FY2011). I think this should adjust for new entrants and slower uptake on Skype's expansion in this market. I'll note that one could just as easily say that this 749M figure could range from 726M-779M if you use 15%+-4.6% for the initial year growth.
Mediaroom
Microsoft Mediaroom is an Internet Protocol Television service (OTC:IPTV) and is another one of those bungled ventures that Microsoft just hasn't managed to swing its way. It's come under various names in the past 15 years (Microsoft Media Center most recently) and has failed spectacularly almost every time. Regardless, we have 3rd party research estimates for 2007 revenue and subscriber estimates (and as well as an actual) for 2008, 2009, and 2011, giving us light on current revenues:

The biggest assumption here is the five year flat trend in revenue per subscriber. However, given that demand has barely rose y/y in this timeframe and that supply growth has kept slowly in line with demand, I don't think much deviation would have occurred for the "price" of these subscriptions, or in this case, the % subscriber fees relayed from the internet/telecom companies to Microsoft.
Here are the final results put together again: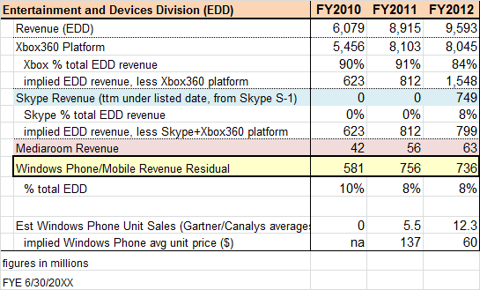 Conclusions
I think these results are pretty much in line with what Steve Ballmer said when he noted that Windows Phone went from a small market share to a small market share in the past year ("smaller" would have been a more appropriate description). However, unit sales have recently exploded in Q1 and Q2, and Gartner predicts very optimistically that Windows Phone will overtake the No. 2 spot from Apple's (NASDAQ:AAPL) iOS by 2015. While I'd like to believe this, as I'm currently long MSFT (for a host of other reasons not mentioned in this article), I think the uptake might be slower than predicted.
It's tough to miss the massive drop in average unit sales price. We've seen this recently in the marketplace with Nokia's (NYSE:NOK) Lumia price drop to as low as $49.99. Nokia makes about 75% of Windows Phones (according to Nokia's 10-Qs, they reported 6M unit sales for Jan-Jun 2012, against 7.8M estimated Windows Phone unit sales from Gartner), and the smartphone market is still consolidating, so these price drops are expected--although maybe not such steep ones.
From a business standpoint, this strategy makes sense. Microsoft has made (in my opinion) a good product and it has failed to market it accordingly. Lowering the price and using heavy marketing this Fall might potentially put the smartphone in the hands of millions of more consumers, potentially achieving some scale for the brand. A positive reception of Windows 8 this October may help their cause. Either way, I think Windows Phone revenues may be looking at a strong upswing for FY2013 if they can continue to increase market share at their current average price level.
Disclosure: I am long MSFT. I wrote this article myself, and it expresses my own opinions. I am not receiving compensation for it (other than from Seeking Alpha). I have no business relationship with any company whose stock is mentioned in this article.