Corning Incorporated (NYSE:GLW) is the world leader in specialty glass and ceramics, and manufactures products in its 60 plants in 14 countries. It operates five segments, of which the Display Technology segment, along with its collaboration with Samsung Electronics, provides the largest revenue stream of 40% (according to 2011 figures). Corning is behind the leading innovations in the manufacturing of LCDs for monitors and televisions, and its continued insistence on aggressive research have made it the leader in the LCD Industry. Its Specialty Materials segment has introduced the now industry standard of protective cover glass (Gorilla) used in tablets, notebooks and mobile phones. In early 2012, it introduced Gorilla Glass 2, an innovation that reduces glass thickness by 20%, which is highly in demand by manufacturers seeking lighter and thinner products. Specialty Materials accounted for 14% of total revenue in FY2011. Apart from these industries, Corning also has a presence in environmental technology, life sciences and telecommunications. We maintain that current financial figures do not reflect the company's long term potential, and rate the stock a buy.
Why is Corning Still a Prudent Long-Term Investment?
Investors have lately dubbed the stock a value trap. Although we believe the market is overreacting to the recent hurdles, and that its fundamentals remain strong enough to weather such setbacks, the drubbing that the company receives is not totally unfounded. Corning is truly a magnificent research and development company, but its infatuation with its technological innovation might spur building capacity at a rate that outpaces market demand. Recently, the global over abundance of display glass has depressed prices. Furthermore, falling demand for flat screen TVs has been behind the revenue declines. Corning and its affiliate Samsung Corning Precision holds more than 50% of the market share in display glass. Its true that short-term trades have run out of patience with Corning, but cash flows and debt structure reveal it has strong backing.
Let's begin with the most recent financial results. Net sales were down by 5% in the second quarter as compared to the same period last year. Consequently, gross margins also suffered and registered a decline of 10% YoY. Corning has felt the blow of Europe's economic woes and decelerating GDP growth in China. Primary contributor to the fall in revenue was the fall in prices in the Display Technologies segment, offset to some extent by sales increases in Specialty Materials, Telecommunication and Life Sciences segments. EPS suffered a decline of 35% YoY and stood at $0.30, just shy of analyst expectations of $0.31.
On the bright side, glass price declines have moderated in the second quarter, and expectations are that price will moderate again in the third quarter. JPM estimates glass prices to have declined by 3.6% QoQ in Q2, better than their initial forecast of 5.5%. Corning expects gross margins to increase by 1pp QoQ in Q3 to roughly 42.8%, because of the improvement in display glass volume. Guidance for Specialty Materials, driven by Gorilla, stands at a 10%-15% increase in revenue QoQ for Q3, since the orders in Q2 for a single customer changed and were later filled in Q3.
Table 1:
| | | | | | | |
| --- | --- | --- | --- | --- | --- | --- |
| | FY2006 | FY2007 | FY2008 | FY2009 | FY2010 | FY2011 |
| GP Margin | 44% | 47% | 46% | 39% | 46% | 45% |
| Total Debt/Equity | 23% | 16% | 12% | 13% | 12% | 11% |
| Interest Coverage | 8x | 11x | 12x | 6x | 11x | 13x |
Source: Bloomberg, Qineqt's Calculations
For the past five years, Corning has managed to maintain on average a gross margin figure of 45%. Although margins have declined sequentially, they still remain on the higher side and above that of the industry average. The company has managed its debt level superbly and has a Total Debt/Equity ratio below that of the industry. A high interest coverage ratio reveals its ability to service its debts comfortably.
Chart 1: (Figures in Millions)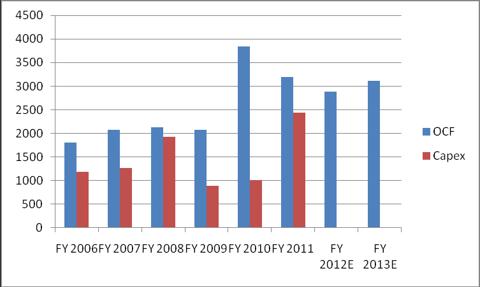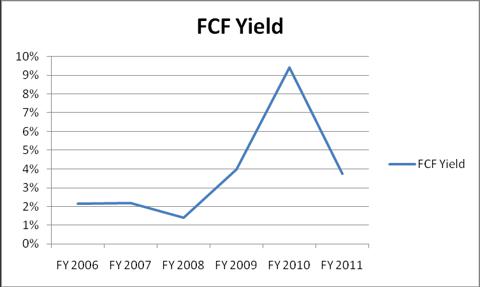 Source: Bloomberg
Another important feature that augurs well for the future of Corning has been its abundant cash flows generated over the years. Do note that the spike in FY2010 was the result of the special dividend from its affiliate Samsung Corning Precision. Secondly, the above average capital expenditure figure in 2011 was brought about by expanding capacity for Gorilla glass and other needed investments for its various business segments. In FY2011, it realized operating cash flows of $3.189b and dividends saw an increment of 50% by the end of the year. With that said, we believe the company is in a healthy financial position to ward off future blows.
Valuation
Worldwide hunger for larger detailed screens and tech giants such as Apple (NASDAQ:AAPL) and Samsung requiring tougher and thinner screens for their sleek smartphones and tablets points towards the bright side for Corning. Bad times may not be over, but the worst is definitely behind us. The slump in display prices and volumes is expected to ease during the second half of 2012. Consequently, and because of the fact that Corning will already have built the capacity, earnings are expected to increase and margins are expected to stabilize. If you are willing to be patient for the company to rationalize its demand and supply, and the stock to rebound, the current slump provides an excellent entry point in the stock. It is currently trading at 8x its forward earnings. Historically, for 5-year and 7-year, Corning has traded at 12x and 14x its forward earnings, respectively. It is also trading below the NASDAQ's P/E of 15x and the S&P's 14x.
Based on mean analyst estimates of 2013E earnings of $1.42 and its 5-year historical P/E average of 12x, we estimate a price target of $17. Analysts also expect that 2012 will mark the earnings trough, and earnings will continue to grow at ~9 % (its past 5-year growth rate) beyond 2013.
Disclosure: I have no positions in any stocks mentioned, and no plans to initiate any positions within the next 72 hours.
Business relationship disclosure: The article has been written by Qineqt's Technology Analyst. Qineqt is not receiving compensation for it (other than from Seeking Alpha). Qineqt has no business relationship with any company whose stock is mentioned in this article.