Over the past ten months, I've written several articles suggesting that home health companies were trading at extremely low valuation levels and that investors should consider looking at them. Since then, while most of the names are up 20% on average, Gentiva (NASDAQ:GTIV) is up an exceptional 175%. In the past 30 days alone Gentiva has doubled. Most of this move can be attributed to the company's earnings release on August 2nd.

On August 2nd, Gentiva announced that they made $0.35 per share for the quarter on an adjusted basis and maintained its full year EPS guidance of $1.00-$1.20 per share for 2012. The second quarter was the first quarter to truly show the success of the company's efforts to cut costs. As can be seen in the chart below, gross margin returned to its highest level in over a year while the company posted its lowest quarterly SG&A since its purchase of Odyssey Health.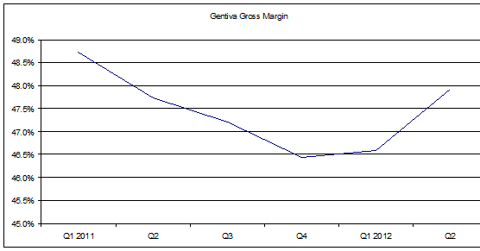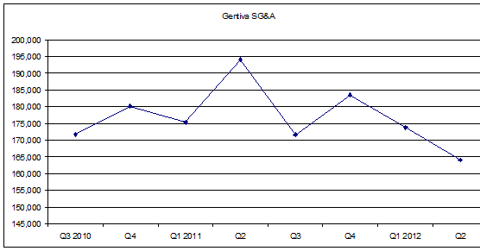 Not only has the company been successful at cutting costs, but adjusted admissions have been increasing. Adjusted volume growth for the quarter was up 7% over the prior year while admission growth was 3%. Additionally, the company is on the hunt for acquisitions again, evidenced by its purchase of Advocate Hospice on July 26th. Aside from acquisitions, the company continues to make paying down debt a priority for free cash flow.
An interesting piece of news last week was Kindred's (NYSE:KND) purchase of InegraCare holdings. Kindred management has previously stated in public forum that aside from its core LTAC and IRF businesses, it had a desire to expand into home health care to expand its presence in the continuum of post acute care. The multiple that KND paid in this acquisition should be of particular interest to investors of LHC Group (NASDAQ:LHCG), Amedisys (NASDAQ:AMED), Addus (NASDAQ:ADUS), Almost Family (NASDAQ:AFAM) and Gentiva . As the table illustrates below, the multiple that KND paid for Integracare makes the publicly traded space appear inexpensive.
| | | |
| --- | --- | --- |
|   | 2012 EV/Sales | 2012 EV/EBITDA |
| Addus | 0.3x | 6.4x |
| Almost Family | 0.5x | 5.0x |
| Amedisys | 0.3x | 5.2x |
| Gentiva | 0.7x | 5.9x |
| IntegraCare | 1.05x | 8.3x |
| LHC Group | 0.5x | 4.7x |
*Based on Internal Estimates and Company Reports
The other side of the coin is LHC's failed auction earlier in the year. While the stock was trading below 5x EV/EBITDA, the company's board of directors initiated the process of exploring strategic alternatives. While it was rumored that KKR put an offer together above $20 (the stock is at $17), those rumors were never confirmed. In June, the board announced that after a comprehensive review, they were going execute on its business plan and put thoughts of sale aside. The company likely received bids, but those bids did not meet what the company saw as a justifiable premium for shares. After all, shares of all of the aforementioned companies are still well below their multi year highs.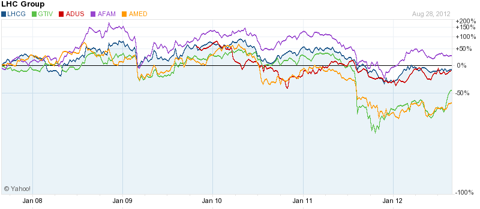 On the reimbursement front, excluding sequestration (a deal reached between the President and Congress in 2011 to lower government spending 2% across the board in 2013 if no better proposals were submitted) Home Health & Hospice rates will be approximately flat in 2013. Even if congress is able to negotiate its way out of sequestration, healthcare service companies will likely continue to face reimbursement challenges going forward.
In conclusion, while home health names still present a compelling value versus other areas of healthcare and the market in general, valuations have rebounded to more reasonable levels this year, particularly Gentiva. Admissions should continue to increase as a result of a greater number people entering Medicare every year, however, this will be somewhat offset by reimbursement challenges. While we remain interested in the space, we suggest those that have made money to date take some profits.
Disclosure: I am long ADUS, GTIV. I wrote this article myself, and it expresses my own opinions. I am not receiving compensation for it (other than from Seeking Alpha). I have no business relationship with any company whose stock is mentioned in this article.