Cummins (NYSE:CMI) is sitting in a sweet spot when it comes to cheap natural gas. As companies switch their large trucks from running on diesel to natural gas, one place they will look for natural gas engines is Cummins. Cummins began developing alternative fuel technologies, such as natural gas, in 1988 and has over 25,000 natural gas engines in service worldwide.
With the price per unit of energy for diesel at eight times the cost of natural gas, truck heavy companies such as Waste Management (NYSE:WM), FedEx (NYSE:FDX) and United Parcel Service (NYSE:UPS), will be looking to transition to natural gas in order to reduce costs and operate "greener".
In the company's Q2 2012 earnings call held on July 31, 2012, Cummins noted demand for natural gas engines has increased significantly versus the prior year and has experienced double the previous shipment volume. Additionally, the company indicated it has had a lot of inquiries related to natural gas engines.
Currently, the infrastructure to support vehicles powered by natural gas is not in place, but Jimmy Haslam, CEO of Pilot Flying J Travel Centers, a large truck stop operator, noted trucks would be able to fill up nationwide with Liquid Natural Gas (NYSEMKT:LNG) within two years. As of April, 2012, Pilot Flying J had 10 truck stops offering LNG, and plans to have 100 truck stops offering LNG by the summer of 2014. Additionally, Pilot Flying J indicated it could ramp up deployment of LNG service if demand were to increase significantly.
Compressed natural gas is suitable for short haul operations, but for long-haul trucking, LNG is more advantageous. Due to the significant weight of tanks required for Compressed Natural Gas, long-haul trucks will use LNG in order to take advantage of lighter-weight tanks.
Transitioning to LNG may not be as straightforward as thought by some, as C.R. England has been struggling to receive a payback for its trucks operating on LNG. C.R. England has experienced increased maintenance costs for its LNG trucks as compared to its conventional diesel trucks. C.R. England noted its LNG trucks require oil and fuel filter changes twice as often as its diesel trucks and the LNG trucks require valve adjustments after only 60,000 miles as compared to 500,000 miles for diesel.
Cummins has a joint venture with alternative fuel products company Westport Innovations (NASDAQ:WPRT) for developing natural gas engines, but Cummins also announced it is developing a natural gas engine on its own for on-highway applications.
The differential between diesel and natural gas prices is not limited to the U.S., as indicated by Westport Innovations, and the trucking industry is developing faster in China than in the U.S., so China could be a hotbed for deployment of natural gas as well.
Outside of strong demand for natural gas engines, news for Cummins wasn't so bright as provided in its Q2 earnings release/call, as the company reported quarterly revenues down 4% year-over-year and expects revenues to be flat as compared to 2011 which was a reduction from previous guidance of 10% growth. Growth in North America grew nicely at 12% with strength in the construction segment, however, the company experienced continued weakness in Brazil, India and China, with quarterly international revenues down 16% year-over-year.
Cummins is confident demand will improve in Brazil, China and India in time. The company indicated the Chinese government is focused on achieving an economic soft landing as opposed to a hard landing. Additionally, China is attempting to transition its economy away from internal infrastructure focused to one based on consumers. Cummins noted it doesn't see the economic conditions in China worsening, but predicting how quickly the country's economy improves is difficult.
Over the last year Cummins' stock price has been up, followed by a retreat as shown below: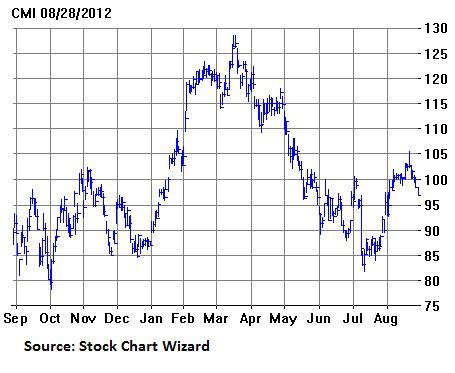 Cummins' stock appears to have support in the $85 range which it touched in July, followed by brief recovery to the $105 range.
With the bright prospects for Cummins natural gas engines and its earnings release in the rear-view mirror, a bull-put credit spread for the company is considered. A bull-put credit spread may be entered for a net credit by selling one put option and purchasing a second put option further out-of-the-money. The goal is for the options to expire worthless and retain the initial net credit as profit.
Using PowerOptions a variety of bull-put credit positions are available for Cummins for September expiration as shown below: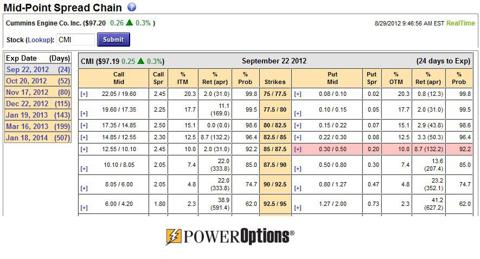 The CMI 2012 Sep 85/87.5 bull-put credit looks attractive and can be entered for a net credit of $0.20 which represents a potential return of 8.7% (132.2% annualized). The position has a separation of 10% between the underlying stock price and the strike price of the short put option. The position may be entered by selling the CMI 2012 Sep 87.5 put option at $0.50 and purchasing the CMI 2012 Sep 85 put option at $0.30.
CMI Bull-Put Credit Trade
Sell CME 2012 Sep 87.5 Put at $0.50
Buy CME 2012 Sep 85 Put at $0.30
A profit/loss graph for one contract of the Cummins bull-put credit spread is shown below: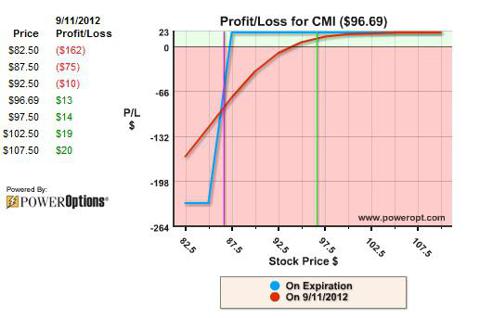 For a stock price above the $87.5 strike price of the short put option at expiration in September, the position will realize the full potential profit of 8.7% (132.2% annualized). For a stock price below the $85 strike price of the long put option at expiration in September, the position will realize a total loss, however, the position should be managed prior to experiencing a loss.
A management point of $91 is set for the position. If the price of the stock drops below $91, then the position should be managed for an exit or a roll.
Disclosure: I have no positions in any stocks mentioned, and no plans to initiate any positions within the next 72 hours. I wrote this article myself, and it expresses my own opinions. I am not receiving compensation for it (other than from Seeking Alpha). I have no business relationship with any company whose stock is mentioned in this article.