VMware (NYSE: VMW) is a sexy tech company that made investors a lot of money on the way up. It had a huge IPO in 2007 and climbed to lofty heights.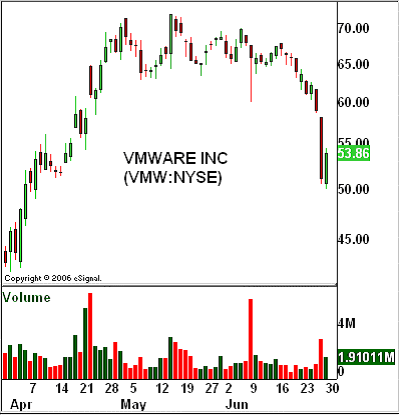 But a few weeks ago, my friend Cash McDash called out VMW as a strong potential short play. (You can verify the call for yourself. See "This High-Tech Darling Could Crash and Burn.")
In recommending a short in the $65 area, Cash noted (among other things) that competitors could put a big dent in the VMware story.
Sure enough, one of the biggest and baddest competitors showed up a short time later… none other than Microsoft. News that Microsoft (NASDAQ: MSFT) will be offering a competitive product — at a sharply lower price, no less — has sent VMW shareholders running for the exits. The stock probably has further downside ahead.
This kind of thing happens a lot to hot new issues. Six to twelve months after the IPO, reality comes barging in. If it's not a bruising competitor like Microsoft, it's something else that pours cold water on the enthusiasm. You see it a lot with glamor stocks that get ahead of themselves.
As a new-issues trader who goes both ways, my friend Cash McDash loves these situations. He's got an eagle eye when it comes to spotting high-flier short setups.
If you don't mind dabbling on the "dark side"… or if you just want an early warning on some of the high-profile longs in your portfolio… you should keep tabs on what Cash has to say. Stay tuned for more on that front soon.
Source: When Microsoft Attacks!
Disclosure: none