I have been bearish on government bonds since March of this year and have repeatedly warned that they were an overpriced asset class, saying at the time:
… one should be cognizant of the fact that an investment in a 10-year Treasury Note will by definition lock in a total return of 3.5% over the next 10 years. This sounds unsustainable and I find it difficult to see the long-term investment merit of such an investment. Long-dated bond prices could be hit hard once yields adjust to more realistic levels. (See "Long Bonds in Injury Time", March 28, 2008.)
Although rising bond yields have been given a reprieve because of the deteriorating outlook for economic growth and commensurate safe-haven buying, I maintain that the medium-term outlook remains negative owing to valuation levels still being stretched, especially in the light of mounting inflationary pressures.
The chart below shows the long-term pattern of U.S. ten-year Treasury bond yields and specifically the low of 3.14% reached on March 17 and the subsequent turnaround.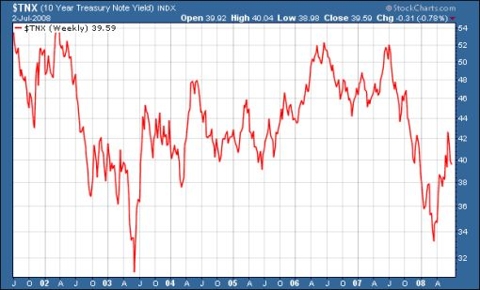 Source: StockCharts.com
A very apt and well-reasoned summary of the various factors impacting the outlook for government bonds appeared in The Economist a few weeks ago.