Through a series of Seeking Alpha articles I have attempted to draw a comprehensive investment thesis regarding the Canada based oil and gas producer Equal Energy (NYSE:EQU).
Here, I would like to tie all those diverse elements in an all inclusive article that would lead to a much clearer picture regarding the value of Equal Energy and what Equal's investors should expect going forward.
Firstly, I would like to start by directing readers toward the three key articles reviewing Equal Energy's asset base:
Equal Energy Cardium Sweet Spot
Equal Energy Hunton Lime Formation
In the Cardium sweet spot article, I have highlighted Equal's presence in this valuable location where the production type curves are one of the highest - if not the highest - in western Canada; in the Viking formation article I have highlighted the high IRRs of the Viking wells at Halkirk and with the Hunton Lime article I demonstrated the strong economics of this unique liquid rich basin. In subsequent articles I discussed the value of the company's Hunton assets as large buyers such as ICON investments enter the market searching for assets in the in the Hunton Lime formation, while in other articles I have demonstrated the tremendous undervaluation of the company's US portfolio in comparison to other Canadian peers with US based oil and gas assets.
I have also written extensively about shareholder activism and the strategic review being undertaken by the company to close the valuation gap between the underlying value of Equal's assets and the market value as presented by the company's share price.
With all the above information in mind, what is the comprehensive conclusion of all this work? What should investors expect in terms of Equal's future valuation?
I believe it is best to start with a table showing Equal Energy's current key valuation metrics:
| | | |
| --- | --- | --- |
| | Components | Valuation |
| Production | 10200 Bpd | $26500 per flowing BOE |
| Production breakdown: | 13% Oil, 38% NGLs, 49% NG | |
| Proven Reserves | 34.6m | $7.8 per Proven barrel |
| Proven + Probable Reserves | 37.9m | $7.12 per Proven + Probable barrel |
| Debt Adjusted Cash Flow | $54m | 5 EV/DACF |
| Market Capitalization | $120m | |
| Net Debt | $150m | 2.7 D/DACF |
| Enterprise Value | $270m | |
| Credit Lines | $200m (56% Withdrawn) | |
To my knowledge there is no North American 51% liquid weighted O&G company that trades at such metrics. According to TD Waterhouse, Canada based O&G companies with 57% natural gas weighting and no yield trade at the following metrics:

Equal trades at a 75% to 55% discount to the above metrics. If a company is in financial distress, or has accounting or other major operational problems, it is conceivable that it may trade at such depressed levels. However, Equal is in no such distress: it has ample funding capacity under its $200m credit lines, the company's capital spending is within cash flow and there are no major accounting or operational issues. As a matter of fact, the company is in the best financial shape it has been in over the last 5 years. It has also recently embarked on drilling its very attractive light oil prospects at the Cardium sweet spot and in the Mississippian formation with its joint venture partner Atlas Resource Partners (NYSE:ARP).
How to unlock this massive hidden value?
In order for Equal to unlock the substantial hidden value in its extensive asset base and achieve a valuation comparable to its peers, it needs a solution that will accomplish the following goals all at once:
- Focus the company on an asset type
- Focus the company on a geography
- Focus on a specific investor base
- Substantially reduce debt
All the above can be accomplished by either divesting the Canadian light oil assets and converting into a mutual fund trust or by divesting the US Hunton/Mississippian assets and converting into a Canadian light oil weighted growth junior.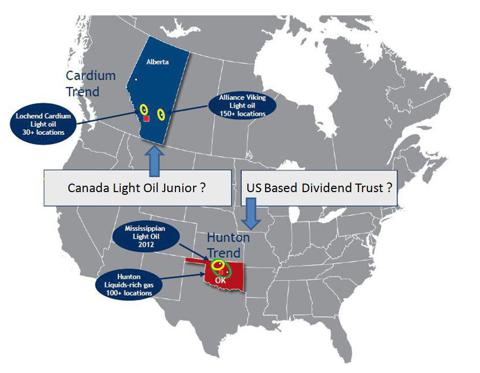 Mutual Fund Trust model (Heads)
The mutual fund trust model is very similar to the old trust model that existed in Canada up to 2010. At the height of the trust mania in Canada in 2006, close to 10% of Canadian listed companies were organized as trusts, including over $80B in energy related trusts. This all changed on October 31st 2006 when the Canadian government cancelled the trust model in what was dubbed the "Halloween Day trust massacre". However one exception remained: trusts with assets exclusively outside of Canada may continue to operate as such. In 2010, Eagle Energy Trust (ENYTF) opted to benefit from this exception and filed to go public. Following this successful offering, two other trusts followed in 2011 and 2012: Parallel Energy Trust (OTC:PEYTF) and Argent Energy Trust.
Equal's US Hunton/Mississippian portfolio is uniquely positioned to benefit from this income focused model; the company's Hunton asset fits perfectly in a model that requires steady production and modest growth; meanwhile, the company's Mississippian asset offers a complimentary oil weighted growth component that can contribute significantly to such a trust's cash flow. In the following table, I will compare an Equal Energy Trust model vs. exiting trusts:
| | | | |
| --- | --- | --- | --- |
| | Equal Energy Trust* | Parallel Energy Trust | Argent Energy Trust |
| PDP Reserves | 22.63m (45% liquids) | 31.96m (63% liquids) | 1.845m (15.3% liquids) |
| PDP + PUD Reserves | 30.71m | 45.1m | 6.9m |
| PDP RLI | 6.9 years | 12.5 years | 2.66 years |
| PDP + PUD RLI | 9.35 years | 17.69 years | 9.95 years |
| Production | 9000 bpd | 7000 bpd | 1900 bpd |
| Production composition | 3% Oil, 43% NGLs, 54% NG | 65% NGLs, 35% NG | 1.8% NGLs, 20.2% Oil, 78% NG |
| Production cost per BOE | $6.32 | $7.01 | $4.38 |
| Valuations: | | | |
| Per flowing barrel | $19,400 | $85,500 | $98,000 |
| Per PDP barrel | $7.73 | $16.7 | $101 |
| Per PDP+PUD barrel | $5.69 | $11.83 | $27.1 |
| Net Debt | -$65m | -$190m | +$36m |
| EV/DACF (2012) | 4.3 | 11.1 | 8.5 |
| D/DACF (2012) | 1.62 | 4.7 | N/A |
| Dividend | 40c to 80c** | 96c | $1.05 |
*Equal Energy Trust assumes a divesture of Equal Energy Canadian assets portfolio for $85m, which is the midpoint estimate by Desjardins Securities issued on May 4th.
**The final dividend amount will depend on the company capital spending plans in the Hunton and the Mississippian, shares buyback post divesture, the introduction of a DRIP plan and expectations for commodity prices.
As can be seen from the above, an Equal Trust has substantial room to appreciate; a key reason why such trusts are highly valued is due to the current thrust for yield in the financial markets, an Equal Trust would address that demand. Applying existing trusts multiples to an Equal Trust would lead to a stock price ranging from $6 to $9 per share, depending on which multiple is used as a base for comparison.
Canada Light Oil weighted Junior (Tails)
The light oil junior model is a straight forward growth oriented model that will capitalize on the company attractive light oil asset base and deliver substantial growth through a debt free vehicle. The Canadian portfolio consists of the following assets:
- The Lochend Cardium sweet spot (240 Bpd)
- The Viking at Halkirk (530 Bpd)
- Clair oil field (230 Bpd)
Total: 1000 Bpd (82% light oil)
It is worth noting that current total production excludes the newest Lochend Cardium slick water fractured wells.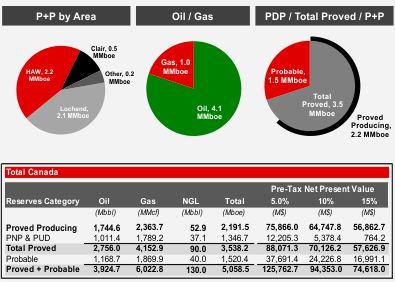 Source: Scotia Waterous
The assets with the most running room are the Cardium and the Viking assets. Those are top notch assets; the Cardium sweet spot offers one of the best type curves in western Canada with IP30s in excess of 500 barrels per day, and several operators such as Pengrowth Energy (NYSE:PGH) have reported IP30s at 800 barrels per day. Equal's first well using the slick water fracturing technique in the formation came in at an IP9 of 890 barrels per day earlier this month.
For an operator such as Pengrowth Energy with 78,000 barrels in daily production, wells of this size are of interest, but their impact on overall production is quite limited. However, for the resulting Equal junior company several wells coming at 800+ IP30 will have a sizable impact on production when measured against a base production of 1000 barrels.
Once the US assets are divested for an estimated $250m, Equal will be armed with over $100m in cash and a $0 debt position. The company will have all the resources it needs to aggressively drill its 40 prospective Lochend Cardium locations and 150 to 250 Viking locations. The resulting Equal entity can easily exceed 2000 barrels in daily production by the end of 2012, and cross 5000 barrels by the end of 2013, for a year over year growth of 150% while maintaining a strong cash position.
Canadian light oil juniors with strong balance sheets trade at very high multiples. Follows are comparable companies with assets in the Cardium and the Viking:
Whitecap Resources (OTCPK:SPGYF) (Cardium and Viking player)
Raging River Exploration (OTC:RRENF) (Viking)
Trioil Resources (OTC:TRIAF) (Cardium)
Valuations based on expected 2012 production:
| | | | | |
| --- | --- | --- | --- | --- |
| | Whitecap | Raging River | Trioil | Average |
| EV/Production per BOE | $93,000 | 148,000 | $63,000 | $101,000 |
| EV/Proven per BOE | $52 | $74 | $25.8 | $50.6 |
| EV/P+P per BOE | $35 | $46 | $14.7 | $31.9 |
Applying the above multiples to the resulting Equal oil weighted junior would give a valuation of $7 to $9 per share, depending on which valuation multiple is used and including the $100m in net cash position post a US divesture.
Conclusion
What is clear from the above exercise is that both a US dividend trust model and a Canadian light oil weighted model would lead to a much higher valuation and a much higher stock price. Heads it is a win, Tails it is a win.
The company in its current form is penalizing both of its US and Canadian assets: instead of strengthening the company, those assets are acting as natural poison pills to each other, with each asset holding the other and preventing it from fully realizing its potential. This is compounded by the fact that holding on to both assets significantly increases the debt burden, while focusing on one would significantly reduce - or fully eliminate - the debt burden.
The above facts are not lost on the competent bankers at Scotia Waterous and Desjardins Securities who are currently advising Equal during its strategic review. In one of my conversations with the lead banker at Scotia earlier in the review process, I was informed that "the status quo is not an option for the company." This was also echoed to me by the company's management when I first approached the company to unlock value earlier in the year.
If one was to make a short conclusion, one would say that Equal management needs to let go of one asset in order to allow the remaining asset to flourish, holding on to both would be of no benefit to either and wont address the debt issue. Of course the board of directors and the management also have the option to sell all the assets and fully liquidate the company at the conclusion of the review. This could be another way to fully unlock value, but certainly not an imperative for the review to achieve its objective.
As of the time of this writing, the strategic review has been ongoing for close to four months. The company has already indicated on August 9th that the strategic review has produced a number of proposals. The review may very well conclude within the next few days or few weeks. Investors will be well served to position themselves in the equity prior to the review conclusion: a successful conclusion could lead to a 100% appreciation in the stock price in quick order.
However, in the unlikely scenario of the company choosing the status quo, a sharp decline in the stock price is remote, considering the modest valuation of the existing structure. Not to mention the likelihood of the activist group taking action to rectify such a decision.
Disclosure: I am long EQU. I wrote this article myself, and it expresses my own opinions. I am not receiving compensation for it (other than from Seeking Alpha). I have no business relationship with any company whose stock is mentioned in this article.