A very small, often overlooked industry is that of aircraft suppliers. Since most people have already diverted their attention away from this article after reading the first sentence, I commend you for making it this far. Remember that most small cap stocks (most aircrafts suppliers fall into this asset class) are not covered by Wall Street analysts and can offer tremendous value if purchased during the proper market cycles. So why waste your time looking through these terribly boring financial statements when you could be evaluating a high growth area of the market like mobile commerce or cloud computing? Why not simply pick up shares of Boeing (NYSE:BA) and call it day? Who is Heico (NYSE:HEI) anyway? These are all great questions and the overwhelming majority of investors would simply choose to follow the herd. I believe that stepping outside of the herd and making your own investment decision can deliver significant alpha.
A timely conference hosted by Gabelli & Company, the 18th Annual Aircraft Supplier Conference, is taking place in New York on September 6th. Senior managers from several of the leading aerospace and defense companies will be presenting. Below are a handful of the companies attending:
AAR Corp (NYSE:AIR)
GenCorp (GY)
Kratos Defense and Security (NASDAQ:KTOS)
Crane Co (NYSE:CR)
Heico
Parker-Hannifin (NYSE:PH)
Curtiss-Wright Corp (NYSE:CW)
Exelis (NYSE:XLS)
Textron (NYSE:TXT)
Ducommun (NYSE:DCO)
Kaman Corp (NASDAQ:KAMN)
Woodward Inc (NASDAQ:WWD)
It is likely that new and timely information regarding the future of this industry will unfold at the conference and attendees will be rushing back to their desks offering new investment suggestions. All the attendees deliver compelling growth stories, however my top pick (and the purpose of this article) is Heico, a company located in South Florida with a market cap of roughly $2 billion. Heico operates in two segments, Flight Support (designs, engineers and manufactures FAA- approved parts) and Electronic Technologies (designs and manufactures electro-optical products for space and defense). The business is fairly simple. Look at it this way:
Think of your automobile; let's say you own a Ford. If you need replacement parts you have two options, go to the dealer and pay very inflated prices for OEM parts, or head down to your local auto parts store and pick up the same part, with someone else's name on It, for substantially less. Heico is like the auto parts store.
The company has a strategy of growing through acquisitions. With the endless amount of intricate parts that go onto commercial airplanes you can imagine the multitude of companies that specialize in one small piece. During fiscal year 2012 Heico has already acquired four companies (Switchcraft, Ramona Research, Moritz Aerospace, and CSO Aerospace). Part of the reason they can continue to acquire smaller companies is due to the operating cash flow they produce. As you can see in the chart below cash flow from operating activities has continued to grow at healthy rates (even positive growth in 2009, not bad for a "cyclical" company). Note: management is projecting $130 million in operating cash flow for the fiscal year 2012, slightly lower growth rate that previous years due to repayment of current liabilities.
| | | | | | | |
| --- | --- | --- | --- | --- | --- | --- |
| | 2007 | 2008 | 2009 | 2010 | 2011 | TTM |
| Cash Flow From Operations | $57,450,000 | $73,162,000 | $75,817,000 | $101,717,000 | $125,518,000 | $118,823,000 |
| OCF Growth Rate | | 27.35% | 3.63% | 34.16% | 23.40% | -5.33% |
Source: Heico 10-k's and 10-q's
The revenue story with Heico continues to be impressive as well. Management is predicting fiscal 2012 net sales of $890 million, a 16% increase over fiscal 2011. Again, the acquisitions (over 44 since 1990), continue to drive this number higher, but in the world of aircraft replacement parts, Heico estimates they supply less than 2% (major opportunity to grow). The three principal suppliers of OEM jet engine parts are General Electric (NYSE:GE), Pratt & Whitney, and Rolls Royce. Heico has the potential to gain a lot more market share in this space, and as they continue to add new products to their line-up. At the company's current rate of approximately 300-500 new products per year, the revenue growth may continue to remain robust into the future.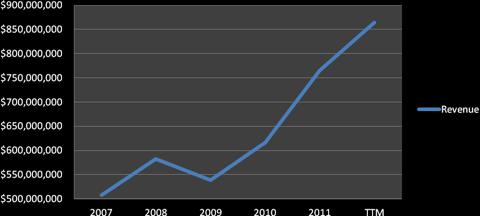 Source: Heico 10-k's and 10-q's
Most companies tend to dilute their share count over time as acquisitions become a larger part of their business. Heico has been able to draw on a revolving line of credit and issue debt to pay for new companies; these borrowings are then repaid from operating cash flow. While many companies can easily put this strategy on paper, Heico management has proven in the past to successfully execute upon this strategy. The table below shows the diluted share count (1.3% increases over five years) and the debt/revolving line of credit at fiscal year end. Note: recent acquisitions at the beginning of the year were funded with debt and the TTM number is much higher than prior years.
| | | | | | | |
| --- | --- | --- | --- | --- | --- | --- |
| | 2007 | 2008 | 2009 | 2010 | 2011 | TTM |
| Diluted Shares | 52,599,703 | 53,209,680 | 52,781,311 | 52,766,923 | 53,126,565 | 53,288,000 |
| Debt & Revolving LOC | $53,000,000 | $37,000,000 | $55,000,000 | $14,000,000 | $36,000,000 | $152,615,000 |
Source: Heico 10-k's and 10-q's
Heico has proven to deliver on the bottom line as well. Management has predicted roughly 14% EPS growth for the current fiscal year. While this number is down slightly from 2011 (31.65% growth YOY) and 2010 (23.11% growth YOY), I still consider it quite strong given a year of increased acquisition, interest, and depreciation expense. As the chart below depicts, shares trade slightly below their five year average price-to-earnings multiple.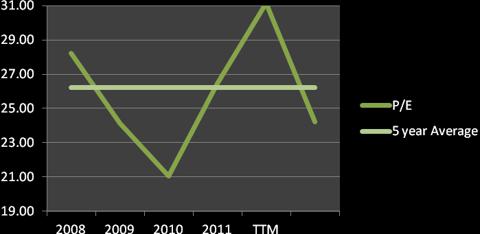 Source: Heico 10-k's and 10-q's
Conclusion
Technical traders may observe from the chart below a stock that is clearly trending downward. Waiting for a reversal up may prove to be wise given the uncertain economic environment we are heading into. However fundamental or long term traders may want to begin scaling into positions on these pullbacks. As I mentioned above, the stock is trading right around historic averages and always commanded higher multiples. Keep your eye out for some of the names mentioned above, this quiet little industry could provide the alpha we all seek.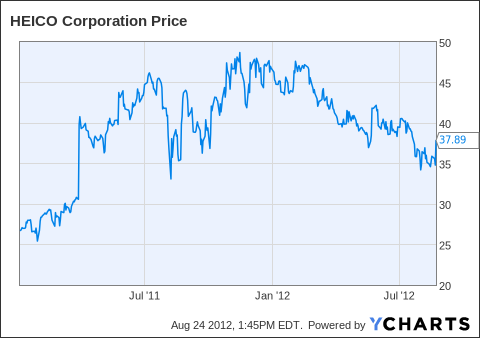 *Note: All data reported and graphed is pulled directly from Heico's SEC filings 10K's and 10Q's and press releases then ran through proprietary valuation models. The stock price used was from 8/24/12.
Disclosure: I am long HEI. I wrote this article myself, and it expresses my own opinions. I am not receiving compensation for it (other than from Seeking Alpha). I have no business relationship with any company whose stock is mentioned in this article.