Do you surrender? Do you give in? The rest of the market participants are darn close to doing so.
The problem with the idea of stock market capitulation is that it's nearly impossible to predict. In fact, most of the time, we use 20/20 hindsight to identify it.
There are some signs, however. For example, near the March 2007 lows, you had the put/call ratio hit 1.0. Yesterday, the equity put/call ratio only registered 0.71. That might suggest we have further to fall. (Re-read, "Extreme Bearishness Will Tell You When To Buy.")
Back in March, you also had investors throw out the resource stock babies with the drinking water. Same thing happened here on the 2nd of July. And that might be quite telling. Today, the remaining strongholds of Metals/Mining (NYSEARCA:XME), Materials (NYSEARCA:XLB) and Energy (NYSEARCA:XLE) dropped 3% or greater. This was on a day when commodity prices kept climbing AND Financials (NYSEARCA:XLF) didn't fall quite as far (-1.5%).
So perhaps we are closing in on the point in time when investors have collectively decided that they've had enough. Perhaps we are nearing that place where the majority of folks prefer to take their lumps.
When this happens... when all of those who wanted out have done so... only buyers are left. And they drive the prices back up. In fact, prices will go up, whether the rally is for real or whether it's merely another rally in the bear.
Either way, stocks are going to get a summer reprieve. The question is... which group of stocks?
In my estimation, we are likely to see a high correlation between what worked off the March lows and what will work off of the July lows. (I am assuming we'll put in a "July bottom.")
So let's review a chart from March and a chart from today: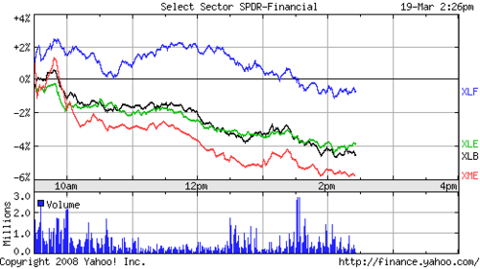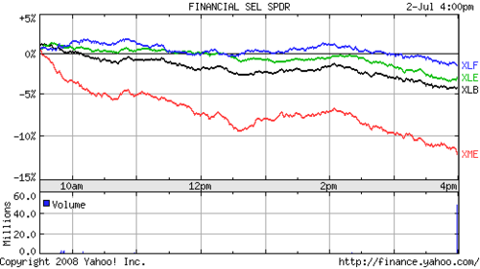 The pattern is eerily similar. When the markets capitulated in March, financials had sold off about as much as they were going to sell off. In contrast, people who had been holding onto gains of their remaining winners reluctantly sold resource-related companies.
If capitulation has occurred, which I am not saying it has, the question turns to the stock assets that ran the strongest in the 2-month rally from March 20 to May 19. The chart below shows that Materials (XLB) and Energy (XLE) reigned supreme.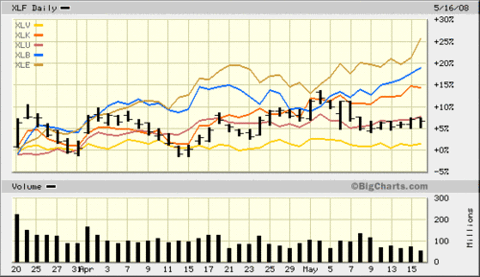 Again, I am not suggesting that we necessarily witnessed capitulation yesterday. Honestly, there may not have been enough fear in the CBOE Volatility Index nor the CBOE Equity Put/Call Ratio.
Nevertheless, the resources baby should probably not be thrown out with the bath water; in particular, if there's going to be a bear market rally (or a real rally), expect that leadership will stay the same in the near-term.
Disclosure Statement: ETF Expert is a web log ("blog") that makes the world of ETFs easier to understand. Pacific Park Financial, Inc., a Registered Investment Advisor with the SEC, may hold positions in the ETFs, mutual funds and/or index funds mentioned above. Investors who are interested in money management services may visit the Pacific Park Financial, Inc. web site.