A Bearish Dollar Can Be Captured With ETFs
Opinion on the direction of the dollar has been volleyed back into the bearish court, and don't worry: there's an ETF for that.
Jim Rogers, chairman of Rogers Holdings, spoke up on Monday and said in no uncertain terms that investors should avoid the dollar "at all costs." He's putting his money where his mouth is (money presumably not denominated in greenbacks) and last October, said he planned to shift all of his assets out of the dollar.
The dollar has lost 7.6% against the euro and 5.1% against the yen this year, reports Zhang Shidong for Bloomberg.
Rogers' statement was a reversal from May 8, when he said the dollar was poised to have a rally, simply because of bearish sentiment. On May 14, he recommended that investors use the rally as a chance to buy the Japanese yen and Swiss franc.
But now, the best investments, he says, are commodities and natural resources. Rogers is someone to pay attention to: back in April 2006, he predicted oil would reach $100 a barrel and gold would hit $1,000 an ounce.
Tuesday, Morgan Stanley said the dollar's decline was in its final moments.
Can Biofuels And ETFs Weather The Elements?
Biofuel production may be getting flooded out, as harsh weather in the Midwest threatens the well-being of crops, alarming Wall Street investors and related ETFs.
The recent record storms and floods have drowned out the possibility of a bumper crop of corn. As America becomes more dependent on biofuels, vulnerability increases with the threat of droughts and constant storms, says Jad Mouawad for The New York Times.
The recent flooding has sent the cost of ethanol up 19% in one month. Ethanol represents around 6% of the nation's transport fuel, but that number will rise in the next decade up to 20%. If more bad weather causes crop failure, the fuel market would be so stripped as to send prices up at the pump even more.
Recently, around 29 countries have curbed food exports in an effort to ensure their own population has enough to eat at fair prices. As far as rice goes, India, China and Vietnam have banned the export of the grain altogether, report Keith Bradsher and Andrew Martin for The New York Times.
The apparent food hoarding is actually making it difficult for other countries to afford the food they need. People who count on relief agencies are ultimately going hungry. People with money are buying more and more food in response to this epidemic, and are actually adding tot he problem.
ETFs that haven't been going hungry this year: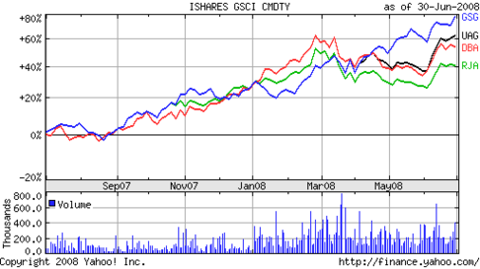 For full disclosure, Tom Lydon's clients own shares of DBA.
Gold and Silver ETFs Looking Shiny Amid Middle Eastern Tension
As tension mounts over Iran's nuclear program, about the only thing looking shiny are precious metals, and their related ETFs.
Gold rose to its highest level in almost 10 weeks yesterday over speculation about Iran's nuclear program, while silver has also gained, as investors sought shelter from market trauma. But after a 10% gain in the last week, gold dropped back slightly yesterday, reports Thomson Financial.
After ABC News reported that Israel is likely to attack Iran, crude oil futures nearly doubled, jumping 2.4%, reports Pham-Duy Nguyen for Bloomberg. Oil rose to $142.49 Tuesday.
Gold has rallied 45% over the past year, while UBS AG has forecasted a higher average price for the metal.
Israel is threatening to bomb Iran if the Persian Gulf nation acquires enough uranium to build a weapon, threatening Middle East supplies. ETFs that could gain from the run-up in gold and silver are: