Shares of Facebook (NASDAQ:FB) have dropped 50.04% since its IPO in May. At $19.10 per share, the stock is trading at its all-time low. Has a buying opportunity emerged after the plunge? In this article, I will walk you through some thoughts that helped in formulating my investment decision.
The value analysis performed below includes a set of Facebook's comparable peers. The stock value is estimated by equally weighting the valuations calculated by four difference peer-average trading multiples - EV/Sales, EV/EBITDA, P/E, and P/S.
After a valuation compression lasting more than three months, a few positive factors have emerged to support a buy for the stock:
Click to enlarge

1. Facebook is now priced reasonably relative to its growth potential (see above table). Analysts in average predict FB's revenues, EBITDA, and EPS to rise by 2-year CAGRs of 31.5%, 30.0%, and 5.1% over the current and next fiscal years. The rates have dropped from 34.1%, 31.6%, and 13.0% from exactly three months ago. Consistent to that trend, FB's PEG has also decreased from 1.8x from three months ago to 1.3x at present, which is in line with the peer average of 1.4x, suggesting the market's optimism has largely faded.
2. Facebook is also priced reasonably based on the company's relative financial performance to that of its peers (see table above). In terms of future growth, Facebook significantly underperforms the peer averages. However, Facebook's profitability is slightly better than that of its peers in general. Most of Facebook's LTM margin measures are fairly in line with the peer averages, but the firm's LTM ROE and ROIC are substantially above the par. Facebook also has a superior capability in generating free cash flow as its LTM FCF is significantly above the average. Lastly, both FB's current and quick ratios are at a double-digit level, reflecting a very liquid and healthy corporate balance sheet.
Overall, on growth and financial conditions, Facebook's lackluster growth prospects appear to be the primary value drag. Based on my model, the current stock price of $19.10 implies an average valuation discount of 32% to the four peer-average trading multiples, which likely reflects FB's relatively weak growth (see below).

3. Facebook's financial estimates are basically in line with what they were two months ago (see below). However, the stock's valuation multiples have plummeted substantially over the same period (see below), indicating the stock has become less pricey.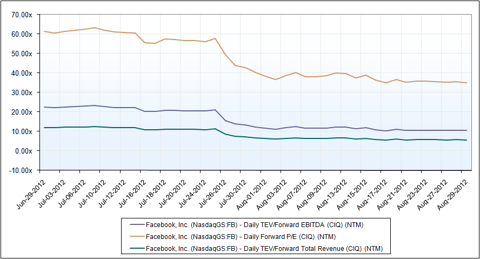 Is Facebook's valuation discount sufficient to account for all the risks embedded in the stock? I would say no based on the following two primary reasons:
1. There remain a few lock-up expirations in the rest of year, and any news relating to a stock sale by a key insider would likely trigger a sell-off as the market is extremely sensitive to insiders exits; and
2. Facebook's progress in mobile platform monetization remains uncertain at this stage. Future updates on the progress would likely create a significant volatility in the stock price.
As such, in order for the Facebook stock to bear a fair margin of safety, the valuation discount ought to be larger. I would recommend acquiring the shares at a price below $15, which implies an approximately 50% valuation discount to the peer average based on my model.
I have also considered the probability for the stock to drop below $10. At $10 per share, my model shows a whopping 70% valuation discount. I believe the most likely reason for that aggressive case is a substantial deterioration in Facebook's growth prospects. But in reality, although the company has been experiencing a growth slowdown, a significant drop in growth rates is less likely as Facebook remains a dominant player in the social network sector and has ample financial resource to spend on new business initiatives. Moreover, Facebook's robust liquidity position and healthy profitability would also help in supporting the valuations. As a result, the $10 scenario is very unlikely.
Bottom line, as Facebook's valuation has regressed to a more reasonable level, shorting the stock at the current price would be a bit risky. I recommend a hold rating for now and would consider acquiring the shares at a price around $15.
Comparable analysis and relative valuation tables are created by author, other charts are sourced from Capital IQ, and all financial data is sourced from Morningstar, Thomson One, and Capital IQ.
Disclosure: I have no positions in any stocks mentioned, but may initiate a long position in FB over the next 72 hours. I wrote this article myself, and it expresses my own opinions. I am not receiving compensation for it (other than from Seeking Alpha). I have no business relationship with any company whose stock is mentioned in this article.