By Brad Zigler
Pundits and oil analysts were collectively off the mark on this week's big number: crude inventories. Stocks, which had been projected to rise by some 100,000 barrels last week, instead tumbled 2 million barrels to stay below trend line averages.
August crude oil opened 18 cents a barrel higher on NYMEX this morning after rising slightly higher overnight. Oil closed Tuesday's floor session 97 cents higher at $140.97 after profit-taking cooled the market's early advance. The United States Oil Fund (AMEX: USO) finished Tuesday 93 cents higher at $114.59 a share. For the week ended Tuesday, NYMEX crude futures gained nearly $4 a barrel, or 2.9%. USO picked up $3.65 per share, or 3.3%, for the week. Bloomberg's survey of two dozen oil analysts and traders was split in their forecasts of this week's futures market. Nine respondents, or 38%, said prices were likely to rise, while, 11, or 46%, were banking on prices declining. The remaining four respondents were neutral.
The crude oil market's quarterly contango in the nearby months rose 58 cents per barrel over the past week. Contango is a premium commanded by a contract calling for later delivery of a commodity, largely reflecting storage and financing costs. Its opposite, backwardation, prevails when supplies are perceived to be too tight to justify storage.
Crude Oil Inventories Vs. Futures Spreads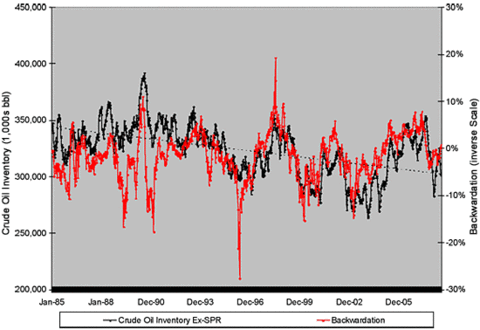 Refineries operated at 89.2% of their capacity last week, fairly well in line with prognostications of an 89.1% ratio. Capacity utilization ramped up 0.6% over the previous week's level. Gasoline production fell last week as well as the refining output of heating and diesel oil.
Guesstimates for gasoline stocks were way too conservative, though. Inventories jumped by 2.1 million barrels against expectations of a 100,000-barrel increase. Still, gasoline supplies remain below average for this time of year. Over the last four weeks, motor gasoline demand declined 1.7% versus year-ago levels.
Projections for distillate stocks, including heating and diesel oil, were much closer to the mark. Inventories rose 1.3 million barrels last week, putting supplies squarely in the middle of seasonal tendencies. Analysts had expected a 1.7-million-barrel upswell. Distillate fuel demand has softened 0.5% over the past four trading weeks, compared with the same period last year.
Heating oil futures were slightly higher overnight following gains made in Tuesday's floor session. Technically, the heating oil market seems poised to attack the $4-a-gallon mark on the August chart, though prices lagged during the week compared with crude and gasoline futures. Nearby NYMEX heating oil rose 9 cents a gallon, or 2.3%, for the week ended Tuesday. The United States Heating Oil Fund (AMEX: UHN) rose $1.74 a share, or 2.8%, over the last five trading sessions.
Overnight gains in unleaded gasoline futures followed Tuesday's bullish floor session as the market consolidated a 1.1% or 4-cent-per-gallon gain for the week. Futures' gains were bettered by the week's 1.4%, or 89 cent-per-share, uptick in the United States Gasoline Fund (AMEX: UGA).
Counting the modest rises in gasoline and heating oil futures, the nearby NYMEX crack spread was whittled down a penny to $13.42 per barrel, yielding a gross refining margin of 9.5%. A month ago, the margin was 14.4%.
NYMEX Crack Spread And Refining Margins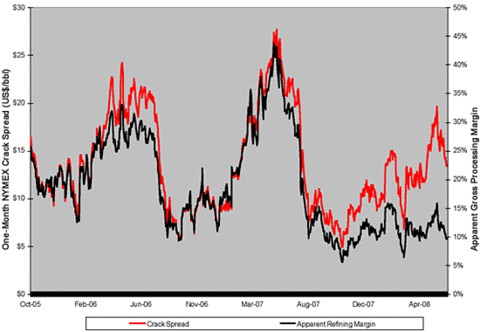 Oil traders are watching the U.S. dollar for cues as they await a decision by the European Central Bank to tinker with lending rates. If the ECB raises rates, the dollar will likely slip further against the euro and bolster oil prices.
Ongoing jawboning about possible attacks planned on Iran is also keeping the market jumpy. As OPEC's second-largest exporter, Iran figures large in the global supply picture. About 40% of global oil exported by tankers passes through the mouth of the Persian Gulf.