Deere & Company (NYSE:DE) is the global leader in farm equipment, with about $33 billion in annual revenues. Like all cyclical businesses, no single year's results tell the story of the company's success or failure. Only long-term numbers tell you how good a job management has done.
Has Deere passed the test of time? You be the judge. Here are Deere's per-share, split-adjusted figures for the period fiscal 2002 through FY 2012 (ends October 31, 2012).
Click to enlarge

As nice as those numbers look, they wouldn't mean much if shareholders hadn't benefited. Here's how they did. Lots of volatility, but a 297% capital gain (plus dividends) made even those (almost extinct) buy-and-hold investors glad they did. By definition, nimble traders should have done even better.
Value Line notes that Deere earns its highest A++ financial strength rating. DE shares outperformed 85% of the 1700-company Value Line main research universe over the long haul.
The world will always need to eat. Agricultural equipment will continue to be a great business. At less than 9.7x current year earnings, you are not paying for the growth that seems inevitable over time. The secure, well-covered 2.48% current yield is a nice bonus while you wait.
What is Deere worth on a normalized basis? Its 10-year median multiple has been 14x. Zacks expects FY 2013 to come in around $8.36 per share. Even a multiple of 12 would support a 16-month target above $100 if that estimate proves correct. That's no long-shot. DE touched highs of $94.90 in 2008 on FY EPS of $4.70. It hit a peak of $99.80 in April 2011 when DE was on the way to $6.63 in EPS.
Morningstar and Standard & Poor's smile favorably on DE shares. They independently came up with present day 'fair value' estimates of $87 and $89.10, respectively.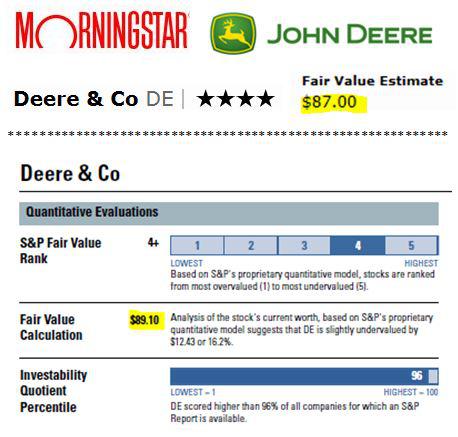 Value seekers will like the solid balance sheet, low P/E and good yield. Traders will love the volatility. Farmers worldwide crave Deere's aspirational products. Deere is a stock to scale into. Consider taking a partial position now and adding to it on weakness.
Deere is a classic 'quality at a reasonable price' stock. Deere is also a high-beta name. Be prepared for a wild ride with a good probability of harvesting gains.
Disclosure: I have no positions in any stocks mentioned, but may initiate a long position in DE over the next 72 hours. I wrote this article myself, and it expresses my own opinions. I am not receiving compensation for it (other than from Seeking Alpha). I have no business relationship with any company whose stock is mentioned in this article.