Even a fantastic company can become a terrible investment at a certain price. If I were Bart from The Simpsons, that is the line that I would write on the chalkboard hundreds of times. When I look at Brown-Forman (NYSE:BF.B), the alcohol company that sells Jack Daniel's, Southern Comfort, and a nice collection of other brands, I cannot help but come to the conclusion that the company is overvalued.
My primary basis for this conclusion is that the P/E ratio is noticeably above where it has been for the past decade. I have compiled this chart that gives you the average P/E ratio for Brown Forman (NYSE:BF.A) each year since 2002: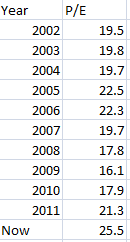 The current P/E ratio of 25.5 is above the 22.5 P/E ratio that Brown Forman maintained in 2005. From a dividend perspective, Brown Forman currently offers a yield of 1.45%, which is below the 1.8-2.3% average that Brown Forman offered investors throughout most of the past decade (subtracting two outlier years).
Now, of course, the P/E ratio alone does not answer our question about valuation without taking into account the context-perhaps there is a reason why Brown Forman deserves a premium at today's valuation compared to the past decade.
To make this determination, there are several other factors that we should consider in our analysis. How does Brown Forman's balance sheet look compared to the past couple years? How has the firm's operating margins and return on shareholder equity progressed over the past decade? How does the earnings quality stack up compared to the recent past? Does Brown Forman currently have better earnings growth prospects now compared to the past ten years?
The first thing I want to examine is total debt. In the aftermath of the financial crisis, Brown Forman sported a total debt load of about $750 million. Over the past 12-18 months, Brown Forman has substantially cut its debt by about $250 million, as the firm now has $510 million in total debt on its balance sheet. The moderately cleaner balance sheet is certainly a nice development.
If you examine Brown Forman's return on equity, it superficially appears that the firm is doing worse because its return on equity has declined from 29% in the early 2000s to 25% today. But that is misleading because return on equity figures can mistate the underlying returns of the business due to changes in the debt as a percentage of total capitalization. As Wiki Invest explains, "If a company can issue debt at a lower interest rate than the rate of return on its investments, it could increase its return on equity." If Brown Forman had taken on more debt recently at low interest rates, it could push its return on equity higher as long as the return on assets remained higher, although the debt would camouflage the significance of the figure. Long story short: I'm not worried about that 4% decline.
Over the past decade, Brown Forman has grown earnings by 10.0% annually and grown dividends by 9.5% annually. If we use consensus analyst figures for the next couple years as a guidepost, Brown Forman is expected to grow earnings by 8% and dividends by 7% annually over the next 3-5 years. If true, this is a troubling combination. Not only is Brown Forman more expensive than it has been over the past decade, but its growth prospects are not quite as strong. As a potential investor, that's not what I want to see.
These are the reasons why I don't recommend that investors initiate a position in Brown Forman at the current price of $64. At a P/E of about 25, that means if the company paid out all of its earnings as dividends, investors would only receive a 4% payout. For a company that is not expected to grow earnings in excess of at least 12% over the coming years, this is not a good starting base valuation. I love Brown Forman the business. The family-controlled firm has a long history of rewarding shareholders, planning strategic growth, and maintaining a conservative culture with its management. There is a lot to like about this firm. But at a decade-high valuation with slightly lower growth prospects, now is not an opportune time to jump in.
Disclosure: I have no positions in any stocks mentioned, and no plans to initiate any positions within the next 72 hours. I wrote this article myself, and it expresses my own opinions. I am not receiving compensation for it (other than from Seeking Alpha). I have no business relationship with any company whose stock is mentioned in this article.