As most people who follow Procter & Gamble (NYSE:PG) know by now, the company hasn't done particularly well over the last couple of years. As seen in the graph below, P&G has been slightly outperformed by its competitors on a top-line basis.
Click to enlarge images.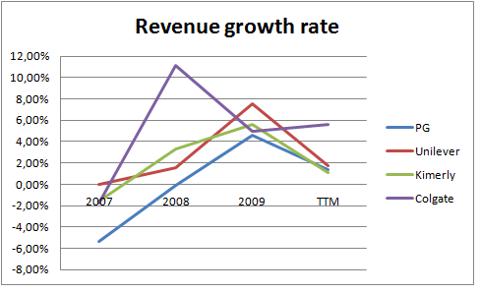 So what exactly has gone wrong for P&G? Can we expect any improvement from PG in the future? To answer those questions, I will begin my analysis by looking back in time. More precisely, I will look at the year 2000, when A.G. Lafley was appointed as P&G's new CEO.
How A.G. Lafley Turned Things Around
Lafley overtook a company with declining sales, shrinking market share, and no "next big thing" in sight. Prior to Lafley, the company had tried to push too many mediocre products through the pipeline. Lafley, however, quickly adopted a back-to-basics approach. He focused on selling the company's biggest brands, such as Tide, Pampers and Crest, rather than developing new products from scratch. Six years after he was hired, P&G had twice as many billion-dollar brands as they did in 2000. The stock price had doubled as well, providing decisive evidence that Lafley had successfully turned things around.

Now let's go forward to 2009, when Lafley retired as the CEO and Bob McDonald took over the job. Though McDonald was not a new face at P&G (he had been the COO since 2007 and been employed by the company for 27 years), he did bring a slightly new management philosophy. In response to the declining sales of Tide, Olay, and Gilette, he decided to increase the company's investment in innovative products, converse to Lafley's policy of downplaying internal R&D spending during his reign.
Today P&G spends nearly $2 billion annually on R&D, which is roughly 50% more than its closest competitors. This corresponds to 2.4% of its revenues. In comparison, Unilever spends 2.17% of its revenues on R&D. So why hasn't this R&D spending resulted in revenue growth higher than its competitors? There are a few reasons:
Long development phases
Mediocre growth in developed countries
P&G's choice of price strategy
Long Development Phases -- The Story of Tide Pods
Usually it takes two years for a product to be developed, but as Tide Pods (pictured below) shows, it can take even longer. Back in 2004, P&G administered surveys and made observations of 6,000 consumers, and found that more than a third dreaded doing laundry, as they disliked carrying a heavy detergent bottle downstairs to the laundry room or the laundromat. Therefore, P&G wanted to create a product that weighed less and cleaned better than its predecessor, Liquid Tide. Years later, P&G had created the technology they wanted: A soft ball with three separate bubbles filled with liquids. Through consumer tests, Procter & Gamble found that 97% of consumers were satisfied with the product, compared with about 68% who were satisfied using regular detergent.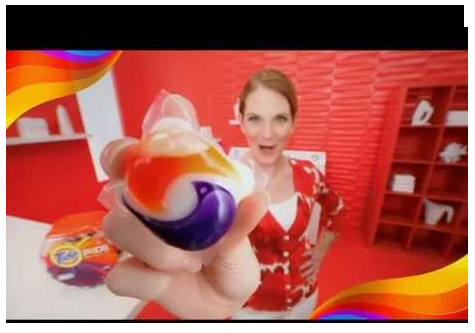 The innovations of Tide Pods didn't end there: The company used screens at the Innovation Center to project 3D images of a virtual grocery store and, through tests, researchers learned that people often overlooked the product. Therefore P&G developed a clear, fishbowl-like container so consumers could see through the packaging. In 2011, Tide Pods was finally ready to be launched ... or so P&G thought. Unfortunately for P&G, it ran into problems making the pods, as they required special equipment different from what's used to manufacture regular detergent. The launch was therefore pushed back to February 2012. P&G followed the launch with a 150 million marketing campaign, and expects $300 million in sales during its first year.
I believe the story of Tide Pods shows that P&G has the capability to maintain its market share in the $6 billion laundry market, but that it also needs to use a lot of resources accomplish this goal. And it takes time before spending in R&D pays off, as there is a lag effect between R&D spending and an increase in revenues.
How P&G Wants to Turn Things Around
Developed markets are expected to grow by just 1% a year. Therefore, Procter & Gamble has focused on developing markets over the last couple of years, where growth rates are expected to be around 8%. But this change in focus might have been what caused P&G to lose market share in developed markets. Management seems to acknowledge that, as it recently reformulated the strategy of P&G. The new strategy is called the 40-20-10 plan, where P&G wants to focus on the 40 largest markets, its 20 best innovations and the 10 most important developing markets.
In formulating its strategy, P&G basically admits that it made a mistake in trying to expand too quickly in emerging markets. It will now concentrate on the most important emerging markets, not enter new ones, and at the same time try to increase its market share in developed markets.
To accomplish the latter, P&G plans to lower prices and increase advertising spending. However, I am not convinced that this will increase revenues. P&G is already spending more on advertising than its competitors, and I believe additional advertising will have a diminishing effect. As I discussed in my latest article, I do not believe it's likely that lower prices will lead to any significant growth in revenues. It will also be difficult for P&G to gain back market share (through lower prices), as it takes time for the customers to realize that the price cuts have happened. This is especially true, if they have become used to buy products made by the competitors.
I now want you to take a look at the graph at the top of my article again, which illustrates the revenue growth rate. Some of that growth comes from the expansion into emerging markets. But if P&G wants to down prioritize growth in emerging markets, then I doubt that the revenue growth rates realized over the last couple of years will be sustainable. This effect is further multiplied by the expectations of growth in GDP slowing down in Brazil, China, and India.
My Expectations for Top-Line Growth
In summing up the arguments I have made so far, I disagree with management's expectations of a 4% growth in revenue. Over a five-year period, I estimate that revenues will grow by somewhere between -1% and 3%.
Does this mean that P&G is a bad investment? Not necessarily, as I've only tried to estimate the future growth rate in revenues. But there are other factors to consider, such as the macroeconomic environment, capital investments, and whether P&G is capable of lowering costs. Over the coming days, I plan to write follow-up articles that take an in-depth look at those issues.
Disclosure: I have no positions in any stocks mentioned, and no plans to initiate any positions within the next 72 hours. I wrote this article myself, and it expresses my own opinions. I am not receiving compensation for it (other than from Seeking Alpha). I have no business relationship with any company whose stock is mentioned in this article.