We recommend a long position in Perfect World (NASDAQ:PWRD) based upon the following investment thesis:
Perfect World is attractive for value investors due to its low valuations.

The stock is currently trading at forward P/E of 4x, at a discount as compared to its peers in the Gaming Industry.

The five-year expected PEG ratio of 0.38 reflects that the growth can be bought cheaply.
A recent management shift, in the shape of COO Robert Hong Xiao being made the co-chief executive, will enable the company to effectively implement its business strategies and grab new opportunities.
Despite the 50% decline in earnings due to a lack of major game launches, the company's new game "Return of the Condor Heroes" is expected to launch by the end of 3Q or in early 4Q, which will help the company restore its profitable position.
The company has the potential to enhance its sales growth through international expansion, more game launches and effective advertisement. The company announced to expand its subsidiary and licensing activities to other geographical areas, comprising Azerbaijan and Turkey.
The company has solid potential to increase its Chinese revenues. The company forecast that its online game revenue in China will increase at a CAGR of 14.9% in the next five years.
The company's R&D expenditures increased by 14% QoQ and aims to stay focused on its R&D to become competitive in gaming space.
The company's strong research and development capabilities, continuous innovation, entertaining games and global expansion will enable it to generate high revenues in the coming years.
Perfect World is a Chinese online game developer. The company is known for its online games and 3D Massively Multiplayer Online Role Playing Games (MMORPGs) development platforms. It is operating in two segments, namely international operations and PRC operations. By the end of 2011, the company set up a joint venture by launching NGL Corporation Limited, with Nexon Corporation of Korea, to operate and control online games in Korea. The company is generating revenues through item-based and time-based models. Some games are charged based on the time-based model, in which players are charged according to the time they spent in the game. As the chart below reflects, 83.4% of the company's revenue comes from the item-based revenue model. In the item-based model, players play free games, but only pay when they have to purchase in-game items like clothes, accessories and other performance enhancing products.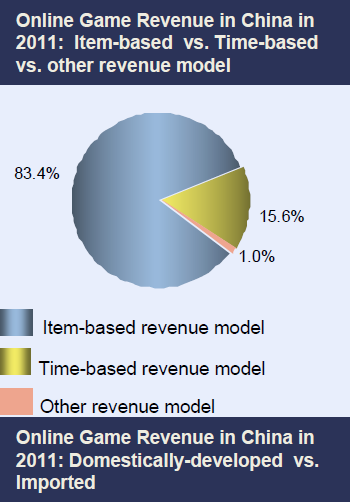 The company has a point of difference over its competitors on its superior Angelica 3D engine, which allows it to establish 3D visual effects in games. The company announced its new 3D Massively Multiplayer Online Role Playing Game (MMORPG), the "Legend of the Condor Heroes", which is expected to launch this year. Along with this, it has been working on several other games like the "Return of the Condor Heroes", which is tailored from Louis Cha's famous novel, expected to launch soon. Moreover, it has some other exciting entertaining MMORPG like "Saint Seiya Online" and "Swordsman Online", in the pipeline. Perfect World is generating 63.4% of revenues from domestically developed online games and 36.6 % from imported online games. As we see in the chart below, there are only 23.4% online game players out of the total internet users in China. Therefore, the company can capture the bigger pie through effective advertisements and more entertaining games.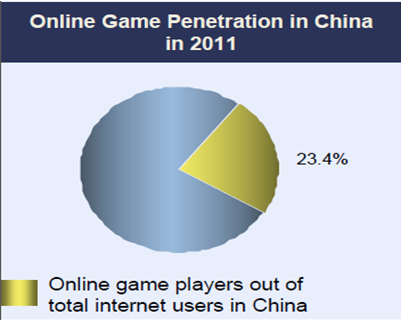 The stock has shown a downward spiral of 6% after quarterly results. The decline in sales is showed in negative investor sentiment towards the stock. The stock showed a dip of 51.9% in the last 52 weeks. Another reason for this decline could be the allegations of fraudulent activities against the company. However, PWRD was audited by an independent auditor, PWC Zhong Tian, who was also responsible for auditing firms like SINA Corporation (NASDAQ:SINA), Sohu.com Inc (NASDAQ:SOHU), NetEase.com (NASDAQ:NTES), and many other large Chinese companies. The audit committee revealed that the company had never been involved in any fraudulent activities or any type of overpayment of services. Its divestiture of film and television businesses was properly recorded in the books. The stock is currently trading near its 52-week low and has a substantial potential to move upwards.
Financial Analysis
The company published its 2Q2012 results, which are below analyst expectations, but in line with company expectations. Primarily, this decline is seen because of a lack of major launches, and Perfect World cut down its revenue forecast to 686.8 million Yuan, below the analyst average expectations of 764 million Yuan, according to Thomson Reuters. Its revenues have decreased by 13% from RMB718.5 million ($106.5 million) to RMB676.4 million from 1Q2012 to 2Q2012. The company's gross profit fell by 7.1% over the last quarter. Perfect World's operating profits have also significantly decreased by 33% from RMB234.8 million to RMB234.8 million over the last quarter, mainly because of an 11.41% increase in research and development expenditure. Non-Gap operating profits showed a decline of 32.8% in the last quarter. The net income has also shown a substantial decline of 24% in the last quarter, and 50% from 2Q2011 to 2Q2012. The earning per American depository share fell from 4.38 Yuan to 3.25 Yuan over the last one year. It has paid dividends of $98 million to its shareholders in the month of April. The company's equity investment and short term investment increased by 584% and 505% from 4Q2011 to 2Q2012 respectively. This increase is witnessed because of the management's decision to utilize its cash in investments to get some return.
| | | | | |
| --- | --- | --- | --- | --- |
| Direct Competitor Comparison | | | | |
| | | | | |
| Market Cap: | 498.97M | 1.22B | 6.74B | 967.32M |
| Revenue (NYSE:TTM): | 469.40M | 558.75M | 1.26B | 852.57M |
| Gross Margin : | 83% | 85% | 68% | 62% |
| EBITDA : | 182.29M | 361.59M | 623.61M | 304.57M |
| Operating Margin : | 32% | 58% | 47% | 29% |
| Net Income : | 146.10M | 267.16M | 557.19M | 202.77M |
Perfect World has been able to maintain its margins in this challenging dynamic environment. Despite its gross profit decreasing by 7.1% in the last quarter, the company's gross margin of 83% remains competitive as compared to margins of 85%, 68% and 62%, for Changyou.com Limited (NASDAQ:CYOU), NetEase and Shanda Games (NASDAQ:GAME), respectively. The company's operating margin of 32% is relatively lower than Changyou.com Limited and NetEase, primarily because of an 11.41% increase in research and development expenditure. Another reason behind the company's relatively slim operating margin is its rising general and administration expenses.
Valuation
| | | | | |
| --- | --- | --- | --- | --- |
| Direct Competitor Comparison | | | | |
| | PWRD | CYOU | NTES | GAME |
| EPS : | $2.93 | $5 | $4.25 | $0.72 |
| P/E : | 3.59x | 4.6x | 12.07x | 4.81x |
| PEG (5 yr expected): | 0.38 | 0.52 | 0.86 | 0.42 |
| P/S : | 1.11x | 2.18x | 5.42x | 1.1x |
| Forward P/E(Dec 2013) | 4x | 4.2x | 10.21x | 4.11x |
The stock is currently trading at P/E of 3.6x, at a slight discount as compared to P/E of 4.6x and 4.8x for Changyou.com Limited and Shanda Games, and at a significant discount when compared with NetEase's P/E of 12.07x. It is trading at P/S of 1.1x, at par with Shanda Games and lower than Changyou.com Limited's and NetEase's P/S of 2.18x and 5.42x. However, its forward P/E is 4x, which portrays its high earning growth potential. Moreover, according to analyst estimates, earnings will grow by 14.6% by the end of 2013. We believe that these earnings will realize if the company is able to monetize its user growth through attractive games and geographical expansion. The five-year expected PEG ratio of 0.38 reflects that the stock is trading at cheap valuations.
Going forward, we believe the company has the potential to restore its revenue growth by launching new games that are in the pipeline. Despite the declining revenue due to a lack of product launches and user monetization growth, the company has increased its spending in R&D. PWRD has created a new position of co-chief executive to enhance its implementation capabilities. COO Robert Hong Xiao has been promoted to co-CEO to effectively implement the company's business strategies. We believe this change will help the company grab new opportunities in the dynamic Gaming Industry, which is why we recommend a bullish stance on the stock.
Disclosure: I have no positions in any stocks mentioned, and no plans to initiate any positions within the next 72 hours.
Business relationship disclosure: The article has been written by Qineqt's Technology Analyst. Qineqt is not receiving compensation for it (other than from Seeking Alpha). Qineqt has no business relationship with any company whose stock is mentioned in this article.