LDK Solar (NYSE:LDK) has recently fallen about 26% in the past week due to the speculated cut of solar subsidies in Spain. Ironically LDK has released not one, but two press releases highlighting favorable developments. One of these is a billion dollar contract with Canadian Solar (NASDAQ:CSIQ). The second was an update to the rapid completion of their 1000MT polysilicon plant.
images
One week chart of LDK: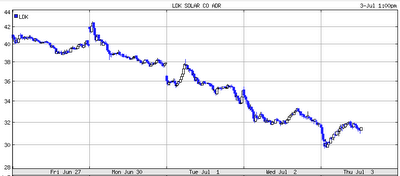 Out of all alternative energy stocks, I have yet to see a more fundamentally favorable solar stock than LDK Solar. It's quite peculiar because the analysts have been rather polarized on this stock. Out of some of the major analysts covering this stock, we have the following opinions:
Piper Jeffray: Sell, $34PT
CIBC World Markets: Sector Perform
Morgan Stanley: Equal Weight
Lazard Capital Management: Hold
Goldman Sachs: Hold
Oppenheimer: Perform
UBS: Buy, $71PT
Needham & Co: Strong Buy, $95PT
That's quite a range, considering the highest price target is over 275% greater than the lowest. I never base my investments on analyst opinions. However, as an aspiring analyst, I always read their opinions and arguments to evaluate my own opinion. It seems as if most of the analysts have a hold rating on the stock until further clarification of LDK Solar's aggressive growth strategies to become one of the world's largest polysilicon manufacturers.
The history of LDK is quite interesting. With allegations of accounting fraud and disgruntled employees seeking revenge, it sounds like something more from Hollywood than Wall Street. However, LDK was cleared of all allegations through a third party audit and was given a clean bill of health by the SEC. For the sake of length, I will forego the episode.
Prospects
LDK is currently building 2 polysilicon plants in JiangXi, China under very favorable conditions. The first 1,000MT polysilicon plant is very close to mechanical completion (2nd quarter 2008) and will deliver 100-350MT of polysilicon this year. The second plant will be a much larger scale 15,000MT polysilicon plant. The second plant is expected to be mechanically complete by the end of 2008. LDK Solar expects "to achieve an aggregate installed annual production capacity of approximately 7,000 metric tons of polysilicon by the end of 2008 and approximately 16,000 metric tons by the end of 2009" [emphasis added].
The two plants being built by Fluor, a world-class American infrastructure and engineering company with unparalleled experience in the polysilicon production field. They have had previous experience in this field through a similar project contracted by REC. Thus making Fluor the perfect candidate for the project. The $1.2 billion dollar project is under fast track specification and will be completed quite rapidly as stated by Alan Boeckmann, CEO of Fluor. Upon completion of the second plant in 2008, LDK Solar will be one of the world's largest polysilicon manufacturers. In addition, LDK Solar will have significant advantages over their competitors:
Number 1 Advantage: Significant cost savings
LDK Solar is based out of the Xinyu City of JiangXi province in the People's Republic of China. This leads to a substantial cost savings over any of LDK Solar's competitors, specifically Hemlock Semiconductor. Hemlock Semiconductor (based out of Hemlock, Michigan) is the world's largest polysilicon manufacturer. LDK will incur a significant reduction in cost due to the cheap labor market in China. To make a general comparison of the cost of labor in each respective country, the per capita income in Hemlock, Michigan is $18,085 as of the last census. The per capita income in JiangXi, China is 10,679 RMB ($1,380 USD). This equates to a 1310% difference in labor costs. But this is just a rough generalization.
In addition, LDK Solar has secured a subsidized capped electric rate from the local government for wafer production and polysilicon production. The rate is capped at .40RMB ($.06) per kilowatt-hour for wafer production and .25RMB ($.04) per kilowatt-hour for polysilicon production. In a time of skyrocketing electric costs, these savings are very significant. In fact, in 2006-2007, LDK has saved a combined $3.9 million ($.8 million and $3.1 million respectively) dollars in utility expenses. These rates are secured until August 2009. In contrast, the price of coal has nearly tripled in the past year and is expected to increase further. I'm curious to see what savings this subsidized cap leads to.
One-year chart of coal: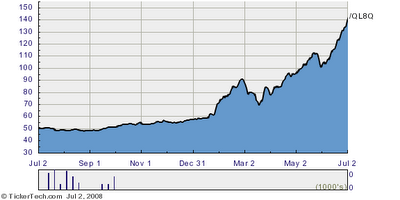 Not only is the government subsidizing their energy costs, the government is also reducing their tax rate. LDK will also have full support of the Chinese government.
Jiangxi LDK Solar, as a foreign invested manufacturing enterprise was entitled to a two-year exemption from the national enterprise income tax for 2006 and 2007 and would be subject to a reduced national enterprise income tax rate of 15% from 2008 through 2010. Likewise, Jiangxi LDK Solar was entitled to a five-year exemption from the local enterprise income tax beginning in 2006 and would be subject to a reduced local enterprise income tax rate of 1.5% from 2011 through 2015 [emphasis added].
That leads to a significant advantage against LDK's counterparts. Imagine if the US government cut the tax rate in half for energy companies....
Furthermore, LDK Solar has also acquired a 33.5% minority interest in a local crucible manufacturer JiangXi Sinoma New Material Co. These crucibles are crucial to ingot formation and are not reusable. LDK used to import these crucibles from France which means substantial savings in the crucible department. This investment "provides that not less than 80% of Jiangxi Sinoma's production capacity will be used to satisfy [LDK's polysilicon production] requirements." Jiangxi Sinoma is also based in the same city as LDK Solar. This is quite significant because it assures that LDK Solar will be given priority, timely delivery, and competitive cost savings in securing crucibles for ingot production. LDK Solar has also secured 100% of the TCS gas required for production upon completion of the first polysilicon plant.
Number 2 Advantage: $9+ billion in revenue backlogged through long term contracts
In 2007, LDK signed 16 long-term contracts with various customers, including one contract worth >$5 billion with Q-Cells of Germany. Q-Cells is the world's largest Photovoltaic module manufacturer. "LDK has been a highly reliable partner and we are pleased to deepen our business relationship with the company," stated Anton Milner, CEO of Q-Cells AG.
In the first half of 2008, LDK has already signed 8 long term supply contracts. LDK has also announced that it is nearly completely sold out of its wafer capacity in 2008 and 2009. This is a great indication of a healthy company, especially in a turbulent economy such as now. It's nearly impossible to find a company that has close to $10 billion dollars in revenue secured through long term contracts in this down economy.
Number 3 Advantage: Globally diverse customer base
LDK's customer base ranges across the world.
The following chart is from the May 15th Business Update: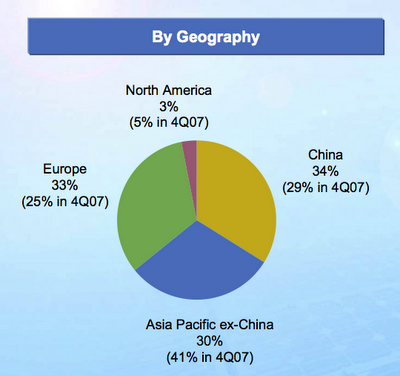 This is in contrast to First Solar (NASDAQ:FSLR), whose customer base is 90% from Germany. This is a huge advantage in the probable likelihood of policy changes in terms of crucial government subsidies. This can be witnessed firsthand in the recent speculation of subsidy cuts in Spain. Solar stocks all across the board dropped significantly.
Risks
Risk 1: Ramp up/delay in polysilicon production
The biggest headwind for LDK Solar is one put forth by Analyst Jesse Pichel of Piper Jeffray. Pichel is the only analyst with a sell rating on LDK. His $34 price target is based on his thesis that it will take LDK Solar an additional half a year or more to "ramp up" production to full capacity. This assumption is based on the fact that LDK does not have experience in polysilicon production and will need time to ramp up LDK's production plan:
We currently expect to achieve an aggregate installed annual production capacity of approximately 7,000 metric tons of polysilicon by the end of 2008 and approximately 16,000 metric tons by the end of 2009.
Mr. Pichel stated:
If our thesis is correct, LDK's gross margin for 2009 would be less than half its guidance. In conclusion; the press release (from LDK, January 2, 2008) does not increase our confidence in LDK's ability to source poly or make its own poly.
My take on it this thesis is that this may just be a miscommunication/assumption error. I think Mr.Pichel doesn't think that LDK will start ramping until the installed capacity is fully complete. I believe the mechanical completion of the polysilicon plant will be already completed by Q2 of 2008. LDK will be ramping up production during the next 2 quarters (coincidentally half a year as industry experts projected) until complete installed capacity. Therefore, installed capacity will be already "ramped" by Q1 2009. This is just my assumption, but I wish LDK would clarify this in a conference call.
The same goes with the 15,000 MT plant. My belief is that the 6,000 MT of the 15,0000MT installed capacity will be mechanically complete soon (by Q2 2008), and therefore the installed capacity of the completed portion will be ready to use by Q1-09. This brings the installed capacity of the completed and semi-complete plants to the projected 7,000 MT installed capacity as stated by the company. The fact is that you dont need to wait until the 100% completion of the plant to begin production. As long as you have all the parts needed to produce poly on a smaller scale, you can scale your production up as mechanical production progresses.
The company has generally been conservative on its figures and CEO Peng is known to be very attentive to details, so I doubt that Peng would over-project goals by as much 50% as Pichel theorized. Peng is known as "the human calculator" by his old business associates according to an interview with his former employer.
Risk 2: Polysilicon supply outstrips demand
There has been a forecast of oversupply of polysilicon beyond 2008. The polysilicon supply shortage is expected to ease by the end of 2008. Other analysts disagree and believe that if prices drop due to an increase in supply, any significant drop in price will be offset by a rise in demand. With energy prices breaking new highs every week, I think the latter will be true. With numerous places already reaching grid parity including Italy, Japan, and parts of California; solar panels will be much more attractive as energy prices continue to increase. Grid parity, the holy grail of the solar industry, is occurring in more and more places everyday.
With the completion of the polysilicon factory, LDK will be near the top of the food chain in terms of production size. It will also be able benefit from the aforementioned cost savings and advantages against large integrated polysilicon/wafer rivals such as MEMC and REC, which have plants located in the United States. This will make LDK more competitive and likely to survive the "solar shakeout". It will be able to achieve further economies of scale and save significantly more than their counterparts.
Valuation
The fundamentals of LDK Solar are phenomenal. They pull in a greater net income than First Solar, the solar darling of Wall Street, and also project a far wider profit margin over the next 3 years. LDK's net sales have increased 218% YOY, while gross profit has increased 127.5% YOY.
First Solar ($20B Mkt Cap) trades at current year P/E of 100+, while LDK Solar ($3.5B Mkt Cap) trades at a P/E of 21. What is more impressive is that LDK trades at a 2009 Forward P/E of 8.3 and a 5-year P/EG of 0.85, while FSLR trades at a 2009 Forward P/E of 43 and a 5 year P/EG of 2.03. I think the investors of FSLR are just being rational investors (investing not on fundamentals but on hopes that someone will pay a higher price.. i.e. Gambling), but we shall see. I think the CdTe technology that FSLR uses is inferior to silicon technology but time will tell. Cadmium is highly toxic and Tellurium is one of the rarest elements in the world. I doubt that is a recipe for long term success.
The most similar companies to LDK are Renewable Energy Corporation (REC) and MEMC Electronic Materials (WFR), which trade at double the forward P/E of LDK. This is a highly undervalued company. Especially for a promising growth stock with $9B+ in revenues backlogged through long term contracts.
LDK Solar turned a profit their 1st year in the industry. Their remarkably brilliant CEO, Peng XiaoFeng, is a mere 33 years old and has landed among the Forbes list of billionaires. In his previous company, he turned a small safety gear manufacturing business into a multi-million dollar business. Under his leadership, he has led LDK Solar to become a formidable player in the solar panel industry.
Peng has been accurate in his projections thus far. The plants are being completed as planned, so I have no reason to doubt Peng. Therefore, I believe LDK Solar will accomplish what they say they will. Being Asian myself, I know the culture. I know the ethics of working as hard as you can to complete a task for just the sake of pride and honor. LDK Solar will complete the plants on time.
At a price just a little north of $30, LDK is a steal. It has been in a free fall the past couple of days due to the Spanish solar subsidy cut, but this is merely a temporary obstacle. LDK is pretty volatile, but is now near IPO-levels. The object of investing is to buy low and sell high. This is definitely an opportunity to buy LDK cheap.
Also, the short interest in quite interest. LDK Solar has been on the Reg-SHO short sale restricted list for 177 consecutive days, yet the short interest is miraculously bigger and bigger every month. It has now ballooned up to 14 million+ shares. I think this stock could see a huge short covering if the future goes according to LDK's plan. In addition, the company is buying back shares so that should put some pressure on the shorts. 
A stock being on the Reg-SHO list for more than half a year is not a good sign (naked shorts), but I believe there will come a time to be very very bullish on LDK. I believe the institutions are just pummeling this stock down to make retail investors panic and sell, buy their shares on the low, and then sell them back at higher prices. This is why I believe LDK is rather volatile and can be downright scary to own sometimes. but time will soon come when everybody hops aboard the LDK express.
Even Jesse Pichel believes in a bright future for LDK after 2009:
LDK will be in much better shape; a vertically integrated wafer supplier producing their own poly. And I think polysilicon will remain scarce; and that the industry will continue to sell out of it.... The industry could eventually need 80 to a 100 Polysilicon plants to keep up with demand.
It is time to buy LDK. The institutions haven't jumped on yet, but they will. They just hate uncertainty. Once the plants are complete and LDK is dominating the market, the institutions will jump aboard. But the object is to jump aboard before they do, not after. Theres only one sell rating left and i think that will soon change as well.
As for the recent panic, one country lowering subsidies will not mean the end to solar. Skyrocketing fossil fuel costs on the other hand, will only bring grid parity closer and closer to more places. LDK is fundamentally safe, and could possibly be one of the biggest players in the future solar industry. With close to $10 billion (NYSE:GE)  today.
While crude oil is closing at new highs every week, I think the solar industry is looking brighter everyday. I see a future where homes are connected to the grid and draw power at night but power their own homes during day through solar panels, the cleanest of clean energy. Fact is, that every hour enough energy hits the earth to power our needs for an entire year. The sun is not biased to any one group or subject to geopolitics. The sun will always come out and there are no harmful effects. The sun is the ultimate clean energy.I am going to make a post solely on the promising technology of solar power in general but rest assured, LDK Solar is in a great position. I will also post a follow up article taking an in-depth look at LDK's financial statements.
Until next time, Have a great 4th of July weekend.
Some Links/References:
Disclosure: Author holds a long position in LDK