In my previous posts here, here, here and here, I recommended buying gold, silver, platinum and Palladium. However, if you intend to buy just one precious metal at the moment, which one would give a better return? Obviously no one can be sure about any investment, but, like when investing in stocks, it is possible to look for a relatively cheaper precious metal. One way to do that is to compare the current market price of the precious metal with its cash cost of production.
World Mine Cost Data Exchange shows the Gold Institute definition of cash operating costs as adopted by most North American gold producers in 1996. These are:
Cash Operating Costs: Direct mining expense, smelting, refining and transportation costs. By-product credits.
Total Cash Costs: Cash Operating Costs plus Royalties (not-profit based) and Production taxes.
Total Production Costs: Total Cash Costs plus Depreciation, Depletion & Amortization, Reclamation & mine closure.
The cost of production relative to the market price of the metal is very important, because it affects companies' planning to start new mines or to stop production in the less efficient mines.
The table below presents the last market price as well as the cash production costs for the four precious metals; the Price-to-Cash-Operating-Costs ratio was also calculated.

The table clearly shows that while mining costs of silver and gold are relatively low in comparison to the price of the metal; platinum mining costs nowadays are even higher than its price. In the case of palladium, there is still a significant margin between its production costs and its price, but it is not as big as in the case of silver and gold.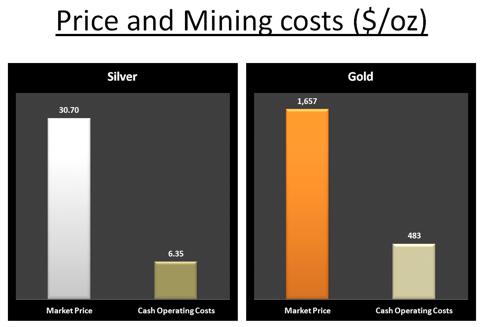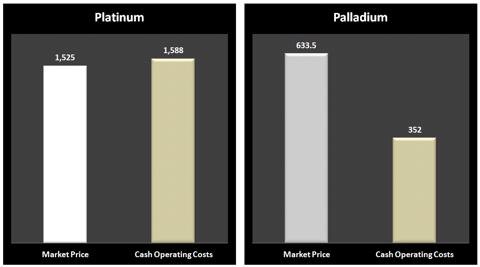 Conclusion
Since the costs of production of platinum are higher than its market price, among the four precious metals, platinum is the most undervalued one and palladium comes right afterwards. Even though the momentous surplus of the PGM metals is the reason for this situation, assuming the demand for platinum and palladium for the automobile industry and for jewelry will continue, both metals have a better chance for a significant price appreciation. They are also a better long-term investment.
ETFS for physical platinum:
ETFS Physical Platinum Shares (NYSEARCA:PPLT)
ETFS for physical palladium:
ETFS Physical Palladium Shares (NYSEARCA:PALL)
ETFS for physical gold:
SPDR Gold Shares (NYSEARCA:GLD)
Sprott Physical Gold Trust ETV (NYSEARCA:PHYS)
ETFS Physical Swiss Gold Shares (NYSEARCA:SGOL)
ETFS Physical Asian Gold Shares (NYSEARCA:AGOL)
ETFS for physical silver:
iShares Silver Trust (NYSEARCA:SLV)
ETFS Physical Silver Shares (NYSEARCA:SIVR)
Disclosure: I have no positions in any stocks mentioned, and no plans to initiate any positions within the next 72 hours. I wrote this article myself, and it expresses my own opinions. I am not receiving compensation for it (other than from Seeking Alpha). I have no business relationship with any company whose stock is mentioned in this article.