U.S. based energy trusts are depleting resources, and all investors should keep this in mind. Since the properties are running out of oil and gas, a trust is not a buy-and-hold part of any portfolio. While I do not suggest investors make these trusts a major part of any portfolio, I do like to use them for intermediate growth and income. In this case, intermediate means holding them for about a year or a little more.
Trusts in the U.S. do not receive preferential tax treatment like qualified dividends do, but an investor can participate in a depletion or depreciation schedule. Accounting can be a headache in many cases, but some advantage can be realized when compared to ordinary income. Capital gains, if present after adjustments, at the time of selling the units are taxed like all capital gains, and long-term capital gains are still taxed at 15% for now.
So, yes, I know that U.S. trusts are an interesting way to invest and should not be looked at from a pure market dynamic like price and earnings and such. With that in mind, let's take a look at Permian Basin Royalty Trust (NYSE:PBT). A description of the trust can be found here.
10-Year Chart of Permian Basin Trust, with WTI Crude and Trust Unit Distributions:
Click to enlarge image.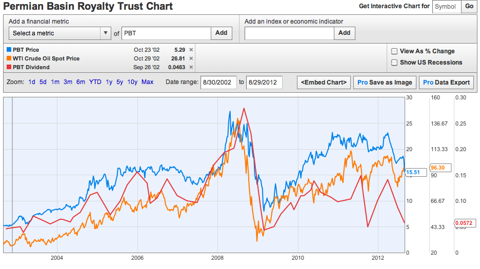 This chart has a lot going on. Let's focus on the price of oil for this exercise. As of the first quarter of 2012, the revenue from oil was threefold the revenue from natural gas for PBT. The numbers are $272,405 per day of oil sold and $94,447 per day of natural gas. Oil production has been fairly consistent over the years, and natural gas has declined some. (Numbers are from the Q1 2012 report.) When trying to evaluate PBT for an investment, it simplifies things to use the price of oil as that component is 75% of the distribution.
In the chart above, one can see the PBT price (blue), West Texas Intermediate Crude price (orange), and the PBT payout (red). In general, one can see that the payout trails the price in crude. This is especially easy to see with the big moves. That is as it should be, as all the payouts are derived from the sale of crude (and some natural gas). The more compelling number is the unit price. When would an investor become motivated to buy and hold PBT for a year or more?
Crude reached a short-term high in March of this year and dropped sharply from about $110/barrel to a low of $79/barrel in July. This, of course, had a strong impact on the payout for PBT. In turn, the unit pricing has been affected. This week PBT passed the Aug. 28 ex-div date, and the payout was announced at $0.057 per unit. This payout was the continuation of the oil drop earlier in the year. This triggered a huge sell-off; perhaps the High Frequency guys had a fun day with it -- the volume was huge.
Anyway, a quick look back in history tells us that PBT's average price when crude is around $95/barrel is $20 per unit. Crude is trading around $96/barrel today. If an investor had some confidence in this price level for WTI crude, then PBT would be a great place to put some money while it is trading in the $15/unit range. Enter some safety stops, and once the price adjusts back to a level that is in line with averages, move the limit orders up to protect the gains and then collect the income until the next oil cycle. It's not that simple, but a focused, managed effort can add some value to this type of trade.
Trusts do have some odd risks outside of the price of crude (see Hugoton Royalty Trust), so do your due diligence. I'm long PBT at this level, with stops in place and ready to move them up. Hurricanes, tensions in the Persion Gulf, market cyclicals, QE rumors, and tight world supply have convinced me that oil will be sideways in this range for some time.
Disclosure: I am long PBT. I wrote this article myself, and it expresses my own opinions. I am not receiving compensation for it (other than from Seeking Alpha). I have no business relationship with any company whose stock is mentioned in this article.