I pride myself on being a pragmatic investor which I think one needs to be if he takes both long and short positions. I try to keep an open mind when I evaluate a possible position and I will change my mind if valuations and/or facts change. For instance, I was short Green Mountain Coffee Roasters (NASDAQ:GMCR) when it trading at over $100 a share in the first half of 2011. Now that it has fallen to under $25 (I closed my short at around $50, leaving money on the table in full disclosure) it is starting to get interesting from a long perspective. It is selling at 11 times forward earnings and has had some insider buying recently as well. I need to do a bit more research but it looks like I could take a small long position on the stock as it gets closer to the technical support it is building at around $20 a share.
Around the same time I went short Vera Bradley (NASDAQ:VRA) when it was north of $45 which I thought was too high a valuation given its recent IPO. I closed out that short earlier in the year for a nice profit. Today I took a small long position at under $22 a share on the same stock on the back of disappointing earnings. The valuation is starting to get compelling here and I think investors are overlooking some positives within the earnings report/call.
"Vera Bradley engages in the design, production, marketing, and retail of stylish and functional accessories for women under the Vera Bradley brand." (Business description from Yahoo Finance).
Six reasons VRA has long term value at $22 a share:
 
The stock now sells at less than 12 times forward earnings, which is a big discount to its historical average as a public company (24.9).
Prior to this quarter's disappointment, the company had beat earnings estimates for each of its seven quarters as a public company so I tend to view this report as an anomaly.
On the earnings conference call the company stated business improved significantly in July with the successful launch of their fall back-to-campus collection, which could foreshadow stronger performance in the third quarter.
Overlooked in the reaction in the quarter's results are several positives. The company had relatively strong same store sales growth of 5.3% in the quarter, online sales were up 21%, it opened 8 new stores and they started to provide product in an additional 70 Dillard's (NYSE:DDS) stores.
The company is just starting to expand into the international market with initial focus on Japan. If it can even achieve part of the success in the country of Coach (COH), another beaten down retailer in this space I own, this could be a huge contributor to future revenue and earnings growth.
The stock looks like it is putting in some technical support at the $20 level (See Chart)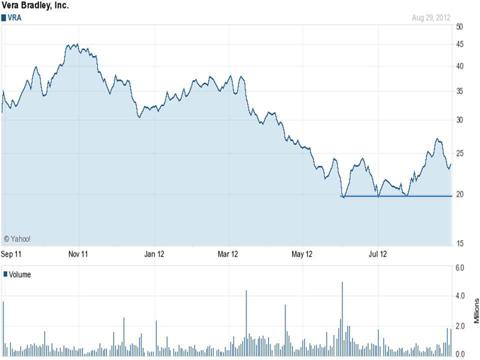 Disclosure: I am long COH, VRA. I wrote this article myself, and it expresses my own opinions. I am not receiving compensation for it (other than from Seeking Alpha). I have no business relationship with any company whose stock is mentioned in this article.