Gold and silver have resumed their upward trend after a tumultuous year for the metals. After reaching all time highs in 2011, this year has not been kind to investors in the field. However, confidence the ability of European Technocrats to solve Europe's debt problems have since faded into a fear of continued stagnation and spiraling debt burden. Monetary easing policies have done nothing to ease the fiscal problems in Europe. Data from China is also suggesting a slowdown, and the U.S. maintains high unemployment and little to no business growth.
The background for the global economy is gloomy, and in this backdrop, precious metals historically shine. Gold and silver are breaking from their bearish slumbers, and signs point to a strong fall season for both.
(click images to enlarge)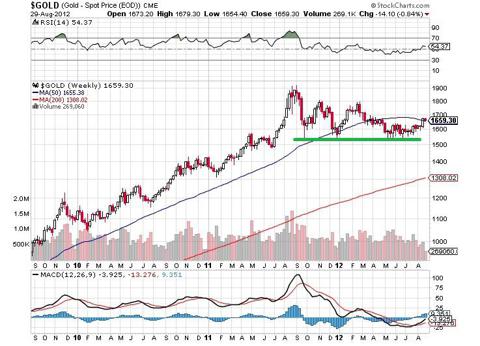 The chart above highlights gold's triple bottom, signaling buy to long investors. Silver is indicating buy with the same triple bottom indicator.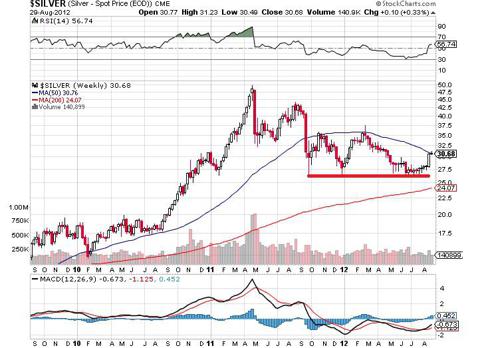 Both gold and silver have broken out against 50 and 200 day moving averages, another clear market buy signal.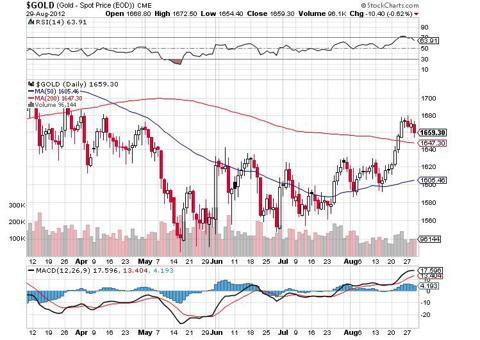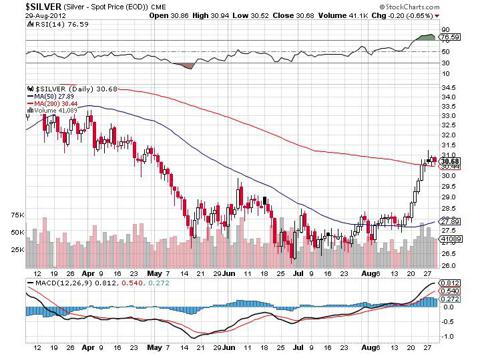 The metals are moving in lockstep. And as long as real interest rates hover close to zero, gold and silver should maintain their decade long bull run.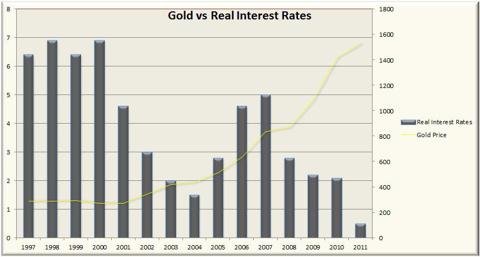 Real Interest Rates courtesy of World Bank
Given the amount of U.S. debt that has to be serviced, it is highly unlikely interest rates are raised in the near term.
Gold Shares
Gold stocks are severely undervalued. Estimates have the sector at 35% below value in a market that typically trades in a +/- 10% range. As a consequence, gold and the gold stocks' growth have significantly diverged.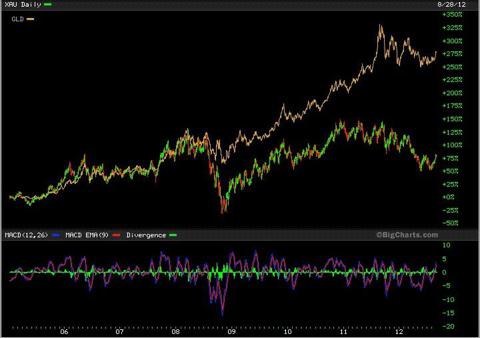 Many metals analysts believe the stocks will outperform the metals in the near term. Current gold prices, and subsequent fattening gold miner profits, have not translated to higher share valuations. Costs ballooned during a period of rapid project expansion. New projects resulting from higher gold price diluted gold yield due to lower grade projects being financed. However, gold yields should stabilize over the next year. as the mining industry has begun a more fiscally sound development strategy in order to reign in costs. This will lead to stronger production numbers and renewed investor faith in mining companies.
Indicators are clearly pointing to a resumption of the gold and silver bull market. Given seasonal buying that traditionally picks up in the fall and carries through the holiday season, gold and silver investors should be in for a profitable run through the end of this year.
Disclosure: I have no positions in any stocks mentioned, and no plans to initiate any positions within the next 72 hours. I wrote this article myself, and it expresses my own opinions. I am not receiving compensation for it. I have no business relationship with any company whose stock is mentioned in this article.