With Industry Canada's spectrum auction in its final throes, the uncertainty in the wireless market generated by the incoming new entrants may have produced an attractive buying opportunity for Rogers Communications Inc. (NYSE:RCI), Scotia Capital analyst John Henderson said in a note to clients on Friday.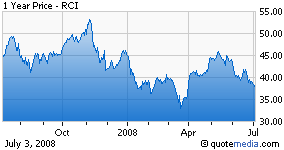 Rogers, Canada's largest cellphone company, has bid over C$948.8-million on 55 spectrum licenses during the auction, a major capital investment that has sent its shares down about 10% since the airwaves sale began on May 27. However, Mr. Henderson believes that the new entrants, including cable operators Shaw Communications Inc. (NYSE:SJR)  and Quebecor Inc. (NASDAQ:IQW),  will have a more limited impact on incumbents than is priced in the market.
Mr. Henderson wrote:
Recent precedent shows industry leaders continue to prosper in the face of aggressively priced unlimited calling plans from new entrants such as Microcell, Leap Wireless, MetroPCS and even from more established carriers such as Sprint. 
Furthermore, the imminent releases of Research In Motion Ltd.'s (RIMM) BlackBerry Bold and Apple Inc.'s (NASDAQ:AAPL) 3G iPhone devices will also help boost Rogers' revenue, Mr. Henderson said.
He said:
We believe Rogers' post-paid subscriber additions will jump by at least 100K (20%) in the first year as a result of its iPhone launch, based on prior precedent.
Mr. Henderson calls the recent outcry regarding Rogers' iPhone monthly pricing by online blogs and petitions "ridiculous." According to company research, high-end e-mail users might use about 50 MB of data per month, with video and music download making up for the rest of the minimum 400 MB offering.
Mr. Henderson said:
The number of customers willing to tie up their iPhone for the 4.5 hours it would take to download one two-hour movie is minimal. Movie watchers are far more likely to avail themselves of much faster data speeds over free (unlimited) wi-fi connections for movie downloads.
Mr. Henderson currently maintains a "sector outperform" rating on the stock with a C$62 price target.