Copart (CPRT) is what I would call an 'old favorite' of mine.  That is, I first discussed Copart on my blog on May 26, 2004 when the stock was trading at $23.02/share.  On September 30, 2007, shortly after actually buying some shares of Copart, I 'revisited' Copart on the blog when the stock was selling at $34.39/share.
Currently, I own 180 shares of Copart, which were purchased 9/27/07 at a cost basis of $33.72/share.  Copart closed at $40.49/share on July for a gain of $6.77 or 20.1% since purchase.  I did sell 30 shares of Copart on May 29, 2008 at a price of $43.53, which represented one-seventh of my holding at the first sale point on the upside, which I have set at 30% appreciation from my cost.
On the upside, my next sale would be at a 60% appreciation target, which would calculate out to $53.96.  On the downside, after a single sale at a 30% gain, my sale point is raised to break-even or $33.72, up from the (8) % loss limit I usually place after an initial purchase.
Let's take another look at Copart and I shall show you why COPART IS RATED A BUY.
What do they do?
According to the Yahoo "Profile" on Copart, the company:
...provides a range of remarketing services to process and sell vehicles over the Internet through its Virtual Bidding Second Generation Internet auction-style sales technology to vehicle suppliers primarily insurance companies. Its services include online supplier access, salvage estimation services, virtual insured exchange, transportation services, vehicle inspection stations, on-demand reporting, DMV processing, flexible vehicle processing programs, buyer network, and sales process, as well as CoPartfinder, an Internet-based used vehicle parts locator that provides vehicle dismantlers with resale opportunities for their salvage purchases.
How did they do in the latest quarter?
On June 4, 2008, Copart reported third quarter 2008 results. Revenue climbed 52% to $221.2 million from $145.7 million the prior year same period. Earnings increased to $46.5 million or $0.52/share, up from $38.9 million or $0.41/share last year.  The company beat expectations on both revenue which had been expected according to analysts polled by Thomson Financial at $207.9 million, and earnings which had been expected to come in at $0.48/share.
What is the longer-term outlook?
If we review the Morningstar.com "5-Yr Restated" financials on Copart, we can see that revenue growth is solid, increasing from $335 million in 2003 to $561 million in 2007 and $733 million in the trailing twelve months [TTM].  Earnings have also steadily grown from $.62/share in 2003 to $1.46/share in 2007 and $1.68/share in the TTM.  No dividend is paid. And the outstanding shares are rock solid at 93 million reported in 2003 and 93 million in the TTM.
Free cash flow is positive and appears to be growing with $70 million reported in 2005 and $91 million in the TTM.
The balance sheet is solid with $96 million in cash and $175 million in other current assets. This total of $271 million in total current assets, when compared agains the $128.9 million in current liabilities yields a current ratio of 2.1. The company is almost without any long-term liabilities with $16.7 million reported on Morningstar.com.
What does the chart look like?
If we examine a 'point & figure' chart on Copart from StockCharts.com, we can see that the stock, after dipping to a low of $7.00 in March, 2003, has steadily climbed for the past five years to a high of $49 in June, 2008, only to pull back currently to its $40.49 level in July, 2008. The upward move of this stock has barely budged in the midst of the terrible market action we have been observing.  The chart looks just fine to me! 
click to enlarge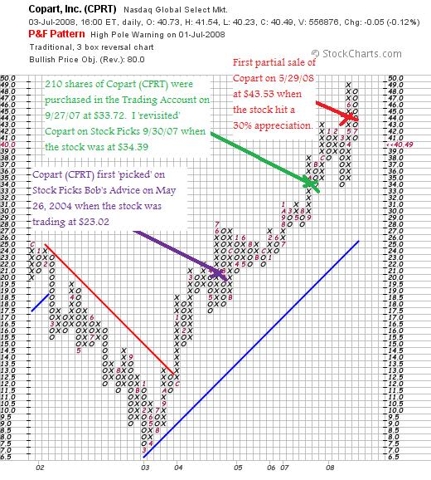 Summary: What do I think?

I really like this stock a lot. I guess the only thing that might be nicer would be if it paid a dividend. In addition, I wouldn't be surprised to see this company does exactly that in the future. Of course, I don't have any inside information on this or any of my other 'guesses!'
In light of the weakness in the economy and the possible recession, even this blog points out the utility of repairing that old car instead of buying a new one when times are tough:
Drive your car until it's old. This works really well when you buy a car that will run for 200,000 miles.
It was my 'hunch' that this company would be recession-resistant.  People deferring new car purchases may well find themselves replacing parts on their old cars.  I know I am personally responsible for purchases of parts for my kids' 1994 Jeep Grand Cherokee.  It is cheaper to keep it running than to replace it.
Copart continues to show good technical strength, a solid record of underlying fundamentals, and is the kind of company that might just help me get through this market correction and likely recession.
When your portfolio is banged-up, maybe a stock like Copart, which specializes in 'wrecks,' might just be able to find a place to make itself at home!
Disclosure: The author owns CPRT.