In early January, I wrote a negative article on Amphenol (NYSE:APH) (44.96, $7.9 billion market cap, S&P 500 member). In a case of a Bear Market making every short look genius, the stock promptly sold off, almost hitting my year-end target of 35 just a few days later. At the lows in March, as you can see in the chart below, it actually traded as low as 34.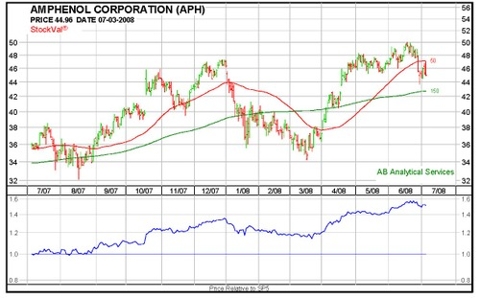 I think that I covered my short at about 38 and haven't been involved since then. As you can see, the stock has subsequently climbed to new highs. My reasons for being bearish failed to materialize earlier this year, as the company has reported two good quarters thus far in 2008.
It is time, though, to revisit the reasons to be short APH, which I am contemplating. In the original article, I pointed out that APH, which is one of the companies I follow closely, was being valued at an all-time high Enterprise Value to EBITDA ratio and was expected to raise margins this year (which it has). With a slowing global economy, the company - which is more heavily exposed to IT than historically, due to an acquisition in 2006 (Teradyne Connection Systems) - could see sales slow. 
Additionally, input cost inflation could prove challenging as well. I think that APH is a great company, but clearly a lot of the growth has come from the integration of acquisitions. The highly respected CEO is giving up his post in January, but will remain as the Chairman of the Board. His replacement has been with the company for 9 years and has served as COO since the beginning of 2007. In the chart below, you can see the trend in valuation and margins over the past decade: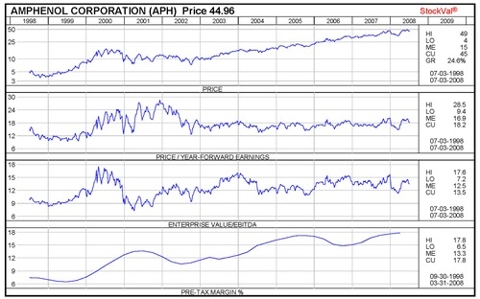 The current PE of 18 is slightly below the 20X achieved both recently as well as at year-end. I believe that the stock could drop to 35 or so again. This level represents 13.5X the current 2009 consensus estimate. I would suspect that the reality is that number is too high. Earlier this year, a fear of the risks I discussed emerged, but the company was able to defy those concerns. 
At this point, I believe that it will be more difficult to continue exceeding expectations, which the company has succeeded to do for some time. Besides the management change, the higher input costs and the slowing global economy, I am concerned about:
The emergence of independent Tyco Electronics (NYSE:TEL) as a more formidable competitor
The potential for Fidelity, a 15% owner, to sell stock (which they did in Q1 - data not available Q2)
The charts of peers MOLXA and TEL rolling over
Weakness in their key end markets - Auto, Computer, Industrial, and, suddenly, Aerospace
Concerns about potential for reduced Defense spending
I have no position yet, but I am watching for either failure up at 46 or a break of 43.  The insider selling that I had noted in late 2007 has dried up. Another positive factor is that there doesn't appear to be an excess in the company's inventory levels, though clearly the company is stocked up fully for higher sales.
Disclosure: No position.