Yesterday's earnings release of Pandora Media Inc (NYSE:P) just about managed to beat analyst estimates, which spurred an increase of ~10% in its stock price in after trading hours. Today, the stock was up 20%. The company barely broke even this quarter, and analysts estimate that it will bring in positive earnings in the next fiscal year, as well as the following year. The business remains risky, and like all contemporary Internet companies, such short term improvement does not speak much about the long-term aspects of the business. Whether the company will be able to expand its bottom line, given the possible reduction in content costs, remains to be seen. We are not recommending a short position because of the growth in revenues. Therefore, we recommend a hold position for Pandora.
Pandora's results for fiscal 2Q2013 were above the market consensus. Revenues reported for the second quarter beat market estimates by ~1%; they were up 51% YoY to $101.3 million. Advertising revenue accounted for 88% of total revenue, whereas subscription and other revenues contributed around 12%. Total mobile revenue experienced a significant growth of 86% YOY, reaching $59.2 for the second quarter.
(click images to enlarge)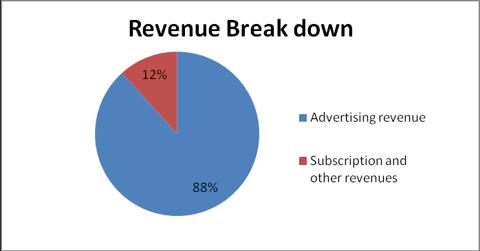 Source: Sec.gov
The Internet radio market has the potential to grow in the coming years, and Pandora seems poised to expand its user base. The company has marked a 50% growth in its registered users, and a 48% growth in its active user base YOY. Total listening hours were also up to 3.3 billion in fiscal 2Q2013 from 1.87 billion in fiscal 2Q2012, representing an increase of 80%. The company was able to beat market earnings estimates of $-0.04 per share, and reported breakeven earnings per share on a non-GAAP basis. Pandora also raised gGuidance for the third quarter and fiscal year 2013. 3Q2013 revenues are expected to come in at a range of $ 115m-$118m, against previous estimates of $114m; EPS are expected to be in a range of breakeven to $0.01, against a previous estimate of breakeven.
The company definitely has the ability to grab a greater share of the mobile ad market, and is improving upon its mobile monetization. Pandora is planning to move into Australia and New Zealand to expand its global market share. The company is focusing on generating a large audience base in these countries to attract more advertisers and generate high revenues, as it has done in the U.S. To bring about these changes, Pandora has plans to develop its infrastructure, and is making mobile specific applications for the region.
In addition to the plans cited above, Pandora has taken steps to improve upon its monetization and expand in local markets. To this end, the company is investing in making its local ad buying process easy, much like traditional radio advertising. This effort is expected to be completed by the end of the year. Radio Internet streaming is becoming a popular medium, as more and more people are steaming music online. Pandora has increased its Internet radio share from 59% to 72.7%, an increase of 22% YOY. It has increased its U.S. radio market share by 70% YOY to 6.13%. The recent numbers reflect that the company is heading in the right direction. The company is expected to grow at 40% per annum for the next five years.
Rising content acquisition costs are a concern for the company. Pandora has to pay fees to an artist every time one of its users plays a song. Despite a strong revenue growth in the recent quarter, these costs led to depressed bottom line numbers. Content costs for the 2Q were up by 80% YOY. Content acquisition costs for fiscal 2Q2013 were ~60% of total revenue, as compared to ~50% in fiscal 2Q2012. If this rising trend in content costs continues, it will adversely affect the earnings forecast, and investor confidence.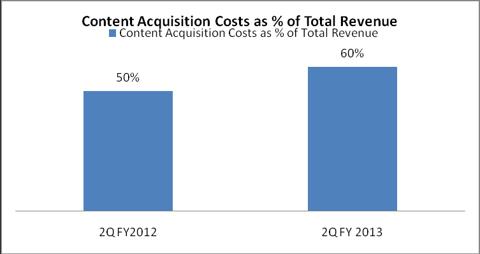 Source: Pandora.com
Going forward, a bullish case scenario can only be justified if the company is able to capitalize on its growth opportunities in local markets, as well as Australia and New Zealand, where it has plans to expand and improve further on the monetization front. Separately, the company has to manage its content acquisition costs so the growth in revenues can be translated into profits. We have to wait until we get a clear picture as to how the company will be managing its rising content acquisition costs, which are a serious threat to Pandora's current business model. Currently, sell side analysts are ignoring the risk of rising content acquisition costs.
| | | |
| --- | --- | --- |
| | EV/Revenue (NYSE:TTM) | Price/Sales (ttm) |
| Pandora Media, Inc. | 5.3x | 5.5x |
| SIRIUS XM Radio Inc. (NASDAQ:SIRI) | 3.9x | 3x |
| Groupon, Inc. (NASDAQ:GRPN) | 0.8x | 1.4x |
| Baidu, Inc. (NASDAQ:BIDU) | 12.8x | 13.6x |
| Facebook, Inc. (NASDAQ:FB) | 7.27x | 9.46x |
| Average | 6.2x | 6.8x |
Source: Yahoofinance.com
Yes, the stock is trading below its competitors' average multiples. Using the industry average, we get a price target of $14.50. We maintain that the risk of rising content acquisition costs, and its global expansion plan, pose a potential hurdle for the future performance of the company. Investors might join the buying bandwagon, as they have with other Internet companies. However, to justify a buy recommendation, a prudent investor will need solid figures, not just a sleek business idea.
Disclosure: I have no positions in any stocks mentioned, and no plans to initiate any positions within the next 72 hours.
Business relationship disclosure: The article has been written by Qineqt's Technology Analyst. Qineqt is not receiving compensation for it (other than from Seeking Alpha). Qineqt has no business relationship with any company whose stock is mentioned in this article.