Rowan Companies PLC (NYSE:RDC) provides contract drilling services, using a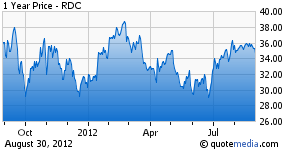 fleet of 31 jack-up rigs. Jack-up rigs are basically mobile offshore drilling platforms that are self-elevating, with 3 or 4 legs that can be raised or lowered. Most of the company's rigs are high specification rigs that have high utilization rates as well as day rates. The company is also enhancing its fleet mix by working on developing 3 Ultra Deep Water ("UDW") drillships, estimated to be ready within the next two years.
Stock Performance
Rowan's stock has traded at a 52-week range of $28.13 - $39.40. The stock is trading above its 50-day as well as 200-day moving averages.
Take a look at the chart below. Comparing the recent stock performance with the performance of the S&P 500 index, RDC outperforms the S&P 500 on up days, but drops higher than the broader market on down days; investors should note that RDC's beta is 1.6 and that the stock tends to be more volatile than the broader market.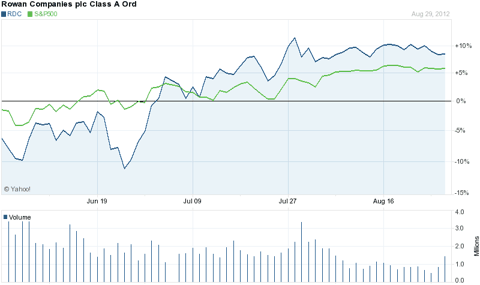 Encouraging signs
On August 2, 2012, Rowan Companies disclosed in its earnings call that the company was noticing growing customer interest in high specification rigs, and that the utilization rates in the high specification jack-up rigs market was highest since 2009.
Another encouraging sign for the company is that the expansion of deepwater exploration in the North American region should result in strong demand for UDW drillships. In fact, Rowan's first UDW drillship is already committed to be deployed in the field right after delivery in 2013. The company did not have to market at a discounted price either - a legitimate concern that made some investors skeptical of the company's ongoing development in the UDW drillship space.
Rowan's projects in Brazil, Africa and Gulf of Mexico are expected to "drive a cycle of multi-year growth," according to a recent Credit Suisse report (released on August 30, 2012). Credit Suisse initiated Rowan's stock as Overweight.
EPS and Key Statistics
Looking back into the most recent 4 quarters, Rowan Companies PLC has reported 2 positive and 2 negative EPS surprises. However, according to First Call, analysts are expecting significant EPS as well as revenue growth in 2012, 2013 and 2014.
Rising EPS: On August 2, 2012, Rowan announced Q2 2012 results that were slightly ahead of consensus. The company's 2012, 2013 and 2014 EPS are estimated to rise consistently and significantly, as shown in the chart below.

Additionally, EPS growth projected for next year versus this year is 71.54% and Forward EPS growth (3-5 years) is 22.67%.

Rising Revenues: The 33 analysts that cover Rowan Companies expect the company to report a 46.2% rise in revenues in 2012 from $939.20 million in 2011 (actual) to $1.37 billion in 2012 (estimated), and a further 19.3% increase to around $1.64 billion in 2013. When both EPS and revenues are expected to rise, the chances of a stock's outperformance increase.
Strong balance sheet: In this industry, the right amount of leverage and debt matters, because each project requires significant investment.

Rowan Companies has increased its current ratio as it increased its current assets recently. The company improved the Quick Ratio as well, from 3.0 from 1.5, by increasing its liquid assets. Last but not the least, the Debt-To-Capital Ratio in the most recent quarter was a healthy 23.28%.

P/E: Rowan's next year P/E estimate is significantly low at 9.7.
Conclusion
Rowan Companies PLC appears to be a conservatively leveraged company with positive earnings prospects. Its fundamentals demonstrate a strong cash flow and a high-quality balance sheet, and the company's EPS and revenues are both expected to rise in the next two years. Additionally, the macro industry environment is positive.
However, with the S&P 500 at these high levels, investors should be wary of buying this stock "hands-over-fist". My recommendation is to wait for the broader market to retreat, which should put downward pressure on Rowan's stock price as discussed above in the "Stock Performance" section of the article, and then start buying the dips.
The investment horizon for this recommendation is long term (1-2 years).
Risks
Investors face opportunity cost risk considering that RDC does not offer a dividend. For example, Rowan's competitor Seadrill Ltd. (NYSE:SDRL) offers 8% dividend (however, Seadrill reported a 40% loss in its most recent earnings, and worse, its Debt-To-Capital ratio is high at 63% and total Debt-Equity ratio is very high at 169%).
If the macro environment in the industry changes and utilization rates of jack-up rigs decrease, Rowan's stock could be adversely affected.
Disclosure: I have no positions in any stocks mentioned, and no plans to initiate any positions within the next 72 hours. I wrote this article myself, and it expresses my own opinions. I am not receiving compensation for it (other than from Seeking Alpha). I have no business relationship with any company whose stock is mentioned in this article.