If there's one sector that's been battered, beaten, and pulped this year, it has  been the IPO market. In fact, things are so bad that—despite the successful Visa (NYSE:V) IPO—in all of Q2, there were no venture-backed offerings at all. With very good reason: Risk.
You see, IPOs thrive in bull markets. They need institutional investors willing to take risks… and they need giddy private investors with cash burning a hole in their collective pockets, eager and willing to throw cash at every cockamamie scheme the investment bankers bestow on the market.
These days, there's neither. Investment bankers (those who still have a job) have been scorched by their enormous miscalculations involving subprime mortgage schemes. Institutions that used to bankroll initial public offerings are teetering at the brink of bankruptcy or throwing  what's left of their good money after crude oil and gold.
And retail investors?  With some indexes down over 50% in a year, most are hanging onto their portfolios by their nails, waiting for a rebound to sell… not to plow money in new, untested ventures.
No wonder then that most of the 2008 IPO listings have "TBA" — to be announced — as their status. Companies will be biding their time until the markets pick up again. And if I'm right about this, and owners have an iota of brains left, they'll be keeping out of this market for months… if not years.
Of course, hope springs eternal. There are some companies whose underwriters continue to misjudge the market. Las week, they threw Energy Recovery, Inc. (NASDAQ:ERII) to the wolves, pricing the deal at $8.50. On its first day of trading, the stock listlessly spilled up to $10.25. Yesterday, it ended at $9.83. Look at this sad-sack stock chart: Where are the fireworks?
click to enlarge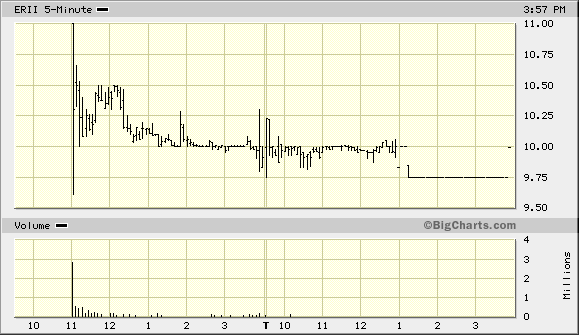 Now, mind you, this is probably not a bad company. Founded in the early 1990s, Energy Recovery sure has the right name to appeal to investors. The company develops systems that capture and recycle up to 98% of the energy from desalination.
Sure, there have been a number of IPOs this year that did alright:
Now, those were the BEST returns at the end of the quarter, courtesy to MSN Money.
The worst are really nothing to write home about:
And for 5 companies that showed first-day gains, there are seven that lost or barely broke even.
The bloom's off the IPO rose. And the market won't revive until the banking crisis is over. Which could be a year or two from now. In the mean time, there are better opportunities to make money, with far better odds for success.
Disclosure: None