When I was in college, coffee was essentially a state-sanctioned performance-enhancing drug - steroids for writers. But coffee's status has changed. You can now attend professionally organized coffee cuppings (think wine tastings for coffee), where, if you're lucky, you could get your palate on rare coffees costing $15 a cup. You can also skip the whole university thing and just go to China, because they just opened the first official Chinese barista school. Once you've got the sheepskin, you can compete in the world barista championships.
Coffee producers and cafés are doing their best to promote the culture of coffee. But one of the mainstays of that culture - Starbucks - is making a few adjustments in its plan to take over the world. This week's headlines about Starbucks' plan to close 600 stores and lay off about 7% of its workforce gives us an excuse to stick a little pod into our one-cup brewer and take a look at what's really going on in the coffee market, our first since January.
Coffee, Weekly Average Price (The Long View)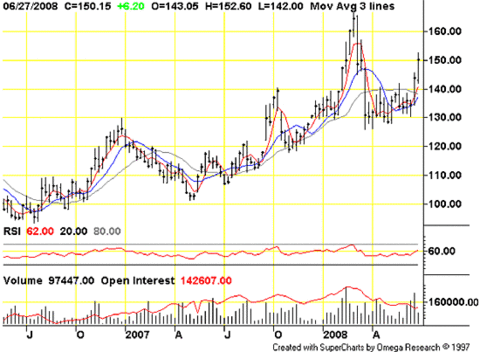 Soon after we looked at coffee back in January, it hit record prices in February on a combination of supply concerns and inflation hedging. Prices soon retreated off the high, but not back down to levels more typically seen in years before. More recently, things have been looking up.
Coffee (KC, ICE [NYBOT]) Daily Commodity Futures Price Chart: July 2008 Contract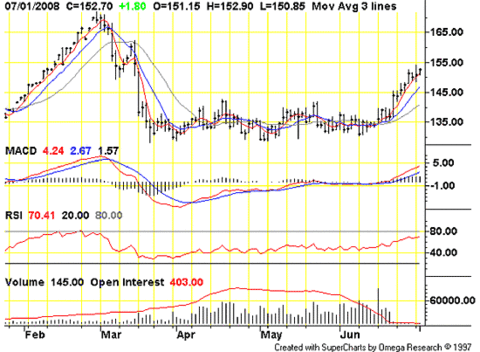 Right now, coffee prices have been edging upward again - this time because of the weaker dollar (surprise - it's not just oil that is priced in dollars); the threat of cold weather in Brazil (it's winter down there, you know); and the expectation that the European Central Bank will raise interest rates. Of those three items, only one - the weather - directly affects the crop. The others are just the price we pay for our global economy.
The Crop
Brazil is the world leader in coffee production and consumption. They grow the most of it as well as drink more of it than any other country as a whole, except for the United States.
Some months ago, Brazilian authorities projected that Brazil's 2008/2009 coffee harvest was going to be around 45.5 million bags, up from 33.7 million bags in 2007/2008. Even with that 35% increase, many people thought the prediction was too low and that we would see even-higher numbers as harvesting commenced. It turns out their instincts were right; Brazil is now projected to harvest 51.1 million bags of beans as a result of coffee trees' natural two-year boom harvest cycle (one good year, one bad year is a biological imperative in Brazilian coffee). But folks bidding up coffee don't think even that will be enough. The coffee market is tight, and Brazil's 2008 year-end inventories are expected to be around 1.5 million bags, down from 8.4 million bags the year before. That's a huge drop in inventory at the same time that the harvest is insanely huge. And because this harvest year is the "heavy" year, next year's harvest will be lower. With such low ending stocks this year, Brazil may not have enough supply to keep itself and its trading partners in coffee next year.
Exports from Brazil were 13% lower in June than in May. Why? Well, the harvest is just beginning in Brazil and it may be a little slow going. This Bloomberg article quotes one grower's group saying that only around 8% of the harvest had occurred by June 24. Last year harvest was 18% in the door at the same time. Big numbers have a way of clogging the infrastructure. Just ask the port of Shanghai.
Starbucks Stores
"A Starbucks on every corner" is no longer the call of the Seattle masses. Oh what will Manhattanites do if their beloved Starbucks is closed and they have to walk a half a block more to the next one? A legion of lost yuppies, standing forlorn with the commuter mugs in Seattle. Riots in the streets?
Well, maybe not, but after years of expanding and expanding, Starbucks (NASDAQ: SBUX) has decided to close 600 - or about 10% - of its U.S. stores. Currently, there are no more details as to which ones are on the chopping block, but most (70%) have been opened in the past two years, and many (or a "vast majority," according to CFO Pete Bocian) are located near other Starbucks stores.
Why is Starbucks in this position? Was it a poorly conceived management strategy to expand as fast and furiously as they did? Has demand slowed for coffee? Or is Starbucks a victim of the slowing economy? Most likely a combination of the three. When you are paying over $4 for a gallon of gas and are feeling the pinch, a $4 latte can seem like a huge indulgence. (Our bet is that bottled water takes a hit too. Any beverage that goes 1-1 for a gallon of gas is an indulgence.)
But fear not, Starbucks investors, there is always China.
Even after the Internet-fueled protest of its store in the Forbidden City, and its subsequent closing, Starbucks still sees China as the future land of latte.
As we discussed previously, China's coffee consumption - along with their consumption of absolutely everything - is growing, at the rate of 20% a year, according to Starbucks. Other sources, perhaps a bit less-desperate ones, put growth in the 10 to 15% range. One of the first foreign coffee brands in China, Nestlé, got its foothold in the country with its instant coffee. Now other companies (Starbucks, Coffee Bean and Tea Leaves) are trying to woo the palates of the Chinese with fresh-brewed coffee.
Growing, too, is China's own coffee industry. China has countryside here and there that is ideal for growing coffee, but most of what is produced comes from a rust-resistant variety which is considered to be of low quality and used primarily for instant coffee. Most of that coffee is exported, though some local companies are changing that and branding their coffee and selling it in-country. In fact, one company, Dehong Hougu Coffee Ltd., is looking to become the first coffee producer listed on the stock exchange.
Conclusion
In most of the commodities world - or at least in the biggies like Energy - the Chinese part of the demand equation has been a broken record of angst. Chinese demand seems insatiable, and rising prices have been based both on the fear and reality that the rest of the world will need to compete with China for scarce oil, copper and everything else.
But coffee (and to some extent other softs, like sugar) isn't a staple in the same sense that rice and wheat are. As a long-lead-time crop, farmers can't just decide to double production to take advantage of rising price; it takes time. So it looks like for the near term, demand will be the deciding factor.
Coffee supplies are going to be tight, and most predictions are for global consumption to grow. But our guess is that consumer demand is much more elastic for coffee than it is for gas, not just at Starbucks, but around the world. This doesn't bode well for Starbucks' global domination strategy.
Side note: While the U.S. is the country with the highest total coffee consumption, we're nowhere near the top in per capita in consumption. That title goes to the tiny country of Luxembourg, population approximately 486,000, with its per capita coffee consumption at an amazing 17.72 kilograms (38.9 lbs) in 2007. Finland came in a distant second, consuming 12.03 kg (26.5 lbs) of coffee per person. The U.S. only consumed 4.17 kg (9.2 lbs) of coffee per person.