Verizon, (NYSE:VZ), is one of only two Dow 30 high dividend stocks with a dividend yield over 4%, but the market has been hanging up on VZ in August, sending its shares down over 5%. VZ also trails the S&P year-to-date: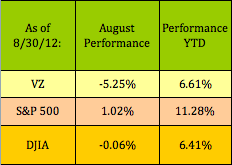 Part of this swoon may be due to Verizon's very high P/E of over 42 for trailing 12 months earnings, which were only $1.01/share, thanks to a big -$.71/share loss in the fourth quarter of 2011. However, earnings look much better for 2012, with nearly 200% growth forecasted, BUT VZ's 2013 PEG is very high, 3.34, due to its high trailing 12-month P/E:

Using a forward 2012 P/E of 17.11 yields a much lower 2013 PEG, although it's still above the 1.00 threshold for being undervalued on a PEG basis:

Dividends: Verizon has a five-year dividend growth rate of 23.46%, having increased its quarterly dividends from $.405 to the current $.50/share. Its trailing 12-month Dividend Payout Ratio is very high, at 198%, but, if you have any faith in the 2012 earnings estimates of $2.50, this ratio shrinks to a more reasonable 80%:

Is VZ Oversold and Ready To Bounce?: Given the confusion in VZ's current valuations, you may want to consider waiting to see if its current downtrend continues before acting. VZ crossed back above its stochastic oversold line this week, but it has been there before in 2012, with mixed results - the first time it crossed, in January, it ended up lower in April; but the second time it crossed the line, in April, it rose from around $37.00 to nearly $46.00 in July: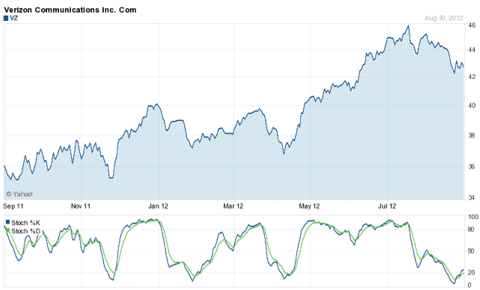 If you wanted to take a long-term view, but get paid now, here's an idea to keep in your hip pocket, while you monitor VZ's trend in the often volatile month of September.
This trade from our Cash Secured Puts Table involves selling a January 2014 $42.00 cash secured put, for $5.40 currently, which is a 12.86% nominal yield, and quite a bit higher than the $3.00 in dividends for the period. The $36.60 break-even is 14.43% below VZ's current $42.77 share price, as of 8/30/12. If you wait, before selling any puts, and VZ does drop further, you'll be able to sell at a lower strike price, but still achieve a good yield and a lower break-even.
This option-selling strategy also has tax deferral benefits: You can use the put bid premium $ now, and not have to pay taxes on it until 2015, if the position isn't closed until 2014. This is an interesting cash flow strategy that's been utilized by well-known value investor Warren Buffett, who has reportedly sold as far out as 2019, whilst getting the use of the premium $ in the meantime.

Disclaimer: This article is written for informational purposes only and isn't intended as investment advice.
Disclosure: I have no positions in any stocks mentioned, and no plans to initiate any positions within the next 72 hours. I wrote this article myself, and it expresses my own opinions. I am not receiving compensation for it (other than from Seeking Alpha). I have no business relationship with any company whose stock is mentioned in this article.