One of the most controversial companies here on Seeking Alpha is, without a doubt, Salesforce.com (NYSE:CRM). Actually, when we think about it a bit more, it is not that controversial. Controversy requires at least one opinion. And here on Seeking Alpha, the only opinion regarding Salesforce seems to be that it is one of the worst stocks in existence, and that the stock is destined for collapse. But rather than rehash the reasons to short the stock, we felt it would be more appropriate to provide an update on our view of the company. Our last article on Salesforce laid out an argument that the company's institutional investors are preventing the short thesis from playing out, and that the shares cannot truly fall until institutional investors head for the exits. Our article received a wide range of responses, with some readers praising our work, and other criticizing us for not stating that Salesforce is a terrible stock. But now that Salesforce has reported its Q2 2013 (fiscal) results, we felt the time was right for an update.
Q2 Results: Even Salesforce Admits That Growth Is Slowing
Since going public in 2004, Salesforce has always styled itself as a growth company, in terms of both revenues and earnings (in this instance, we mean earnings as Salesforce sees them, which may not be reflective of how all investors perceive them). Salesforce emphasizes non-GAAP earnings, for the company believes that they better reflect how the company truly performs. Setting aside the GAAP vs. non-GAAP debate for a moment, Salesforce is not a cheap stock by any measure. As of this writing, the stock trades at $142.69, a multiple of 95.765x the company's fiscal 2013 non-GAAP EPS estimate of $1.49 (the midpoint of guidance). On its own, a multiple of 95.765 is not inherently bad. If the company can deliver substantial growth, then perhaps such a multiple is justified. But, buried within Salesforce's Q2 results is an admission that growth is set to slow.
If we subscribe to the idea that non-GAAP earnings are the way to value this company and measure its profitability, then the company needs to at least deliver non-GAAP EPS growth, even if GAAP losses continue. When Salesforce reported its most recent results, the company provided updated guidance for fiscal 2013, which is posted below.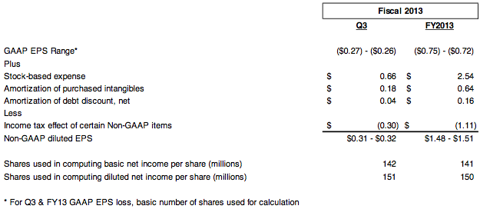 As always, Salesforce's GAAP losses are driven by the company's stock-based compensation practices, which result in expenses that overwhelm all of the company's GAAP income. But, that shouldn't matter, as long as non-GAAP EPS keeps growing. At least that is the argument that Salesforce wants investors to accept. The problem with this line of thinking is that the company actually lowered non-GAAP EPS estimates for fiscal 2013. Provided below is Salesforce's guidance from Q1 2013.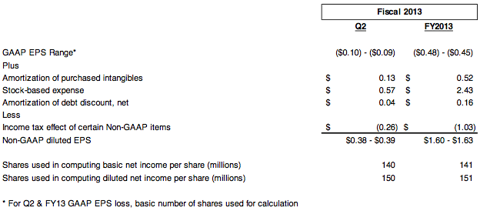 As you can see, Salesforce expected to post $1.60-$1.63 in non-GAAP EPS back in May. But, 3 months later, it expects non-GAAP EPS of $1.48-$1.51, a drop of 7.43%. Growth companies such as Salesforce, especially ones that have multiples well over 90 (on non-GAAP earnings), are not supposed to lower earnings estimates. While Salesforce's Q2 non-GAAP EPS of 42 cents per share did beat its guidance for 38-39 cents per share, we believe that the lowered full-year outlook is more material. So does this mean that the stock should fall? Our analysis, which we will detail below, suggests that for the moment, Salesforce will remain at, or near current levels. But before we get into our thesis, we would like to provide some perspective on the emotions surrounding this company.
An Overvalued Company is Not a Fraud
Salesforce, and its CEO Marc Benioff have been regularly accused of fraud, and of duping unsuspecting retail investors. We see such statements in many articles regarding this company, and often come across statements comparing Marc Benioff to a used car salesman, or a scam artist intent on enriching himself at the expense of regular investors. And since he founded Salesforce, Marc Benioff has indeed enriched himself (his current net worth is $2 billion, according to Forbes). But, Benioff has also enriched investors greatly, creating billions in shareholder value since the company went public in 2004. Though most people remember Google (NASDAQ:GOOG) as the most famous IPO that year, it is Salesforce that has given investors more profits. Since going public, Salesforce is up over 800%, compared to over 529% for Google, a gain of over 23% for S&P 500, and a gain of just over 53% for the NASDAQ.

Salesforce may be overvalued, but that does not make it a fraud. Nor does the company's focus on non-GAAP earnings. By law, Salesforce is required to file GAAP financial statements with the SEC, which it does. Its 10-Q and annual filings lay out the company's GAAP losses, and they are available for any investor to see. What investors and critics of this company need to remember is that this is where the Salesforce's obligations end. The company is not required to discuss its GAAP financials on its earnings calls (aside from customary disclosures about reconciling non-GAAP financials to GAAP), nor are analysts required by law to reference them over non-GAAP financials in their research reports, even if they should do so. Salesforce is not the next Enron, for there is no fraud occurring here. And we do not subscribe to the idea that Salesforce is duping investors. The company's GAAP financials are available for any investor to analyze and if you are an investor who has made a conscious decision to invest in this company (or any other company, for that matter), then you should have examined the company's quarterly and annual filings. Do we feel Salesforce is a sound investment? Not really. We would be hard pressed to present a persuasive argument to buy shares. But, that does not make this company a fraud, nor does it make Marc Benioff a poor CEO. He has created billions in wealth for his investors. Will that wealth remain intact? Perhaps. Perhaps not. But until Salesforce comes crashing down, Benioff's track record of creating shareholder value will remain intact. Investors need to ensure that their emotions do not cloud their judgment. Salesforce's valuation may be stretched, but the company has not done anything illegal, a fact that many critics seem to forget.
Whale Investors: The Elephant in the Room
Our last article on Salesforce (linked to at the beginning) focused on the company's institutional investors. In essence, our article argued that the Salesforce short thesis was being held back by the fact that the majority of the company's stock is held by institutional investors, who have been unwilling (and in some ways unable) to sell their shares. And now that 13-F filings have been released for the second quarter, we can see that this trend is fully intact.
In the second quarter, 13-F filers boosted their holdings of Salesforce stock by 4.836%, to 140,213,536 shares, which represents the vast majority of Salesforce's outstanding shares (the company has not yet filed its 10-Q for this quarter, so we do not have an exact share count). And no institutional investor better illustrates the dilemma here than Fidelity. Fidelity is Salesforce's largest and oldest investor (the company has been an investor since Salesforce went public). Fidelity owns over 15% of Salesforce, and in Q2 boosted its stake by 274,944 shares to 20,808,798 shares. As we explained in our previous article on Salesforce, Fidelity is essentially trapped. It is likely sitting on large unrealized gains, due to the fact that it has owned Salesforce stock since 2004. But, because Fidelity owns over 15% of the company, it is almost impossible to sell of a meaningful amount of shares. If Fidelity began unloading stock, the sheer size of its selling will likely overwhelm the markets and send Salesforce plunging. Fidelity is hardly the only institution in such a quandary. Investors such as Sands Capital, T-Rowe Price, and Winslow Capital are all in the same boat, albeit to a lesser degree. In our view, institutional investors remain the biggest hurdle to seeing the short thesis regarding Salesforce play out. Until we see definitive proof that the company's institutional investors are capitulating, we cannot formulate a credible scenario in which Salesforce's stock plunges by a substantial amount.
An Alphabet Soup of Valuation
The drama surrounding Salesforce is compounded by the fact that, in essence, every single sell-side analyst covering the company is bullish. While many critics of Salesforce believe that analysts, much like Salesforce and its CEO are defrauding investors, we do not believe this to be the case (in our view, this issue is part of a larger debate as to what the proper role of sell-side analysts should be, an issue that is beyond the scope of this article). Readers need to remember that, for better or worse, institutional investors buy into the theory that sell-side analysts provide a valuable service, and they do believe in the research that these analysts produce.
That being said, we are amazed by the creativity of sell-side analysts in arriving at price targets for Salesforce. Given that a GAAP P/E multiple cannot be used for this company, other metric need to be used. And Salesforce's analysts use many interesting ones, which we break down several of them below.
Merrill Lynch: The firm arrives at its $200 price target by assigning Salesforce a multiple of 8.6x enterprise value/recurring revenues (5.4 million subscribers by the end of fiscal 2013 at an average fee of $53 per month per user).
Roth Capital: The firm's $165 price target is based on several target multiples, including 31x free cash flow, 83x fiscal 2014 EPS (non-GAAP), and 6x revenues. Roth does admit that these multiples represent a significant premium to the rest of the SaaS sector, but believes that they are warranted given Salesforce's dominant market position.
Credit Suisse: The firm's $185 price target is based on several multiples, including 36.3x enterprise value/unlevered free cash flow (for the next 12 months), an enterprise value/revenues multiple of 7.6x (also for the next 12 months). Credit Suisse noted that while Salesforce does trade at a premium of 197.7% to the industry on enterprise value/unlevered free cash flow, and a 102.7% premium based on enterprise value/revenue, it is forecasting 5-year revenue growth for Salesforce that is 175.8% higher than the industry average.
Do we think that these are proper multiples to value Salesforce? Yes and no. On the one hand, we do believe that a P/E multiple is not the only valuation metric that investors need to calculate when analyzing a company and its stock. On the other hand, we think that even these multiples are stretched. 31 times forward free cash flow? We present these valuation models not as an endorsement of them, but to show readers how analysts are molding the data to support their own conclusions (fundamental equity analysis is an art, not a science). And we think that far too many critics of Salesforce are forgetting that as long as the company has the unwavering support of Wall Street, it will be difficult to crack the stock. That being said, short-sellers must be vigilant. They need to watch for signs of capitulation, just like with Salesforce's institutional investors. All it takes is just one analyst to break away and begin questioning just exactly what is going on at this company. And if and when such a thing does indeed occur, that will be a clear sign that Salesforce's fall could be at hand.
Conclusions
Before condemning us for writing an article that does not label Salesforce, its CEO, and the analysts that cover it as fraudsters, we would like readers to understand our rationale for writing such a piece. Here on Seeking Alpha, we enjoy reading articles that offer a bearish view on the stocks we own far more than those that offer a bullish view. We do not need to hear the bullish thesis for Company X. We own Company X because we believe in that thesis. What we would like to hear is the bearish thesis for Company X, so that we can evaluate whether or not we have missed something, and whether or not our bullish view is as strong as we think it to be. And we wrote this article with that view in mind.
Are we suggesting investors rush out and buy Salesforce stock? No. We find it difficult to offer a credible thesis as to why the stock is a good buy at this price. That being said, we find it difficult to believe that the time to short Salesforce is at hand, even if the company itself has admitted that growth is slowing. Salesforce's support amongst institutional investors and sell-side analysts is as strong as ever, and until cracks appear in that support, we believe that it will be difficult for shares of Salesforce to fall substantially. We hope this article provided readers a different take on Salesforce, and that it proved beneficial.
Disclosure: I am long CRM, GOOG. I wrote this article myself, and it expresses my own opinions. I am not receiving compensation for it (other than from Seeking Alpha). I have no business relationship with any company whose stock is mentioned in this article.
Additional disclosure: We hold shares of both Google and Salesforce via the Fidelity Growth Company Fund.