In a helter-skelter second quarter, the Dow Jones Utilities Average was one of the top-performing major indices, with an 8.7% return that trailed only the NYSE Energy Index, according to a July 1 report from Bloomberg.
Compared to key industry, style and broad-market indices—such as the NASDAQ Composite, the Russell 2,000, the S&P 500, the S&P SmallCap 600 and the Dow Jones Industrial Average, the utilities sector stood out not just for its 2008 return, but for its limited retreat in the face of a tough market threatening to reach full-out bear status.
The utilities index, which includes many key holdings of PowerShares Dynamic Utilities ETF (NASDAQ:PUI), fell just 5.8% from its 52-week high, besting 10 others, except for NYSE Energy (up 7.6% in the first half, down 4.0% from last fall's high).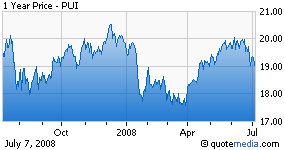 PUI ended the first half of the year down just 1.6%, nearly 11 points better than the S&P 500. The fund also fared better than 99% of specialty utilities ETFs tracked by Morningstar.
Historically, of course, utilities are the ultimate defensive stocks, a safe haven in troubled economic times. Why? They tend to pay strong dividends and benefit from the usually recession-proof need for electricity (or natural gas, which has seen a 40% spike in prices after lagging behind oil for much of the commodities boom).
Then, over the last five-plus years, utilities took off, turning the stocks of generators and distributors from the favorite of slow-and-steady investors into growth stocks that strongly outshone the broader market.
PUI debuted in the middle of that run-up and has compiled a 25.1% NAV return since its November 2005 inception—nearly four-and-a-half times better than the S&P 500 over that period.
With those stellar returns comes more volatility, and utilities stocks took a hit when the mortgage crisis and credit crunch sent investors fleeing, dropping the fund's NAV by nearly 15% between Dec. 10 and March 28. Investors have come to question the sector's ability to outperform in down markets, especially because it also struggled in the downturn of 2001-2002—though, to be fair, some utilities spread their wings into telecom energy trading, infrastructure and even media during that time. Industry bulls say that practice has died down, replaced by efforts to produce alternative power.
PUI represents a nearly pure play on utilities. Of the top 15 holdings, which account for more than 55% of assets, 10 are primarily electric utilities (including all of the top eight) and five are natural gas utilities. Those five, grouped from No. 9 to No. 14 on the PUI holdings list, have an average return of 3.1% in the last month (through June 30).
Four of them—Nicor (NYSE:GAS), Northwest Natural Gas (NYSE:NWN), Laclede Group (LG) and WGL Holdings (NYSE:WGL)—are "pure" gas utilities, meaning they make most or all of their money delivering natural gas. The S&P Natural Gas Utility Index is up 11.03% year to date, compared to a loss of 5.93% for the corresponding electric utilities index. Gas distributors are outperforming, thanks to rising gas prices and the attractiveness of their dividends. S&P equity analyst Christopher Muir says that gas distributors "typically have higher yields than those with other operations."
Indeed, the Los Angeles Times reported this past Tuesday that the "traditional element of utilities' defensive appeal—their dividend yield—isn't much of a lure these days," saying that the average yield of the Dow utility stocks is 3%, compared to 2.85% for the Dow industrials. The average dividend for the five largest gas utility stocks in the PUI portfolio is 3.89%, according to S&P.
That's not to say that electric and diversified utilities are hurting PUI's returns. Top holding FirstEnergy (NYSE:FE) has seen shares rise 4.6% in a month and 13.8% year to date (through June 30), thanks to rate increases expected in 2008 and the firm's moves toward wind power.
In fact, the fund's top four holdings—including PSEG (NYSE:PEG), Dominion Resources (NYSE:D) and PPL (NYSE:PPL)—have an average one-month return of 3.53%. Over the longer haul, those four stocks mark the utilities run-up with five-year returns that average 109.6%, compared to 30.8% for the S&P 500.
If—and this is a big if—electric utilities can continue to pass on the surging costs of fuel, the stocks and the fund could continue to post outsize gains.
If not, there could be trouble, as last winter's beating showed. Some analysts remained concerned about overvalued stocks in the sector. S&P analyst Justin McCann said recently that utilities stocks typically carry a price-to-earnings ratio that's about 70% of the S&P 500's. According to S&P, PUI's price-to-prospective earnings ratio is 14.44, giving the fund a 1.08 ratio in comparison to the large-cap index.
That said, PUI has held up well in tough times. As a niche holding, it may provide some defense if the ups and downs of the second quarter continue going forward.