I am always on the lookout for reasonably priced growth stocks that are starting to gain notice in the analyst community. I find a lot of times that these are the types of events that can kick off a rally in the company's shares. Rowan Companies (NYSE:RDC) is one such growth stock that seems to be getting some love recently from analysts. It also has had other positive catalysts in August.
Recent positive catalysts for RDC:
"Rowan Companies provides offshore oil and gas contract drilling services in the United States and internationally. It primarily focuses on high-specification and premium jack-up rigs for the exploratory and development drilling, as well as well workover operations." (Business description from Yahoo Finance).
Four additional reasons to pick up RDC at just over $34 a share:
The company is expected to grow earnings at an impressive rate. RDC earned $1.14 in FY2011 and is on track to post $2.10 in EPS in FY2012. As new rigs and contracts come on line, the company is projected to make over $3.60 a share in profit in FY2013.
The markets seems to be underpricing the company's growth prospects as the stock sports a five year projected PEG of under 1 (.74).
The stock is cheap at 97% of book value and just 9.5 times forward earnings.
The stock bounced off solid technical support at the start of the third quarter and is solidly above its 200 day moving average (See Chart)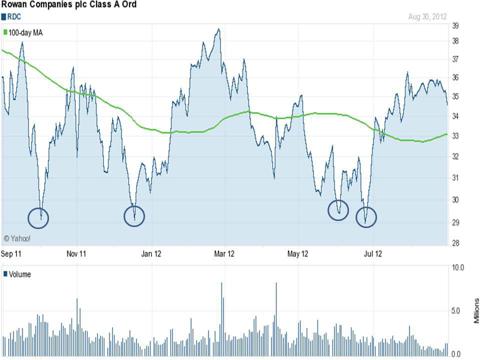 Disclosure: I am long NE. I wrote this article myself, and it expresses my own opinions. I am not receiving compensation for it (other than from Seeking Alpha). I have no business relationship with any company whose stock is mentioned in this article.