On March 22, 2012, I wrote a piece titled "Diana Shipping: Overvalued Relaitve To Baltic Dry Index." In that article, I argued that Diana Shipping (NYSE:DSX) was a sell based on valuation relative to the Baltic Dry Index. In the time since that piece was published, DSX shares are down more than 23%, as shown by the chart below.
Click to enlarge images.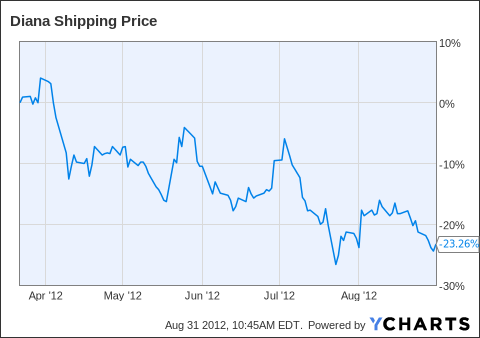 Improved Relative Value
In the article linked to above, I included a chart that showed that DSX shares were up 13.85% year to date, while the Baltic Dry Index was down by 45.57%. In total, the divergence was just more than 59%. Now, as shown by the chart below, the divergence has shrunk to just over 41%. This represents a significant improvement in relative valuation from before.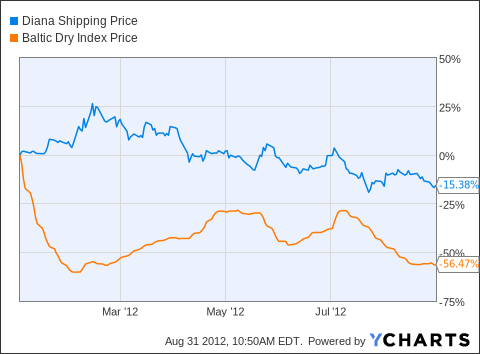 In addition to the improvement in short-term relative value, the long-term relationship between DSX and the Baltic Dry Index has also improved. At the time of my previous article was written, the long-term spread between DSX and the Baltic Dry Index was 36.03%. Now, as shown by the chart below, the spread has narrowed to just more than 25%.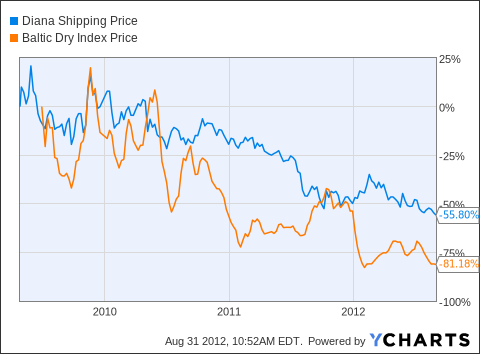 Best In Class
As a few Seeking Alpha contributors have discussed, DSX is in the best financial position of the large shipping companies. As shown by the chart below, DSX's debt-to-equity ratio is significantly lower than other shipping companies, such as Dry Ships (NASDAQ:DRYS), Eagle Bulk Shipping (NASDAQ:EGLE), Genco Shipping (NYSE:GNK), and Excel Maritime (NYSE:EXM).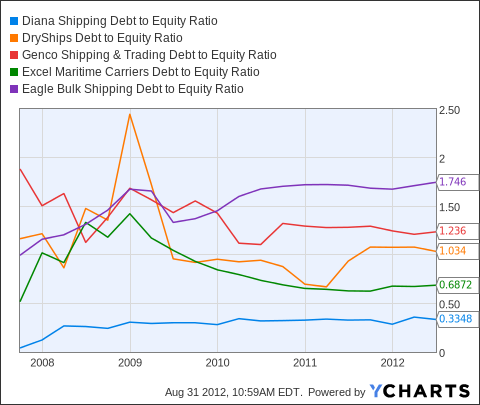 Conclusion
I am upgrading DSX to neutral from sell for a few reasons. Most importantly, the spread between DSX and the Baltic Dry Index has narrowed significantly. However, it remains possible that the spread will continue to narrow. Due to DSX's strong financial position, if I were to buy a shipping stock -- which I am not ready to do -- DSX would be the one. It remains possible, if not likely, that some shipping companies will be forced into bankruptcy. DSX is best positioned to survive the current downturn in shipping rates.
That said, as I've discussed before, other shippers such as Genco and Dry Ships may be a better value relative to the Baltic Dry Index. However, the financial position of these companies makes them difficult to own. The scenarios that would cause me to consider upgrading DSX to a buy would be an improvement in the Baltic Dry Index or consolidation throughout the industry.
Disclosure: I have no positions in any stocks mentioned, and no plans to initiate any positions within the next 72 hours. I wrote this article myself, and it expresses my own opinions. I am not receiving compensation for it (other than from Seeking Alpha). I have no business relationship with any company whose stock is mentioned in this article.