In January, we noted that mega money manager BlackRock had recently reported growth in alternative investments and money-market funds, despite a relatively stagnant traditional active long-only business.  We suggested that this was an example of what McKinsey has called a "vise-like squeeze" for traditional long-only managers. 
As this recent FT piece illustrates, Gartmore, the UK-based traditional money manager, is also responding to the squeeze by slowly becoming a hedge fund firm as it faced pressures that lopped off half its assets earlier in the decade (FT chart, below).  
Reports the FT:
One of the lesser-known facts about Gartmore Investment Management is that hedge funds represent about 25 per cent of its £27bn assets under management. According to Phil Wagstaff, head of global distribution, this makes it the eighth-largest hedge fund group in Europe.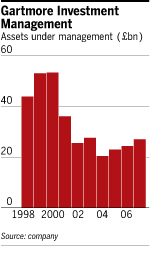 Rather than making a big marketing splash with its new-found love of hedge funds, Gartmore quietly backed into the business by simply continuing to do what it had always done: actively managing money.  Continues the FT:
Unusually, Gartmore does not have a dedicated hedge fund team. Instead, it manages alternative vehicles from within each of its core equity teams.
While the company's marketing pitch may not have changed over the past few years, it has quietly undergone an alpha-centric reorganization. 
McKinsey's 2007 report "The Asset Management Industry: Shifting Sands of growth and Profitability" predicted that this new form of organizational design - the multi-boutique - was quickly becoming "one of three winning business models."  Said McKinsey:
Multi-boutiques, which have on average $90 billion in assets under management, achieved an impressive average profit margin of 37 percent in 2006. These firms, which operate as parent companies to collections of smaller, independent money managers, enjoyed the highest levels of institutional sales and investment management productivity of any group we studied – a key competitive advantage. Multi-boutiques also possess the flexibility to gain scale advantages in targeted asset classes and to diversify their investment styles – all while spreading costs over a large base.
Well, either McKinsey had Gartmore in mind when it wrote the study or Gartmore is a McKinsey client, because Gartmore has certainly wrapped itself in the multi-boutique flag.  Says the company's website:
Multi-boutique investment style: Our investment specialists are concentrated into small, dedicated teams. In these specialised boutique units, our investment people have the freedom to follow their own views and implement decisions that best suit their particular area of expertise. This flexible, multi-boutique structure operates within an overarching risk framework, and means our managers now have greater discretion to add value through their own flair and individual skill…
In fact, it seems a lot of traditional long-only managers have been quietly cooking up hedge funds for some time - waiting to choose the right time to come out of the closet (-indexing business).  Now that hedge funds don't seem so exotic and that mid-term prospects for beta returns looking grim, it's probably a good time to get serious about hedge fund marketing.  So it's probably no coincidence that Gartmore also just announced the hiring of a European hedge fund salesperson.
Gartmore's slow evolution into a hedge fund player illustrates that, despite the sometimes rancorous debate between the two camps, hedge funds and traditional money managers are actually in the same business.  Neither fish nor fowl.