The fertilizer sector appears ready for a breakout year in 2013, as strong crop demand merges with weak production due to the severe drought in the U.S. An earlier article focused on Potash (POT), which reported strong fertilizer demand, yet had recently curtailed production due to a surprising declining demand environment. Another interesting fertilizer company is The Mosaic Company (NYSE:MOS). It reported earnings back in July and has a stock approaching breakout levels around $60. The company has a similar focus on potash, but it has a more diverse mix, with a higher revenue base from phosphates.
Mosaic is one of the world's leading producers and marketers of concentrated phosphate and potash crop nutrients. Not surprisingly, Mosaic was very bullish as well on the earnings call in a similar tone as Potash. The company though has a better balance sheet with $2.8B of net cash, placing it in a stronger position to take advantage of any weakness during the fall.
Q4 2012 Highlights
The company reported the following highlights for Q4 2012:
Reported fourth quarter fiscal 2012 net earnings of $507 million, compared to $649 million a year ago.
Earnings per diluted share were $1.19 in the quarter compared to $1.45 last year.
Net sales in the fourth quarter of fiscal 2012 were $2.8 billion, roughly flat with the same period last year, as growth in realized potash prices was offset by lower prices in phosphates.
Generated $1.2 billion in cash from operations, approximately $800 million after capital expenditures.
The most important note for Mosaic is that while the company gets over 64% of revenue from phosphates, the gross margin for the potash segment is actually significantly higher. In the last quarter, the company had $414M in gross margin from potash, compared to only $322M from phosphates.
As with Potash, any impact to Canpotex, the potash international marketing company, that reduces the selling prices of potash would have a major impact on margins and hence profits.
Market Conditions
Similar to Potash, Mosaic forecast strong nutrient demand next year, with projections for global phosphate shipments to increase to between 64M and 66M tones in 2013, from 60M in 2011.
Global potash shipments are expected to jump to 60M tones in 2013, from only 53M this year. Naturally, these forecasts were from back in July before many curtailments and project delays were announced in the potash sector.
Regardless, the company has some good points, with an unsustainable situation with nutrient deficiencies in key farm states, and low global grain and oilseed levels.
Another good point noted by the CEO was that the world population increases by 75M people every year, by a number that exceeds the population of Great Britain. At the same time, arable land is not increasing, and in fact tends to decline as humans turn farm land into sub-divisions and parking lots for retail outlets.
Stock
The stock has been on a roller coaster since last October, bouncing up and down between $45 and $60 three times. Any breakout above $60 would be technically significant and could signal a move higher. With the stock closing just below $58 for the week, investors might want to key in on that target before going long.
Though a failed move at this level could just as easily signal a great short for now. A move back down to $45 or even lower isn't out of the realm of possibility.
1 Year Chart - Mosaic
Click to enlarge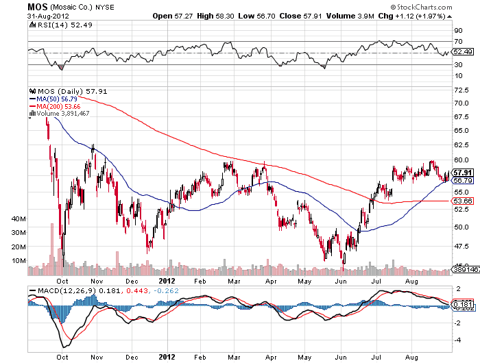 Valuation
The stock trades at a decent valuation, though that always depends on the actual results in 2013. Analysts expect earnings around $5.00 for the FY ending next May. These estimates are down from an expectation of $6.26 at this time last year.
The significant drop in expectations highlights the risks even when management expects tailwinds in the market. It might happen next year or farmers around the world could delay spending on nutrients even further.
Conclusion
The long-term thesis on fertilizer stocks hasn't changed that much in the past few months. The real question remains when will the expected tailwinds actually kick into gear.
Mosaic has a key advantage over the sector, with a pristine balance sheet that includes a rare net cash balance. This advantage could allow the company to snap up a weak potash competitor or expand into a new area.
Since the market is so difficult to predict at times, this might be the rare case where a fundamental investor relies on the charts. A technical breakout above $60 could just be the signal long-term bulls need. Otherwise, investors might be better off waiting for the right time to buy. When the tailwinds begin, investors can be assured that the stock price will let them know in advance.
Disclosure: I have no positions in any stocks mentioned, and no plans to initiate any positions within the next 72 hours. I wrote this article myself, and it expresses my own opinions. I am not receiving compensation for it (other than from Seeking Alpha). I have no business relationship with any company whose stock is mentioned in this article.
Disclaimer: Please consult your financial advisor before making any investment decisions.